'God May Have Lifted Up Trump' to Save America From Hillary Clinton, Michele Bachmann Says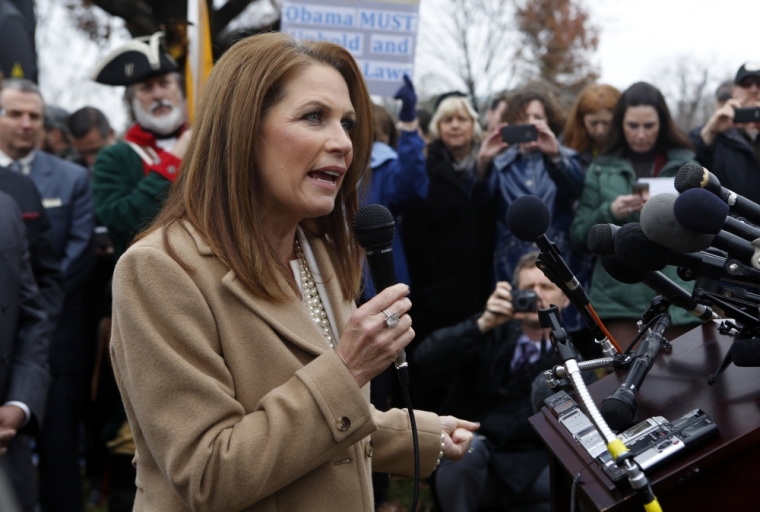 Former Congresswoman Michele Bachmann says that God may have "lifted up" Donald Trump to be the Republican presidential nominee because he might be the only person who can save America from the "certain catastrophe" that would result from a Hillary Clinton presidency.
While speaking with conservative radio host Jan Markell on her "Understanding the Times" program last Saturday, Bachmann, a former representative from Minnesota and 2012 presidential candidate, stressed that even though many conservative Christians may not like their choices for president in 2016, there could be "catastrophic" consequences if they stay home this November.
Discussing Trump's June 21 meeting with over 900 evangelical leaders in New York City, Bachmann, a member of Trump's evangelical executive advisory committee, explained that Trump eased many concerns when he vowed to appoint pro-life judges and displayed a "sensible" understanding of the religious freedom issues facing Christians today.
Although a number of prominent Christians like Glenn Beck and Eric Erickson are adamant that they will not vote for Trump, Bachmann, who pulled for Texas Sen. Ted Cruz during the primaries, said that many of the evangelical leaders in attendance came away with an understanding that Trump is the only chance that America has to keep Clinton, the presumptive Democratic nominee, from taking office.
"I think when it comes down to it, Trump may have been the only candidate who could actually defeat Hillary. It very likely could be," she said. "I'll tell you what I kept thinking too, Jan, was the book of Daniel. The essence of the book is that the most high God lifts up who He will and takes down who He will."
"[Trump] wasn't necessarily my first choice but this is the choice of the people. We have got Hillary Clinton, which will bring us into a certain destruction for the United States, or we have got Donald Trump," Bachmann continued. "This is my calculus. With Hillary Clinton, we have a 0 percent chance of turning the United States. In fact, it is a certainty for taking us into a further decline, almost catastrophic decline. With Donald Trump, even if it is a 3 percent chance, wouldn't you take that chance?"
Even for those Christians who are still not sold on Trump, Bachmann argues that not voting for Trump in the general election is not a "holy thing to do."
"That is probably the biggest mistake that Christians could make — to stay home," Bachmann stressed. "Because, they will ensure that we will lose the United States of America. They will ensure it. They will ensure that every godless principle there is comes into this country. It couldn't be a bigger mistake."
"I am not here certifying that [Trump] is the resurrection of Ronald Reagan. He isn't. But he is the champion that we have got for the alternative," she added. "To say that you are going to stay home, is to say that we will have a godless United States that will walk into certain catastrophe."
In discussing the Obama administration's "abomination" in the Iran nuclear deal passed last year, Bachmann argued that if Clinton is elected, the former First Lady of the United States would only further the Obama administration's pro-Islam, pro-LGBT and pro-abortion agenda.
"That's why I'm just saying the church can't sit this one out," Bachmann asserted. "We may not have a perfect candidate but [Trump] may be the one, like the Book of Daniel — the most high God may have lifted up Trump, because very possibly, he's the only one that could defeat Hillary Clinton this fall. And if that's the case, it's good enough for me."
Come the second Tuesday in November, Bachmann stressed that America's options "are over."
"We have a chance with Trump. I am not saying he is the best but we have a chance with this guy and we also recognize that it may be in God's economy that he is the only candidate who could defeat her, especially in some of these swing states," Bachmann stated. "He might be the guy. He resonates with a lot of people out there. He may be the guy who could win."