'God' to Make an Appearance on Kanye West's New 'Yeezus' Album?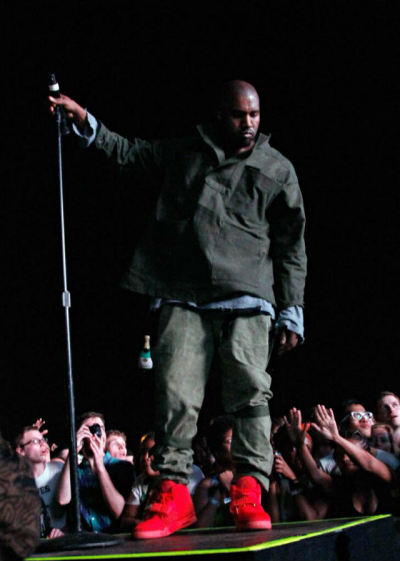 With the release of his sixth solo album just days away, rapper Kanye West has finally shared the official tracklist for the much-anticipated Yeezus LP, which includes the controversial "I Am A God" song that apparently features an appearance by the Almighty.
The Yeezus tracklist, circulating on the Web Thursday morning, includes a total of 10 songs with collaborations by various recording artists, such as R&B crooner Frank Ocean on the song "New Slaves," rapper Chief Keef on "Hold My Liquor" and someone identified as "God" accompanying West on "I Am A God."
West debuted "I Am A God," purportedly a reference to Psalm 82, at the Governors Ball Music Festival in New York City over the weekend and surprised some listeners with the song's lyrics, which he performed on his own.
The 36-year-old award-winning Chicago rapper who also goes by the nickname Yeezy, raps on the song: "I am a god / hurry up with my damn massage / hurry up with my damn menage / get the Porsche out the damn garage …. I am a god / even though I'm a man of God / my whole life in the hands of God / see y'all better quit playing with God …"
At another point, West raps: "I just talked to Jesus / he said, 'What up, Yeezus?' I said, 'S**t, I'm chillin' / trying to stack these millions / I know he the Most High / but I am a close high / Mi casa (es) su casa / that's our cosa nostra … I am a god …"
A Yeezus trailer was published on KanyeWest.com Wednesday and offers a brief view of the rapper recording "I Am A God" with producer Rick Rubin close by offering commentary. The video, which features West rapping the expletive from the lyrics above, can be viewed on YouTube or below:
As with West's Governors Ball performance, the 30-second video does not indicate at what point "God" might make an appearance on the track — if initial reports on the tracklist are indeed true.
While fans have suggested that West, who grew up in a Christian household, is merely commenting on his relationship with God and not intending any religious offense, a purported "inside source" supported that suggestion, previously telling The Huffington Post Entertainment, "We would never be so presumptuous or sacrilegious to call ourselves the supreme being."
West has said in previous interviews that "Christianity is embedded in who I am" and that he believes in God, but made it clear that he is open to other faiths and has friends who are atheists.
It has also been suggested that West, winner of 21 Grammy Awards, refers to himself as "a god" simply because of his accomplishments in the music industry.
He also explained at a recent album listening party that the LP's title serves a purpose.
"I wanna explain something about the title Yeezus, simply put West was my slave name and Yeezus is my god name," he said, according to Billboard.com.
West's Yeezus album will be available for purchase starting June 18.
The full tracklist for Kanye West's Yeezus album:
1. On Site
2. Black Skinhead
3. I Am A God (feat. God)
4. New Slaves (feat. Frank Ocean)
5. Hold My Liquor (feat. Chief Keef & Justin Vernon of Bon Iver)
6. I'm In It
7. Blood On The Leaves
8. Guilt Trip (feat. Travi$ Scott)
9. Send It Up (feat. King L)
10. Bound (feat. Charlie Wilson)