'God's Igloo' Snow Church Opens in Germany (VIDEO)
A church built entirely from snow has opened in Germany this week – more than a century after villagers first built a snow church in protest.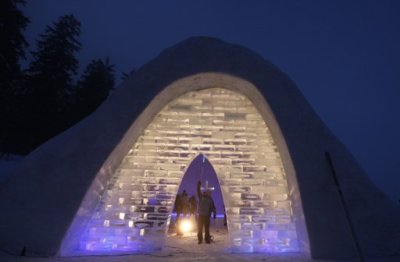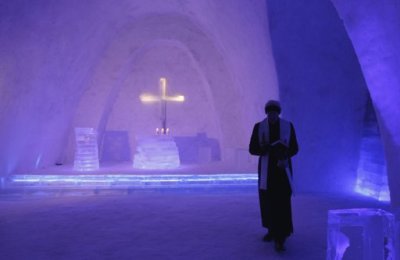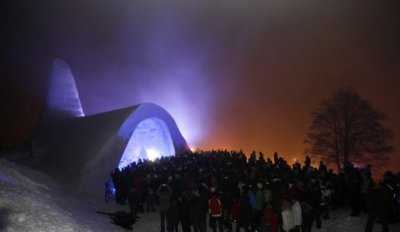 In 1911, residents built the first snow church because they had to walk hours to the nearest church in the neighboring town of Mauth, and decided they wanted their own church within the community.
The new snow church in Mitterfirminansreut, the mountain village near the Czech border, is comprised of 49,000 cubic feet of snow as well as slabs of ice. The structure is 65 feet in length, including a tower, and was displayed Wednesday with blue lights shed upon it.
Wednesday also saw a blessing from Dean Kejetan Steinbeisser, as hundreds of people gathered for the opening.
Steinbeisser explained the intentions behind the original snow church, according to The Associated Press.
"It was meant as an act of provocation – believers from the village got together and built a snow church because they didn't have a church here," said the dean.
The church, dubbed "God's igloo," according to the U.K.'s Daily Mail, is a tribute to the original snow church builders. The construction of the new church is estimated to have cost 100,000 euros, according to plans by architect Alfons Doeringer who spoke with Spiegel Online.
Originally, the village had planned to open the snow church in time for Christmas. However, unseasonably warm weather and a lack of snow had hindered construction for over two weeks. The village expects many visitors, and the church can hold up to 200 people at a time.
Many cultural and religious events have been planned in the church between now and March, reported Spiegel.
While worship services will be held, the Catholic bishop of nearby Passau, Wilhelm Schraml, has prohibited any masses, baptisms, or weddings from taking place at the snow church for theological reasons, the religious radio station Munchner Kirchenradio has reported.
The Christian Post Daily Report 12.29.11