'God's Not Dead: A Light in Darkness' Movie Poster and Soundtrack Info Released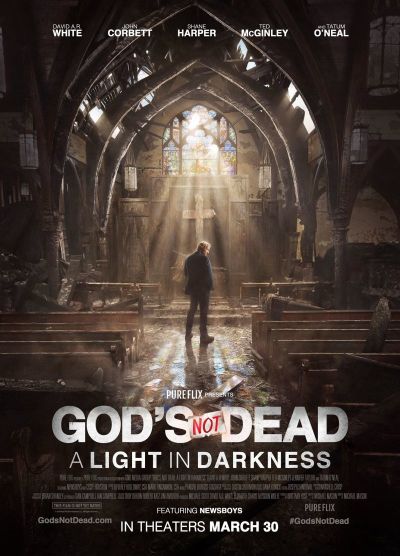 Pure Flix has released the official movie poster for the highly anticipated next installment of "God's Not Dead" along with the soundtrack details from Dream Label.
"God's Not Dead: A Light In Darkness" will hit theaters everywhere on Easter, March 30. Filmed on location in Little Rock, Arkansas, the film stars actors David A.R. White as Pastor Dave; John Corbett ("My Big Fat Greek Wedding"), who plays Pastor Dave's estranged brother, Pierce; and Jennifer Taylor, Pastor Dave's new love interest, Meg. Additionally, Ted McGinley (Thomas Ellsworth), Academy Award-winning actress Tatum O'Neal (Barbara Solomon) and Benjamin Onyango (Reverend Jude) are part of the cast.
Part one and two took place in a classroom and courtroom but the narrative will now turn inward, as the main character, Pastor Dave, takes viewers on a ride through his own personal conflict.
"God's Not Dead: A Light in Darkness" follows "Reverend Dave as he is released from prison to a flurry of controversy. The growing social unrest leads to Dave's church being burned down, a fire with tragic results."
"Devastated, Dave is launched on a painful spiritual journey as he fights against the university trying to keep him from rebuilding his church, and as his belief that 'God is good all the time' is put to the test. Along the way, Dave enlists the help of his estranged atheist brother who will support Dave in his legal fight, but also challenges him to recognize that sometimes fighting doesn't require defeating those we disagree with, but rather finding a way to heal, and to rebuild," says the film's synopsis.
Additional cast members include Emmy Award winner Gregory Alan Williams, Mike C. Manning, Samantha Boscarino, rap artist Shwayze, Jennifer Cipolla, and music legend Dr. Cissy Houston. Reprising his role from the first "God's Not Dead" movie is Shane Harper ("Josh").
"A Light In Darkness" also has a soundtrack to accompany the release on March 30. The album will feature a compilation of 10 pop and worship tracks from the Dream Records and Dream Worship roster of artists. Each song on the album was inspired by the motion picture.
View the complete track listing below:
1. Joel Vaughn - Alive in Us
2. Mass Anthem - Nothing to Lose
3. Abigail Duhon - Rebound
4. Matthew Parker - Miracles
5. Long Hollow WAVE - Light the Sky
6. We Are Leo - Light Up My World
7. Landry Cantrell - Collide
8. Matthew Parker - Till The End of Time
9. New Hope Oahu - Yours Forever
10. The Rock Music - Burn for You
The original "God's Not Dead" movie was the highest-grossing independent faith film of 2014, taking in more than $60 million at the box office. The creators are hoping to continue their success.
For more information on "God's Not Dead: A Light In Darkness," click here.