'God's Voice' Conference to Respond to Revoice, 'Queering' of Churches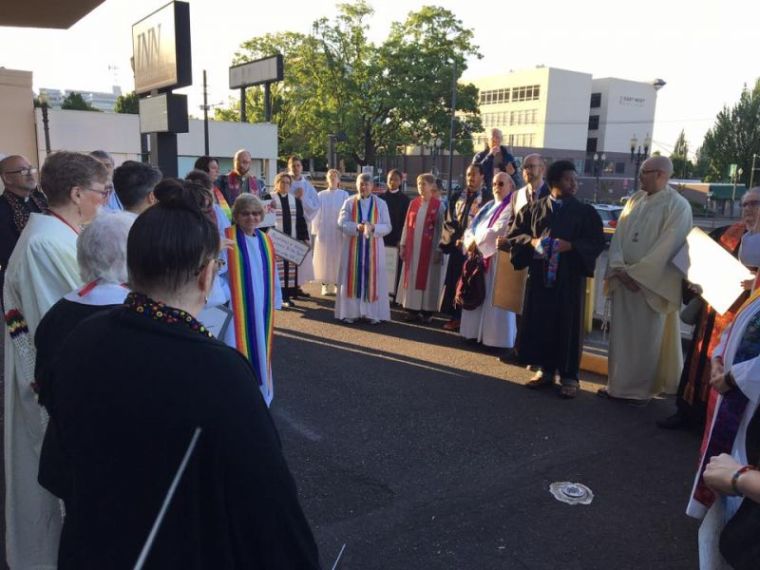 An upcoming conference is set to occur in February to respond to the "queering" of evangelical Churches, particularly the Revoice conference that took place earlier this year.
Such an effort is necessary, organizers say, because of the confusion being brought into evangelical congregations with terms like "LGBTQ+ Christian" and "mixed-orientation marriages" that are now being mainstreamed.
What is being called "God's Voice" will take place at First Moore Baptist Church in Moore, Oklahoma on February 22 and 23.
"We are living in a day when Bible-believing churches are being hit with a tsunami of an 'LGBTQ+ Christian' narrative," said Stephen Black, a former homosexual and founder of the Oklahoma-based First Stone Ministries who is organizing the event, in a Tuesday press release.
"Many are being lied to by this messaging that LGBTQ+ people have a fixed orientation and that grace covers their same-sex attractions, leaving people stuck in sin and broken identities. This movement has a form of religion, but denies the power of the Holy Spirit, who transforms souls through the power of the gospel of Jesus Christ," he continued.
The purpose of the conference is to provide a platform for men and women who once identified as gay or lesbian to share their testimonies of how the Gospel transformed their lives.
"God's Voice" also aims to "teach, strengthen and encourage believers and Christian leaders across all denominations to stand on the inerrant, unchanging and life-transforming power of the Word of God," its website states.
Earlier this year in St. Louis, the conference called "Revoice" was launched and drew controversy in light of certain words and phrases that were used when speaking about human sexuality, in addition to breakout sessions such as one exploring what queer culture — specifically queer literature and theory — has to offer those who follow Christ, and what "queer treasure," honor, and glory will be brought into the New Jerusalem at the end of time as described in Revelation 21.
Revoice speakers and organizers, however, have defended themselves and their efforts, arguing that their critics have misunderstood them. They do not promote anything contrary to the historic Christian witness on sexual ethics, and that marriage is between a man and a woman, Revoice speakers have said. Their desire is to help those with same-sex attraction flourish within the ancient traditions of the Christian faith, they maintain.
Revoice speaker Wesley Hill, an author and professor at Trinity School for Ministry in Ambridge, Pennsylvania, told The Christian Post in a July 22 interview that the gathering was "a sizable, vocal group of LGBT people who want to try to live inside the traditional Scriptural view of marriage and sexuality."
"Whatever disagreements other conservatives may have with us, surely that should be celebrated as a striking instance of radical discipleship," he said.
"Jesus was not out to undermine God's holy will for our lives. If anything, Jesus ratcheted up the standard of sexual purity and sexual holiness."
Yet Black continues to find their views distorted because of what they refuse to do or say.
"The word I believe the Lord showed me is 'erosion' of holiness in human sexuality in the church that is taking place through what seems kind. Unfortunately, Revoice and other 'LGBTQ+ Christian' groups are leaving people in a bondage of no hope for their internal world of feelings, desires and lusts to change over time. They dismiss the need for counseling and resolving trauma and early childhood corruptions. They embrace a corrupt identity by labeling themselves with curses such as: lesbian, gay, bi-sexual, transgender, and queer," he added in comments emailed to The Christian Post Tuesday afternoon.
"This is a tragic unkindness and a very unloving thing to do."
During the two-day gathering speakers will explore how the language surrounding these touchy subjects is confusing and why what human beings call themselves matters and must be anchored in God's Word.
The modern beliefs with regard to "sexual orientation" — a relatively recent phrase historically speaking — are being strategically marketed to the Church in order to shape theological discourse within the church such that in order to be loving and merciful the evangelical congregations must embrace those who identify as LGBT or queer as "sexual minorities," granting them a special status not found in Scripture, Black believes.
Furthermore, he explained, "many are buying into a distortion that 'sexual orientation' is fixed while [biological] gender is fluid."
"This belief has no scientific bases to be embraced. The reality is the Biblical message of transformation and finding freedom from an LGBTQ identity at varying levels is actually true."
"Bottom line," those pushing the new-fangled terms have "a religious worldview but they deny the power of God's Holy Spirit of Grace to bring about transformation and change," he stressed, referencing 2 Timothy 3:5 where the Apostle Paul refers to those who have a form of godliness but deny its power.
In addition to Black, God's Voice conference speakers include Andrea Minichiello Williams, founder and CEO of Christian Concern & Christian Legal Centre in England; Thomas Littleton, a Southern Baptist minister and evangelist; and Janet Mefferd, a nationally syndicated Christian radio host, among others.