Gospel Artists, Radio Personalities Involved In 1st Living In The Spirit Event For Crenshaw Community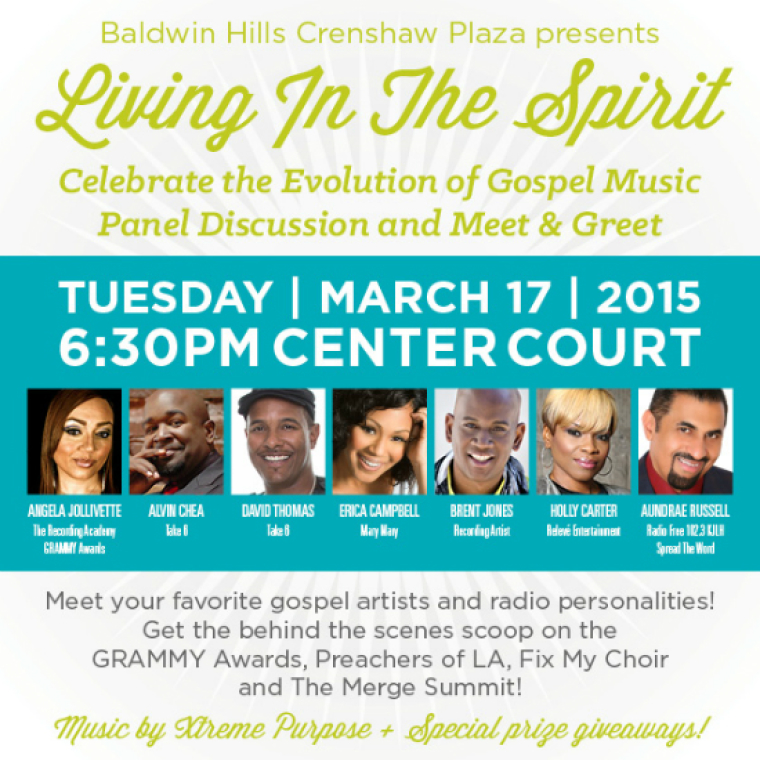 Gospel artists and radio personalities are coming together to spread the good news to the Los Angeles community for the upcoming Living In The Spirit Event.
The event will take place at Baldwin Hills Crenshaw Plaza March 17 and gives the community in the California neighborhood a chance to interact with some of their favorite gospel artists. This is an unprecedented event for the Baldwin Hills Crenshaw Plaza which has never centered an event around the gospel music community.
After experiencing success following work with BET last summer for the BET Experience, BHCP officials decided it was time to expand and explore different music genres.
"This will be the first time that we're doing this gospel theme. We're branching off into different sections and genres of music," Niki Hannah, guest services manager at Baldwin Hills Crenshaw Plaza, told The Christian Post. "So this will be the first time that we're doing the gospel thing, but we've always had our hands in music."
She went on to explain the special event that will take place at the first time in the facility.
"It's kind of like a meet and greet for the gospel artists and radio personalities. There are Grammy award winners, Preachers of L.A.,..It's going to be a big production," Hannah told CP. "There's going to be music by Xtreme Purpose and a special prize giveaway."
While Mary Mary solo-singer Erica Campbell was slated to appear at the event, her husband and My Block CEO Warryn Campbell will now appear in her place at the event. Recording artists such as Grammy Award winning Take 6 members Alvin Chea and David Thomas will be in attendance along with recording artist Brent James.
Dr. Holly Carter, the Relevé Entertainment executive, will also be joining the panel along with radio personality Angela Jollivette and program director Aundrae Russell from 102.3.
For more information about the Living In The Spirit Event, please Click Here. The event takes place on March 17 at 6:30 p.m. at Center Court.