Gospel Icon Kim Burrell Says Eddie Long, Andrew Caldwell and 'Perverted Homosexual Spirit' Embarrassing Church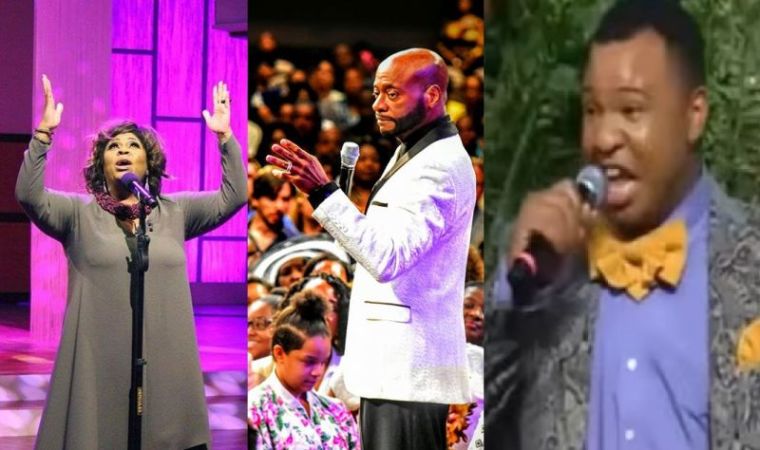 Editor's Note: Warning, the following article contains graphic content.
Iconic gospel singer Kim Burrell is fending off backlash from LGBT advocates after she unapologetically called out megachurch Pastor Eddie Long, Andrew Caldwell and a "perverted homosexual spirit" being used to embarrass the church.
RELATED NEWS: BISHOP EDDIE LONG DIES AGED 63; CAUSE OF DEATH REVEALED BY NEW BIRTH MISSIONARY BAPTIST CHURCH
Caldwell became an internet sensation after a video of him declaring "I'm not gay no more" went viral. Long, senior pastor of New Birth Missionary Baptist Church in Lithonia, Georgia, has for years lived under a cloud of allegations stemming from lawsuits filed by multiple men who say he engaged them in sexual acts. Last September he revealed he was battling an unidentified "health challenge" which has caused significant weight loss. Many have publicly speculated he is suffering from AIDS while his church has repeatedly refused to comment on his illness.
In a recent video clip from one of her sermons, Burrell, the 44-year-old pastor of Love & Liberty Fellowship Pentecostal Church in Houston, Texas, called Long's condition heartbreaking.
"I've never seen anything as heartbreaking as watching Bishop Eddie Long go down to nothing. It is an embarrassment to the Church. 'Cause nobody would be making that you have AIDS unless a homosexual man didn't come out and reveal what you did behind closed doors ... they have yet to deny it," she said.
Long settled with his accusers — Anthony Flagg, Maurice Robinson, Jamal Parris and Spencer LeGrande — in May 2011, approximately eight months after they leveled charges that he had coerced them into having sexual relationships with him while they were teenage members of his congregation.
The lawsuits cited by CNN say Long engaged in intimate sexual acts with the young men, such as massages, masturbation and oral sex. They also alleged that he took the young men on trips, including to Kenya, while enticing them with gifts such as cars, clothes, jewelry and electronic items.
Long's attorneys denied the allegations and maintain that he was simply attempting to be a father figure to his accusers by providing them with financial assistance and encouragement.
Burrell warned members of her congregation in the message, however, that if they engaged in homosexual behavior while they professed to be Christians in 2017 that they would die from it.
"Anybody in the room who is living with a homosexual spirit, beg God to free you. If you play with it in 2017 you'll die from it. If you play with it in 2017 in God's house you'll die from it. Y'all came to hear about carnal, I came to tell you about sin," she said bluntly.
"That perverted homosexual spirit is a spirit of delusion and confusion and it has deceived many men and women. And it has caused a stain on the body of Christ. And those homosexual spirits have been angry and they come up against you [saying] 'you gotta love everybody.' Sit down you serpent," she said with a strong rebuke.
"You cannot give instructions to God's holiness with that much perversion. You, as a man, would open your mouth and take a man's penis in your face? You are perverted and you better not tell me, thus saith the Lord. You are perverted," she said. "You are a woman that would shake your face in another woman's breasts? You are perverted, and its coming into our church and it has embarrassed the Kingdom of God."
She went on to lament that the media doesn't want to highlight strong, holy Christians living for God but are quick to glorify individuals like Caldwell.
"This Mr. 'I am delivered' and all these different spirits went all the way to Jimmy Kimmel," said Burrell.
"The minute somebody comes up with a deaf and dumb spirit, a mute spirit, one that can't even talk that has a perverted spirit saying that 'I am delivered,' he goes all the way to Jimmy Kimmel. You think the enemy is not trying to make a mockery of the church?" she asked.
Burrell, who is scheduled to sing a duet with Pharrell on Thursday, Jan. 5 on the talk show "Ellen," hosted by one of show business' most prominent lesbians, Ellen DeGeneres, has come under serious fire from critics whom she says are twisting her words.
"I never said that all gays were going to Hell. That never came out of my mouth. Y'all quit spreading that. And if you're gonna listen to the video, listen right, it's not of my nature, natural or spiritual," she told critics in a series of videos on Facebook.
"I was addressing church people, and let's get specific, ones who were in my church," Burrell said matter-of-factly. "My church where I pastor and that's what's so demonic about all of this.
"We're not in a war against flesh and blood. We are not in a war with that. I care about God's creation and every person from the LGBT and everything else, any other kind of thing that is supporting gays. I never said LGBT last night. I said S-I-N. And whatever falls into sin was preached," Burrell said on Friday.
"Now what was posted was not all I preached to. That [video clip] is designed by the enemy to make it look like I have a personal agenda against people," she said, sucking her teeth.
"It's a heartbreak but it's the world we live in. We fight for so much but for the right thing. To the carnal all things are carnal and to the spiritual, all things are spiritual, don't you understand? I know that people are going to be mad. I have to do what God tells me to do, and I'm passionate about what I do. And when people take it personal, especially if we've never met, you know that the enemy is setting that up," she added.
The gospel singer who will sing "I See Victory" from the soundtrack of the new movie "Hidden Figures" with Pharrell on "Ellen" also denied allegations that she said God would kill all gays in 2017.
"I never said God was killing all gays in 2017. [I said] the people that operate with that spirit in the Church with deception and attack themselves are going to have to face the master. That's what I said. And their death is attached to their behavior. Now if that's you, OK. But I never said LGBT, gays are going to die in 2017, y'all stop that," she said.