Baltimore Gathers Strength Through Faith Rallies, Church Services on Peace, Rebuilding as Curfew Ends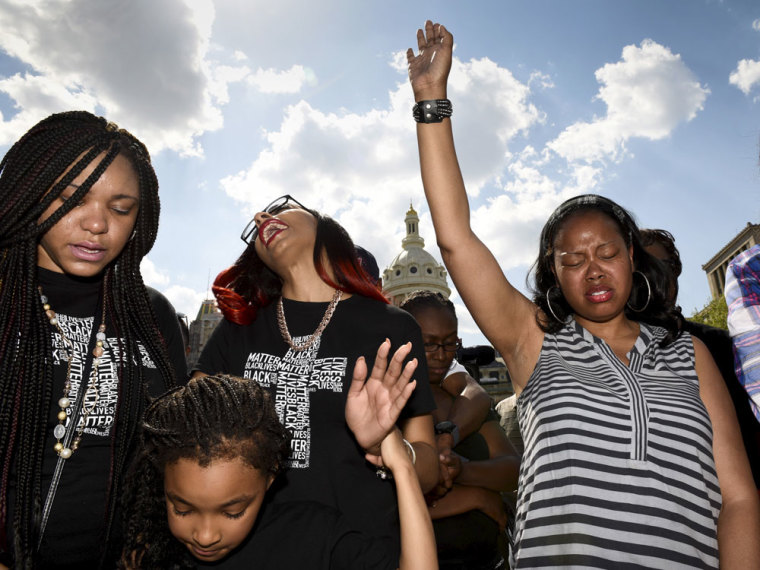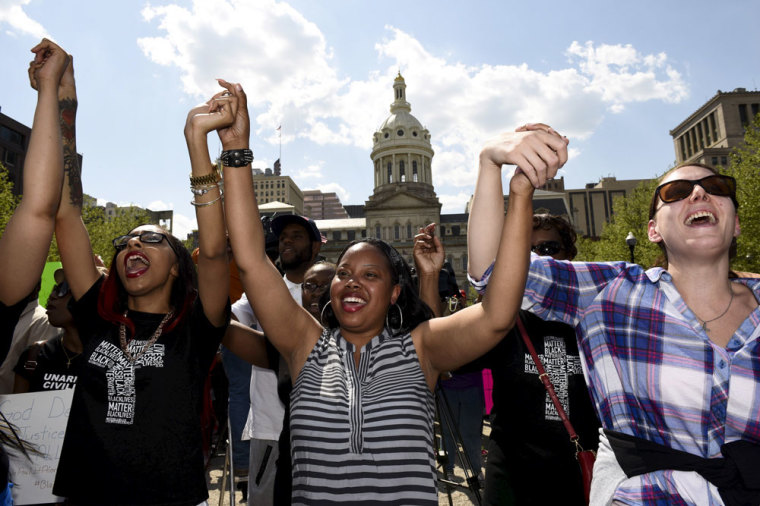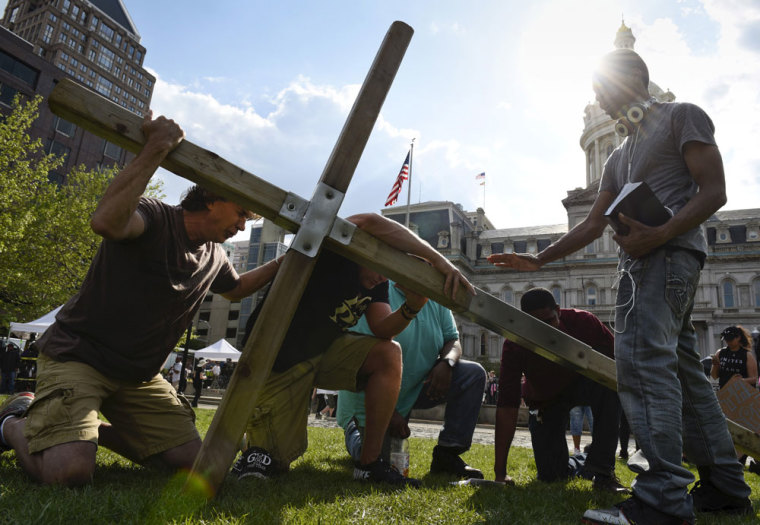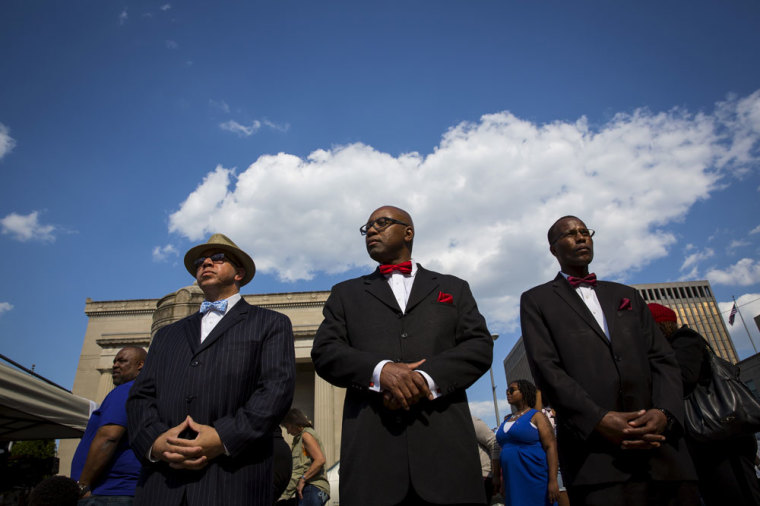 View Photos
Maryland Gov. Larry Hogan, elected officials and clergy spoke about peace and rebuilding in church services and a rally Sunday, the day curfew ended more than a week after protests erupted over the death of a young man, Freddie Gray, from spinal injuries in police custody leading to violence and looting.
The Rev. Donte Hickman Sr., pastor of the Southern Baptist Church in Baltimore, told the congregation he would make an announcement Monday about rebuilding its project, the Mary Harvin Transformation Center and the entire block, including senior apartments, that were destroyed by a fire nearby during riots a week ago, according to the Baltimore Sun.
"We are elated that these rebuild efforts are moving from a state in the abstract to a very real and material reality that will restore not only a building but the hopes and dreams of a community that has experienced so much," Pastor Hickman said at a press conference after the service.
Rep. Elijah Cummings, D-Maryland, was also at the service. "Now we have to rebuild — we have to be the man in the mirror and the woman in the mirror... our children are our future," he told those in attendance.
The protests erupted in Baltimore after the death of Freddie Gray, 25, who suffered a fatal neck injury after being in police custody.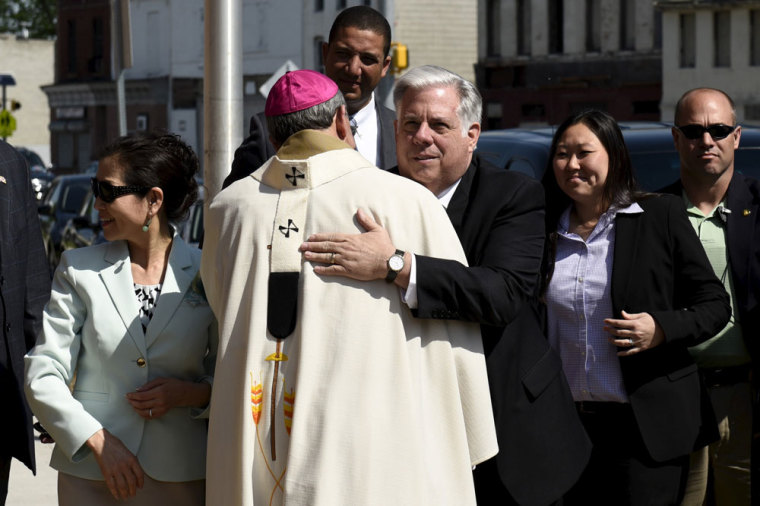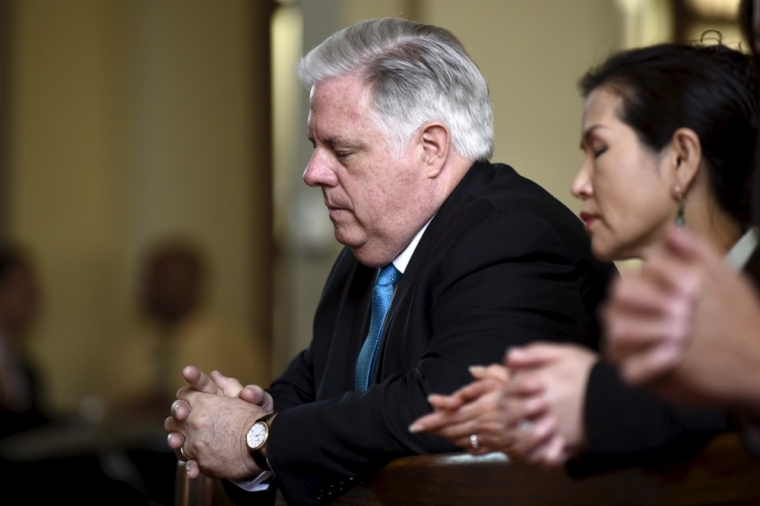 View Photos
At St. Peter Claver Catholic Church, Gov. Hogan addressed the congregants Sunday.
"What we need is a lot of healing," Hogan said, according to the Sun. "There's long-term questions and issues about how we fix this, how we develop more trust between the community and the police, how we fix some of the over-arching problems. But today we're not going to solve that," he said. "Today, we're about having peace in the city."
Archbishop William E. Lori, who presided over the mass, urged that those who are seeking change should do that "in a way that does not create more injustice and more destruction."
"Freddie Gray was your neighbor, and his family members continue to be your neighbors," he was quoted as saying. "Freddie Gray's death has brought to the surface many long-standing issues."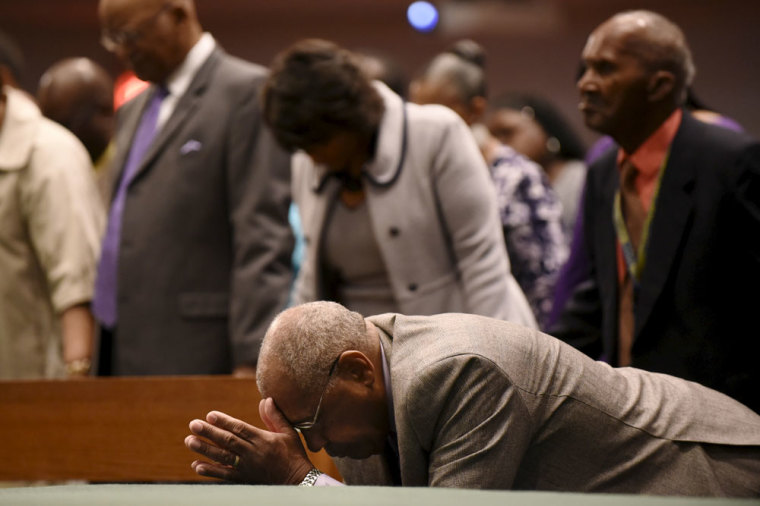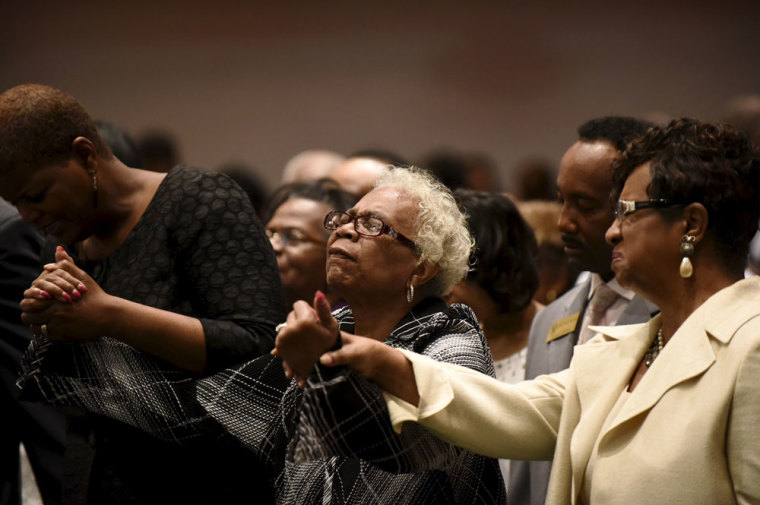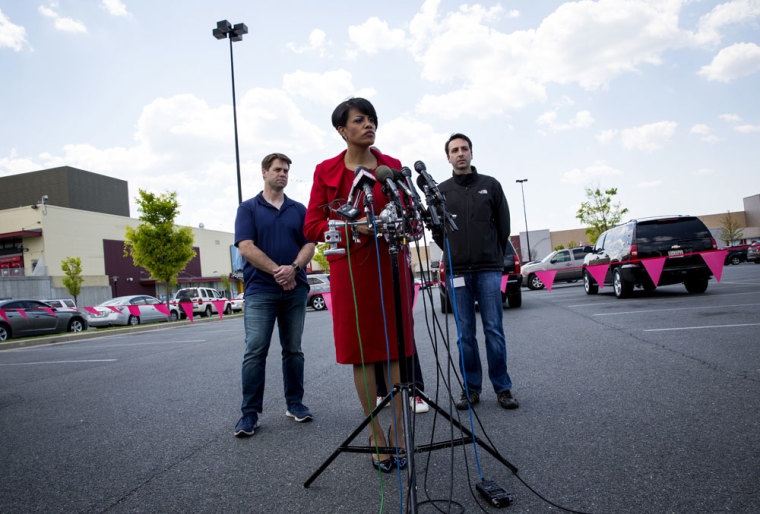 View Photos
Normalcy was beginning to return Sunday after the curfew was ended and National Guard troops withdrawn.
"My goal has always been to not have the curfew in place a single day longer than was necessary," Mayor Stephanie Rawlings-Blake tweeted. "I believe we have reached that point today."
Faith leaders also held a rally Sunday afternoon.
"Our prayer is that Baltimore will be the model for the rest of the nation," USA Today quoted Rev. Lisa Weah, pastor of New Bethlehem Baptist Church, as saying to the gathering.
Police Capt. Eric Kowalczyk said 486 people have been arrested since April 23, and 113 officers were injured while responding to riots and protests.
Baltimore's newly elected State's Attorney Marilyn Mosby earlier announced that Gray's death had been ruled a "homicide" and six police officers involved in his "unlawful arrest" had been criminally charged and warrants had been issued for their arrests.