Graphic Phone Images, ISIS Flags on Syrian Refugees Doesn't Mean They're Terrorists, Official Says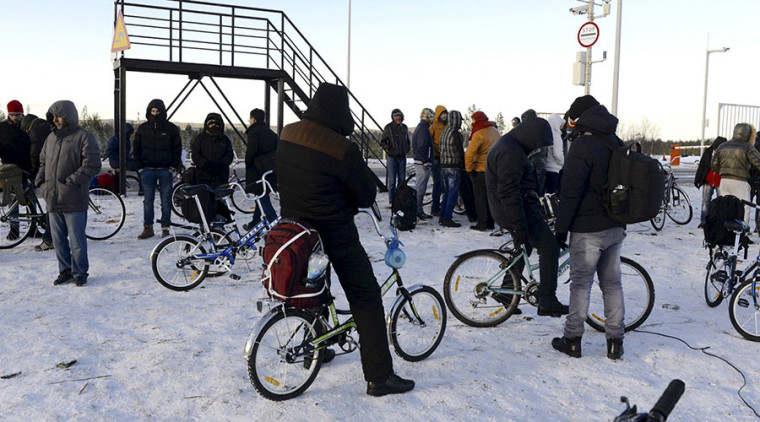 Images of executions and severed heads are just some of the graphic images found on the phones of hundreds of Syrian refugees flocking to Norway.
According to the Norwegian Police Immigration Service some refugees had ISIS flags and other Islamic State paraphernalia in their possession. Images of dead children and other victims of war were found on phones.
The Daily Mail reports that the heightened security and additional searches are because of newfound fears that ISIS could be smuggling foreign fighters into Western European nations. The region has been wracked by the new concerns after the November Paris terrorist attacks.
At least three perpetrators in Paris disguised themselves as refugees to gain access to the region, including mastermind of the plot, Abdelhamid Abaaoud.
Norwegian police admitted that it has stepped up security of migrants entering the country and conceded that previous measures were inadequate.
Erik Haugland, head of Norway's asylum program, said that the influx of refugees was so large that security officials could not properly vet asylum seekers. It is believed that at least 13,000 refugees only received minor security checks before gaining entrance to Norway.
Haugland noted that it is possible the violent images do not mean any of the migrants have connections to terrorism or radicalized jihadists.
Haugland said they may have taken the images to share with the outside world and that even having ISIS flags in their possession does not mean they support terrorism or the radical Islamic organization.
He theorized that they may have had pro-Islamic State items in order to sneak through pro-jihadist regions unmolested.
"What looks alarming might have other explanations apart from support for terrorist organizations," declared Huagland.
Haugland said that out of hundreds of cases investigated by officials only a handful of those cases still had concerns remaining over an individual.
Last week Fox News reported that the Norwegian government is offering refugee families thousands of dollars and free flights to leave the country, with reportedly hundreds taking up the government on their offer.
Difficulty in the speed of being able to process refugee applicant requests and lack of housing is pushing many refugees to accept the financial buyout and return home. Government authorities in Norway noted in October that they are receiving 1,000 refugees a month crossing in from Russia alone.
The United States has tightened their own security measures while President Barack Obama is still advocating accepting more refugees.
Federal Bureau of Investigation (FBI) Director James Comey admitted to lawmakers on Capitol Hill in October that America's national security is at risk when it accepts refugees to reside within United States borders.
"I can't sit here and offer anybody an absolute assurance that there's no risk associated with this," Comey told lawmakers on Capitol Hill.
Comey said that Syrian refugees pose potentially higher risks because there is less on-the-ground intelligence in countries like Syria compared to other Middle Eastern nations, particularly Iraq.