Greg Laurie Discusses Pastor Abuse Scandals, Safeguards He Has as Megachurch Pastor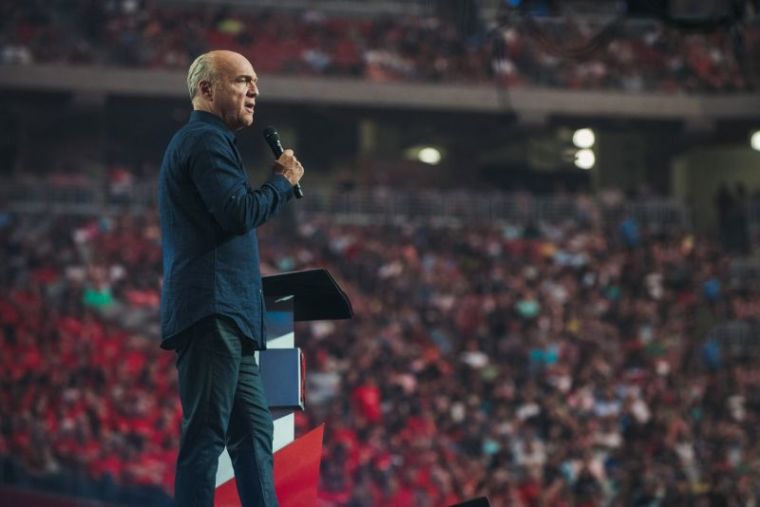 Popular evangelist and megachurch Pastor Greg Laurie has shared his thoughts on the circumstances involving Christian leaders being exposed for sinful behavior and talked about the safeguards he has in place in his own life.
Laurie, the senior pastor of Harvest Christian Fellowship in Riverside, California, who preaches to tens of thousands every year at Harvest Crusade events, spoke with The Christian Post this week to talk about the 29th annual Southern California Harvest crusade this weekend in Anaheim and discussed a number of other current events in the news.
During the interview, Laurie was asked to comment on the string of evangelical leaders who have experienced a fall from grace after being exposed or accused of sinful (often sexual in nature) misconduct in some form or another.
"It is a great disappointment to me when a pastor falls," Laurie said. "A pastor needs to be a good example. He is a spiritual leader. People expect pastors to live morally and to be honest. That is a realistic expectation. They expect it of Christians, certainly they have that expectation of a Christian leader."
Along with the rise of the #MeToo movement, much media attention has been paid to sexual abuse claims against Christian leaders in recent months.
Dominating the headlines most recently have been this week's grand jury report on the systemic abuse going on in the Catholic Church in Pennsylvania and the ongoing developments from the sexual abuse allegations against former pastor Bill Hybels that has rocked his Chicago-area megachurch.
In July, Assemblies of God megachurch pastor Dean Curry was dismissed after he was accused of engaging in sexual misconduct with church members. In April, Arizona megachurch pastor Les Hughey resigned after several women came forward to accuse him of engaging in sexual misconduct decades ago.
In January, Highpoint church in Memphis teaching pastor Andy Savage was accused of sexually assaulting a 17-year-old 20 years ago when he was her youth pastor, which led to his resignation and the resignation of the megachurch's lead pastor Chris Conlee.
"Of course, it is in the press because that sizzles," Laurie said of the media attention. "You never hear the story of that faithful pastor that served his congregation for 45, 50 years and went to glory. Or you don't hear about the faithful missionary couple that made sacrifices in their life to serve the Lord because those are not the stories that make the press."
"I am not excusing anybody of their actions," the 65-year-old continued. "I am simply saying I wish I could hear the other stories because it can seem sometimes like there are all these scandals but they are not taking into account the thousands and thousands and thousands of faithful pastors and faithful leaders that never had even a hint of scandal in their life of ministry."
Laurie was asked if he feels the misconduct scandals are hurting the moral authority of the evangelical Church.
"Well, they certainly don't help. I think we have to come to the realization that everyone is a sinner and everyone fails," he responded. "It is right to expect our leaders, especially Christian leaders, to practice what they preach, as they say. But, on the other hand when a leader falls, it should never cause you to doubt your faith because our faith should never be in a leader, present company included."
Laurie asserted that a believer's faith should be in Christ alone because He is not a "hypocrite" and He does not "live by a double standard."
"Though we are sad when leaders fall, the Bible says, 'When a brother or a sister is overtaken in a fall, we who are spiritual should seek to restore them. ... ' It goes onto say, 'lest you also be tempted,'" Laurie explained. "So the reality is we all have the same weaknesses and vulnerabilities. So don't be too high-handed to say, 'that could never happen to me.' Because, it could happen to anybody."
Laurie was asked what safeguards he has in his life to make sure that something that "could happen to anybody" doesn't happen to him. Among other things, one of the most important safeguards Laurie has is full transparency with his wife, Cathe.
"With my phone and such, my wife has all my passwords," he said. "Sometimes, I will see her like reading over my emails and texts and I will say, 'Why are your reading all that?' She will say, 'Sometimes this is the only way I can find out all the things you're up to right now.'"
Laurie also explained that he surrounds himself with "godly men who I encourage to speak truthfully into my life."
"It is important to have safeguards and it is important to have checks and balances and I have many," he said. "Having said that, if a person is determined to cheat in whatever way they choose to cheat, they will do so. Safeguards won't stop it. But they can help as walls of protection. I think there is a place for those things and that's why I have them in place. But if a person is predisposed to do a sinful thing, they are probably going to find a way to do that, unfortunately."
Laurie warned that Christians need to spend less energy critiquing each other publicly and put more energy into supporting one another.
"I think we need to be thinking of ways to build up one another, especially in social media and in other ways, instead of taking shots at each other so much," he said. "If a leader sins and falls, well, that happens. I am sorry that happened. Sometimes I see good and godly people critiquing other good and godly people in what I think is an unnecessary way. I would like to see that same 'passion' in preaching the Gospel and reaching our world."