Greg Laurie: How Does Nailing Christ to the Cross Make a 'Good Friday'?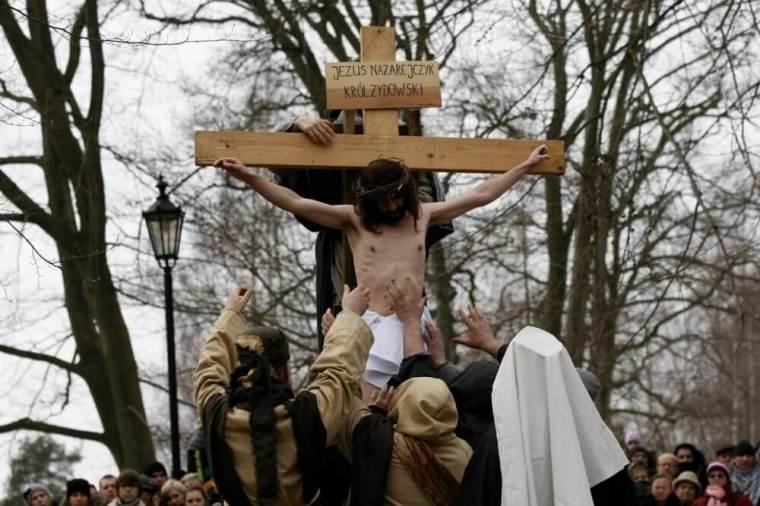 Evangelical ministers and theologians, including Pastor Greg Laurie, have offered their views on why Jesus Christ being nailed to the cross is known as "Good Friday."
"Why do we call this Good Friday? It doesn't seem a very good thing that Jesus had to die on the cross. Well, it was really the greatest travesty in the history of humanity," Laurie, lead pastor of Harvest Christian Fellowship in Riverside, California, said in a Facebook video on Friday.
"God took the greatest tragedy in human history, and turned it into the greatest good. His death brought our salvation. He died there for our sins," he added.
Laurie referenced Hebrews 12 in the Bible, where it says "For the joy that was set before Him, Christ went to the cross."
"What was the joy set before Him? There was so much pain, so much misery," the pastor said.
He explained that the point was to offer people hope.
"It was knowing that you, who have believed in Jesus, would have the hope of Heaven. That's why we call it Good Friday. So a very happy and blessed Good Friday to all of you," Laurie said.
David Mathis, the executive editor for John Piper's desiringGod.org website, who is also pastor at Cities Church in Minneapolis/Saint Paul, tacked a very similar question in an article on Friday titled "Why We Call the Worst Friday 'Good.'"
"It was the single most horrible day in the history of the world. No incident has ever been more tragic, and no future event will ever match it," Mathis said of the crucifixion.
"No suffering has ever been so unfitting. No human has ever been so unjustly treated, because no other human has ever been so worthy of praise. No one else has ever lived without sin. No other human has ever been God Himself. No horror surpasses what transpired on a hill outside Jerusalem almost two millennia ago," he added.
The pastor explained that what man made for evil, however, God used for good.
"God was at work, doing His greatest good in our most horrible evil," he wrote.
"Over and in and beneath the spiraling evil of Judas, the Jewish leaders, Pilate, the people, and all forgiven sinners, God's hand is steady, never to blame for evil, ever working it for our final good."
Mathis added: "God wrote 'good' on the single worst day in the history of the world. And there is not one day — or week, month, year, or lifetime of suffering — not one trauma, not one loss, not one pain, momentary or chronic, over which God cannot write 'good' for you in Christ Jesus."
Anne Graham Lotz, an evangelical speaker and author who is the daughter of Billy Graham, reflected that the victory lies in how God saw humankind's helplessness and hopelessness, and decided to do something about it.
"He came down from Heaven in the person of Jesus Christ. He got involved in the lives of those flooded with sin and its consequences. He gave us Living Water to satisfy our thirst for fulfillment and meaning and happiness," Lotz wrote on Facebook on Thursday, ahead of Good Friday.
"He gave us the Bread of Life to strengthen and sustain us on our life's journey. He shed His own blood to wash away the filth of our sin. He rose from the dead to give us brand-new life."
On Friday, she added in a separate post: "It was at the cross that redemption was purchased for every believer. It was at the cross that even the vilest offenders received  — by faith — a full pardon for their sin."