Pastor Greg Locke turns away from political controversy to cast out demons in Jesus' name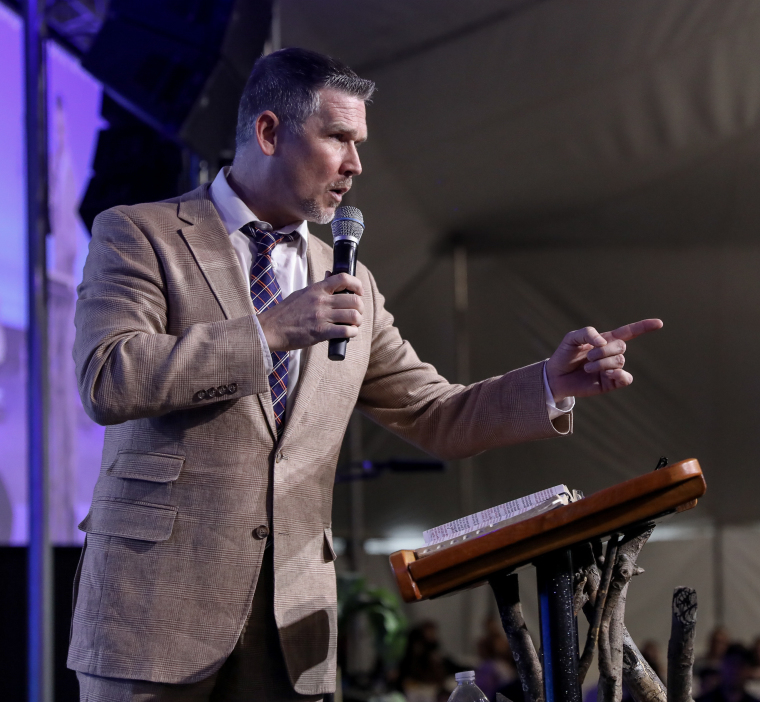 MOUNT JULIET, Tennessee — As he gears up for the release of his new film "Come Out in Jesus Name," controversial internet preacher Greg Locke says he took his political views too far the past few years and understands that his platform was meant to highlight deliverance ministry instead. 
In the movie airing in select theaters on Monday, Locke and a group of other well-known preachers break down Jesus' ministry of deliverance as modeled in the New Testament scriptures.
In a candid sit down with The Christian Post, Locke and his wife, Tai, discuss their change of ministry style. Locke also said he has been delivered from battling politicians to bring spiritual deliverance to others.
Once a Cessationist, Baptist preacher, Locke now fully embraces the gifts and move of the Holy Spirit. 
"Not only did I not believe it and I was anti-deliverance, fivefold ministry, anything that had what I considered a charismaniac flair, I was completely against it! I was so Cessationist, very Baptist," Locke said in a video interview with The Christian Post. 
Locke said his wife, Tai, who he married in 2018, was radically saved from a drug addiction with no prior religious background, which made it easier for her to embrace deliverance ministry and the move of the Holy Spirit. 
"I had to unlearn a lot of what was taught in my head, in my heart, in seminary. But when God started doing demonstratively and definitively, right before my very eyes, the things that I was taught to preach against, it was shocking. I could not deny the reality of miracles, signs, wonders, tongues deliverance," Locke declared.
Demons fleeing at the name of Jesus was just a "token phrase" to the minister until he began to see it happening for himself. 
"Once it started happening, I said, 'Look, this is a third of the ministry of Jesus, the No. 1 thing Jesus did outside of preaching Gospel.' Why are we asking people what would Jesus do and not doing what Jesus did?" he questioned. 
Global Vision Bible Church was immersed in deliverance ministry "overnight" and is now bringing his revelation to the world.
Locke shot to internet fame after posting a video on Facebook in 2016 criticizing Target for its new policies on gender-neutral bathrooms. He later became very outspoken in favor of Donald Trump and then against the coronavirus restrictions. 
The minister has since had a change in focus and believes he was misdirected in focusing on things that are not in the spiritual realm, as the Bible instructs. 
"If they hear and read and if they Google me, they're not going to want to see the movie in a lot of ways because the media has done a good or bad, depending on how you look at it, job of painting me as this insurrectionist Christian nationalist that hates everybody," Locke shared. 
"That really couldn't be further from the truth," he continued. 
"This progression with CNN was interesting because I became the most controversial pastor of America, to the most hated pastor in America, to the most dangerous pastor in America. And now I would say I'm probably the most misunderstood pastor in America because they don't recognize the transition."
Locke, however, is remorseful about how intensely he fought these things in the natural when he should have been praying for America's deliverance.
"I was very political. I mean, I was on the Trump train. I was there January 6, and I was very, very political in a lot of ways. But deliverance ministry tempered me because I began to realize, 'You know what, we wrestle not against flesh and blood,'" Locke told CP.
"Yeah, I'm very conservative, and I'm very concerned about what's happening in our nation. But at the end of the day, it's not a White House problem. It's a God's house problem. And if we don't fix what's going on in the church house, we're not going to fix what's going on in the White House or anybody else's house or the movie house."
The Nashville native "transitioned from calling out politicians to calling out demons" because he believes that is the real issue at hand.
"Pastors need to understand the authority and the power that we've been given by Jesus, in His Name, and through His blood, to literally tear down strongholds," he declared. 
"I had to shift my focus in a lot of ways."
In "Come Out in Jesus Name," Locke says "controversy built" his platform to millions of followers but "God used it for deliverance."
"I want people to leave the theater asking their pastors the hard questions. Why aren't we doing this? Why is it the No. 1 thing Jesus did, and our church is denominationally refusing to obey this condition, which has become nothing but an omission?" he asked. 
"If you think back, every type of revival we had one except one, there's never been a revival of deliverance," he continued. "As a matter of fact, you look at Azusa Street, the birthplace of the Pentecostal movement, it stopped, historically, because when deliverance began to break out, people didn't understand it. So they shut it down. You look at the Jesus Revolution, you look at Lonnie Frisbee, they didn't want to go into deliverance, and so it shut it down. It allowed him not to be able to fight his own demons and then not be able to move into deliverance."
Locke argues that "you cannot have full-blown church revival without deliverance."
"So it's time to unpackage it," Locke said.
"Come Out in Jesus Name" features the Lockes, popular YouTube preacher Isaiah Saldivar, deliverance Alexander Pagani, along with other well-known deliverance ministers Vladimir Savchuck, Daniel Adams, Mike Signorelli and others. 
Produced by Wayne Caparas and executive produced by Locke, the film will be in theaters on March 13th only. Visit the website for more information.