Gunmen in Charlie Hebdo Paris Terror Attack Surrounded, Say They Want To 'Die as Martyrs'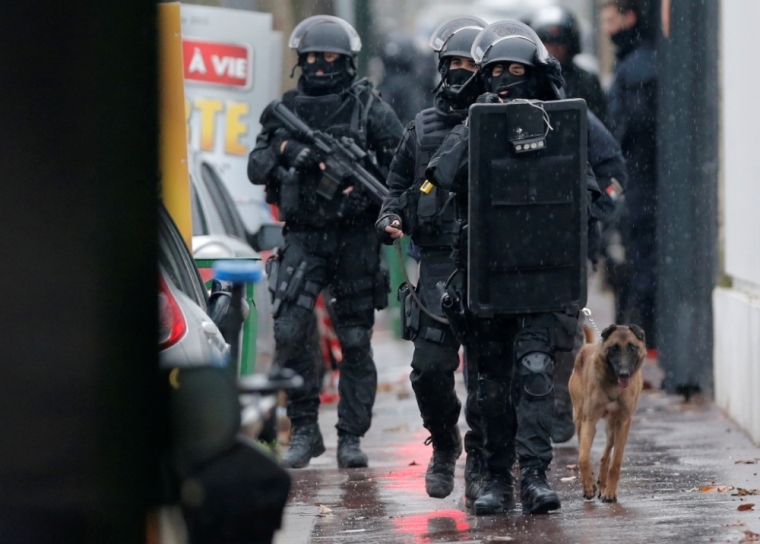 The prime suspects in the terror attack on satirical newspapers Charlie Hebdo that killed 12 people on Wednesday have reportedly been surrounded inside a printing house northeast of Paris, and according to a French member of Parliament, have said that they want to "die as martyrs" A hostage has reportedly been taken by the gunmen.
CNN reported on Friday morning that Yves Albarello, representing the Dammartin-en-Goele area where the gunmen are cornered, spoke with French channel iTele to provide the latest update on the manhunt in France that has stretched over two days. He noted that the suspects have spoken with police and told them of their desire.
The gunmen, identified as brothers Cherif and Said Kouachi, killed 12 people in Paris and fled the scene on Wednesday. They are believed to be hiding out inside a house in the small industrial town located 25 miles outside the capital.
Xavier Castaing, the chief Paris police spokesman, noted that there appears to be a hostage taken by the gunmen inside the house, but there is no information yet on his or her identity.
"We heard shots and we returned very fast because everyone was afraid," she Christelle Alleume, who works across the street. "We had orders to turn off the lights and not approach the windows.
Fox News noted that officials reported of four people inside the house when the gunmen first entered, but three of them managed to escape.
The area is surrounded by police presence, with at least three helicopters hovering above the town.
As many as 88,000 French security forces have been mobilized to search for the suspects, according to French Interior Minister Bernard Cazeneuve.
The U.S. government has aided in the investigation, and on Thursday confirmed that Said Kouachi contacted an Al Qaeda training camp while traveling to Yemen in 2011. His brother Cherif Kouachi had meanwhile been convicted of terrorist charges in France in 2008 for attempting to join up with jihadists fighting in Iraq.
The offices of Charlie Hebdo in Paris are believed to have been targeted for a series of cartoons depicting the Prophet Mohammed, which were seen as offensive by some in the Muslim world. The offices were fire-bombed in November 2011 following the release of such cartoons.
Thursday marked a day of mourning for France, which is reeling from the deadliest attack on its nation in 54 years.
French President Francois Hollande has vowed to do everything possible to find the gunmen, and said that the victims died for the "idea of France."
"Our best weapon is our unity. Nothing should oppose us, divide us, to separate us," Hollande said. "Freedom is always stronger than barbarism."