Hall of Fame Football Players Baptized in Jordan River, 'Walked Where Jesus Walked,' in Life Changing Israel Trip Sponsored by New England Patriots Owner
Hall of Fame Football Players Baptized in Jordan River, 'Walked Where Jesus Walked,' in Life Changing Israel Trip Sponsored by New England Patriots Owner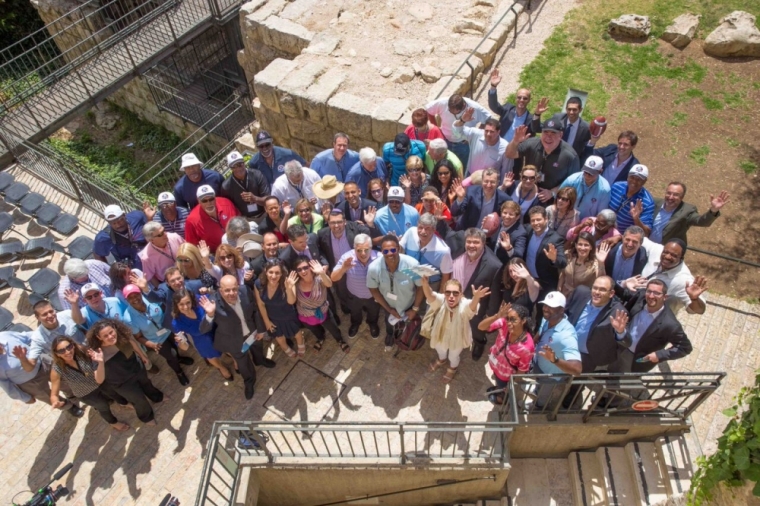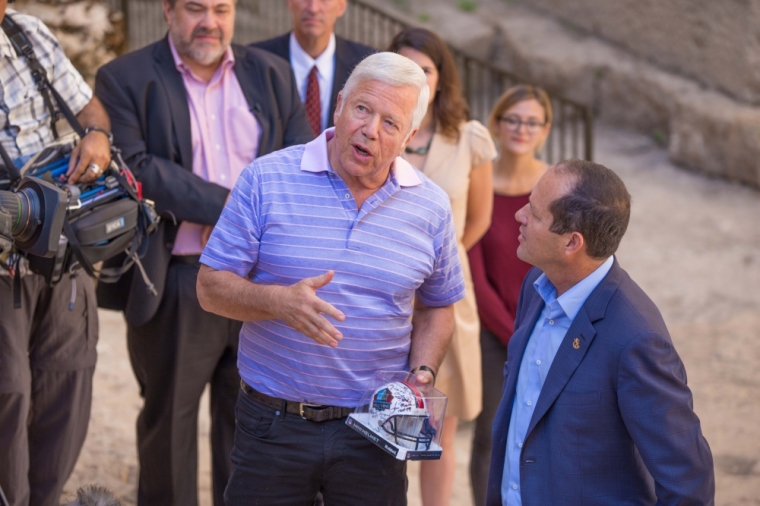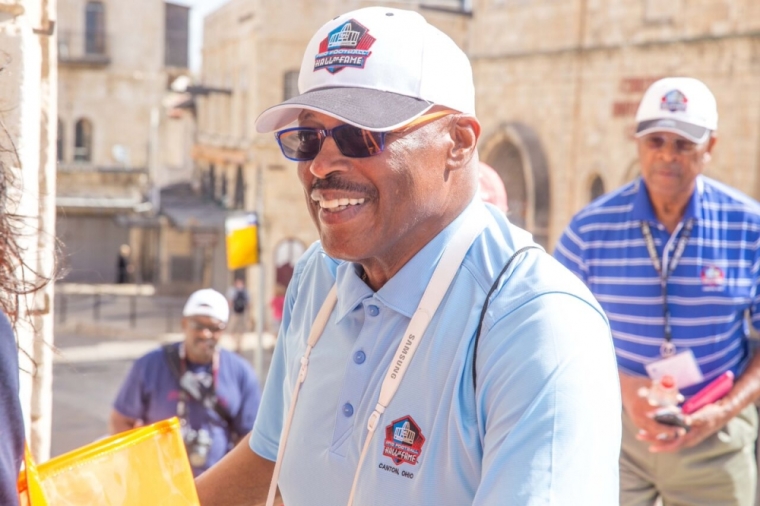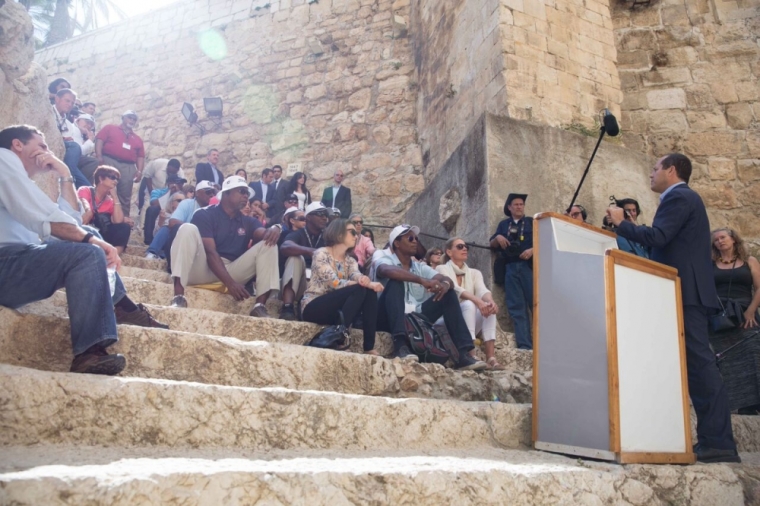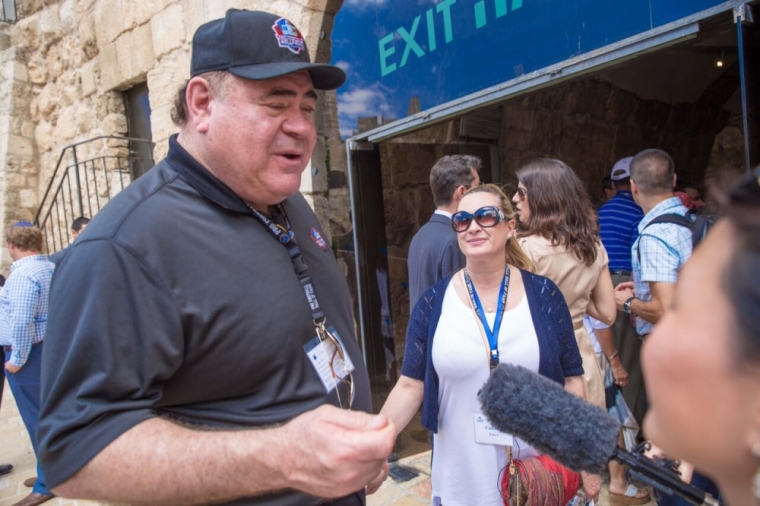 View Photos
New England Patriots owner Robert Kraft says lives were changed after he sponsored a trip to Israel where Hall of Fame football players were baptized in the Jordan River.
Kraft, 74, paid for the trip called, "Touchdown in Israel: Mission of Excellence" where 19 Hall of Famers were invited to participate in community events, witness the country's latest technological advancements and take part in spiritual rituals.
"I don't think there's a better place that you can bring people no matter what their faith might be," Kraft said in a statement. "They come here and their lives are changed."
About a dozen Hall of Famers were baptized in the same Jordan River where Jesus Christ was baptized by John the Baptist centuries ago. Chris Doleman, the Minnesota Vikings pro football Hall of Famer, said the experience was the highlight of his trip.
"I think the highlight was being baptized in the Jordan River," the former Vikings defensive end said last week in a Star Tribune report. "Everybody can't say that one."
The weeklong trip that took place from June 16-23 came about after football fan and Israeli Ambassador Ron Dermer visited the Pro Football Hall of fame in Canton, Ohio, last March. After his visit, Dermer reached out to Hall of Fame President David Baker with the idea of the trip to tour his country, and inspire fans of football there, according to the Pro Football Hall of Fame website
Mark Wilf, the Vikings co-owner and president, said the tour impacted him spiritually.
And former Viking Paul Krause, who was also selected to join the group, told the Star Tribune: "The Hall wanted us to write a little essay on why we wanted to be picked to go. I wrote one sentence: 'I want to walk where Jesus walked.' It was a once-in-a-lifetime trip. You get goose bumps."
For more information about "Touchdown in Israel: Mission of Excellence," please visit the Pro Football Hall of Fame website.
NFL Hall of Fame Gold Jacket Participants
Raymond Berry End (Wide Receiver) – 1955-1967 Baltimore Colts
Mel Blount Cornerback – 1970-1983 Pittsburgh Steelers
Tim Brown Wide Receiver/Kick Returner/Punt Returner – 1988-2003 Los Angeles/Oakland Raiders, 2004 TampaBay Buccaneers
Curley Culp Defensive Tackle – 1968-1974 Kansas City Chiefs, 1974-1980 Houston Oilers, 1980-81 Detroit Lions
Chris Doleman Defensive End/Linebacker – 1985-1993, 1999 Minnesota Vikings, 1994-95 Atlanta Falcons, 1996-98 San Francisco 49ers
John Hannah Guard – 1973-1985 New England Patriots
Mike Haynes Cornerback – 1976-1982 New England Patriots, 1983-1989 Los Angeles Raiders
Ken Houston Strong Safety – 1967-1972 Houston Oilers, 1973-1980 Washington Redskins
Paul Krause Safety – 1964-1967 Washington Redskins, 1968-1979 Minnesota Vikings
Floyd Little Running Back — 1967-1975 Denver Broncos
Tom Mack Guard – 1966-1978 Los Angeles Rams
Curtis Martin Running Back – 1995-97 New England Patriots, 1998-2005 New York
Ron Mix Offensive Tackle – 1960-1969 Los Angeles/San Diego Chargers, 1971 Oakland Raiders
Jim Taylor Fullback – 1958-1966 Green Bay Packers, 1967 New Orleans Saints
Thurman Thomas Running Back – 1988-1999 Buffalo Bills, 2000 Miami Dolphins
Andre Tippett Linebacker – 1982-1993 New England Patriots
Roger Wehrli Cornerback – 1969-1982 St. Louis Cardinals
Rayfield Wright Tackle – 1967-1979 Dallas Cowboys
Jack Youngblood Defensive End – 1971-1984 Los Angeles Rams