Halle Berry Bump: Actress Debuts Rounded Belly After Confirming Second Pregnancy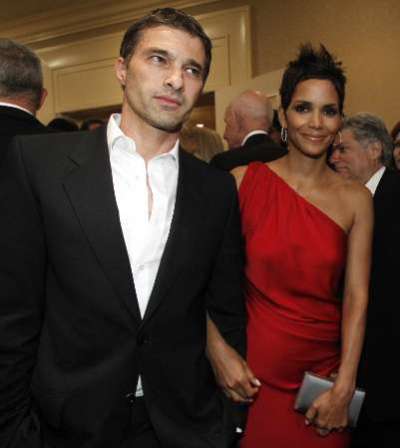 Halle Berry debuted her burgeoning baby bump in Argentina on Monday while promoting her new film "The Call."
TO SEE PHOTOS OF HALLE BERRY'S BABY BUMP CLICK HERE
Just days after a representative confirmed the unexpected pregnancy, Berry stepped out in a purple one-shouldered floor-length gown at the red carpert premiere for "The Call" in Buenos Aires. The Hollywood actress is expecting a child with French actor Olivier Martinez.
"I feel fantastic. This has been the biggest surprise of my life to tell you the truth," said Berry in an interview with CNN's Alina Cho.
"I thought I was kind of past the point where this could be a reality for me. So it's been a big surprise and the most wonderful," she added.
The child will be Berry's second, as she has a 5-year-old daughter, Nahla, from a previous relationship with model Gabriel Aubry.
While some critics suspected that the 46-year-old Academy award-winning starlet may have used in vitro fertilization to get pregnant, it is understood that she actually conceived naturally. She is rumored to be 15 weeks along in her pregnancy.
"[Halle] is feeling great. It's a very exciting time. This happened naturally – everyone is really happy," a source told People magazine.
In a 2010 interview with talk show host Wendy Williams, Berry remained coy about the prospect of having another child.
"That's the thing. [My daughter is] asking me. Every night we pray to God, and she's so sweet. She says, 'God, please bring me a bunk bed and a baby sister.' And I say, 'I can do one of those things, I know for sure! The other one we have to keep praying on,'" Berry said.
"What do you say to her when she wants that and can't understand why God's taking so long, you know?" she continued.
Berry first began dating Martinez, 47, in 2010 just months after ending her 4-year relationship with Aubry, 37. The couple, who met on the set of "Dark Tide," announced their engagement in 2012.
"[Halle] had given up on being married, but she trusts Olivier. He makes her feel safe. He's a keeper!" a source previously told Us magazine regarding the couple's engagement.
The marriage will be Berry's third and Martinez's first.
TO SEE PHOTOS OF HALLE BERRY'S BABY BUMP CLICK HERE