'Halo 5' Ghosts of Meridian Update and Preview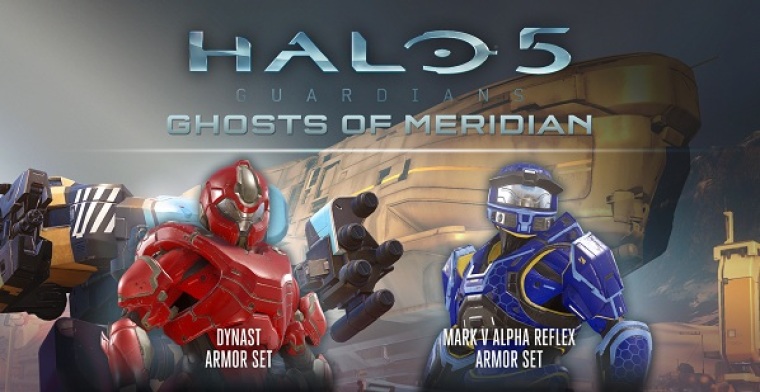 Developer 343 Industries is set to release an update for "Halo 5: Guardians" next month. The game's April update is titled Ghosts of Meridian and Microsoft has released a sneak peek at what's to come.
In a recent blog post at Halo Waypoint, the developer included an image which showed off a number of REQs coming next month. Pictured above are the two sets of armor: the uncommon Dynast Armor Set and the legendary Mark V Alpha Reflex Armor Set. The other new legendaries revealed so far are Tartarus' Gavel, Hannibal Mantis, and Hannibal Scorpion. There's also an ultra rare emblem called Steaktacular and a new Warzone called Skirmish at Darkstar.
In total, the "Halo 5" Ghosts of Meridian update will feature 35 new items as well as multiplayer updates, Forge toolkit improvements, and the "Spartan Laser tuning" which will update specific weapons. March 2016 is the only month so far when an update hasn't been released. 343 Industries has been providing monthly updates since "Halo 5: Guardians" launched in November.
"Ghosts of Meridian will bring with it not only new maps, vehicles, weapons, weapon skins, armors, helmets, emblems, and more, but also game updates such as Forge improvements, multiplayer adjustments for both Warzone and Arena, sandbox and weapon updates (such as Spartan Laser tuning), UI updates, and more," 343 Industries said in the post. "Teams across the studio are wrapping up the release, and we'll keep you updated as work completes and we get ready to send this sucker out the door."
While waiting, players can play a new series of fan-made Forge maps for Griffball and Big Team Battle. The BTB includes a couple of remakes from "Halo 3." Meanwhile, players can enjoy the nine new Griffball courts now.
New BTB maps:
"Viking" by no god anywhere (the Valhalla remake)

"Altar" by WyvernZu (the Sandtrap remake)

"Boulevard" by alex quit (inspired by "Halo 3: ODST")

"Eagle Square" by SHIFTY time

"Fracture" by Squally DaBeanz

"Scavenger" by CommanderColson
New Griffball courts:
"Bloodsport" by NLTROOO and Creative F0rce

"Blue vs Red 2003" by JA50N 0, The222v and ImDuhUnicorn

"Crow's Court" by xNFx Monsta and RBG Persian

"Grif Temple" by Caustic Kirby

"Frontier" by CaptainPunch374 and Creative F0rce

"High Charity" by Darkprince909 and Creative F0rce

"Sandwich" by Darkprince909 and Creative F0rce

"The Arbiter's Court" by guss br

"Underpass" by Katanga
In addition to the "Halo 5" Ghosts of Meridian update, 343 Industries is also set to deliver a new multiplayer game type called Warzone Firefight. This will come in the summer.