How Harry Reid Unwittingly Helped the Christian Right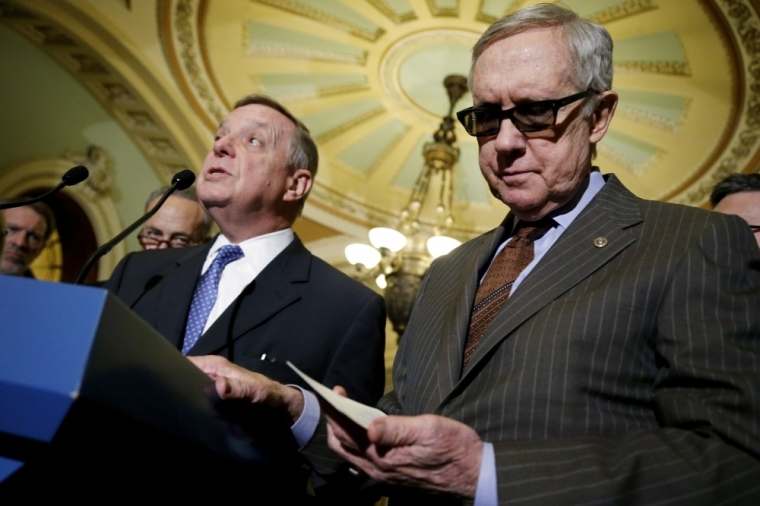 It was just last October when former Senate Minority Leader Harry Reid, D-Nev., proclaimed that he laid the groundwork for a potential Democrat-controlled Senate to forgo a possible Republican-led filibuster to confirm the Supreme Court nominee of Democratic presidential hopeful Hillary Clinton with a simple majority.
The only problem with the now retired senator's assessment in his interview with Talking Points Memo, in which he stated "I have set the Senate so when I leave, we're going to be able to get judges done with a majority," is that the Democrats did not win back the the Senate nor did Clinton win the presidency.
Now it looks like the Republican majority in the Senate could use Reid's very strategy to prevent a Democrat-led filibuster from blocking the confirmation of President Donald Trump's United States Supreme Court nominee, 10th Circuit Judge Neil Gorsuch, who was nominated Tuesday night to fill the void left by the late Justice Antonin Scalia.
Gorsuch is being touted by conservative and pro-life leaders as a constitutionalist jurist who has proven over his career to protect religious liberty and side with pro-lifers. Although Gorsuch has never released a statement about his views on the Supreme Court's decision in 1973 to make abortion on-demand a national right, some conservative legal experts are confident about where he stands on Roe v. Wade and confirmation could likely mean that the Supreme Court is one step closer to a majority that could eventually vote to overturn Roe v. Wade, if one of the court's liberals if replaced by a conservative.
Some Democrat Senators, like Sen. Jeff Merkley of Oregon and Senate Minority Leader Chuck Schumer of New York, are determined to try and block the confirmation through a filibuster.
However, Republicans in the Senate, like Sen. Ted Cruz, R-Texas, have already indicated that they could try and amend the Senate rules to require that only a simply majority vote is needed, instead of 60 votes, to confirm Gorsuch as an associate justice.
As amending the rules of the Senate is something that will likely face Democratic opposition, it should be noted that such move would mirror what the Reid-led Senate did in 2013 when it eliminated Republican filibusters by requiring a simple majority vote in order to confirm President Barack Obama's nominees. The only exception to the rule that was passed under Reid's Democratic majority was Supreme Court nominees.
However, Reid exclaimed in his interview with Talking Points Memo last October that he was open to amending the rules again to include Supreme Court nominations.
"It takes only a simple majority anymore," he asserted. "And, it's clear to me that if the Republicans try to filibuster another circuit court judge, but especially a Supreme Court justice, I've told 'em how and I've done it, not just talking about it. I did it in changing the rules of the Senate. It'll have to be done again."
In a similar fashion, Cruz told Politico on Tuesday that "Democrats are not going to succeed in filibustering the Supreme Court nominee."
"All procedural options are on the table. The bottom line is we will confirm a strong conservative to replace Justice Scalia," Cruz said.
Democratic Sen. Chris Coons of Delaware admitted in an interview with CNN that he regrets the Senate Democrats' move to avoid a filibuster in 2013. Coons was specifically asked whether or not he felt that the rule change the Democrats put in place in 2013 could "come back to bite you."
"Democrats did it for themselves and now Republicans can do it as well," CNN's Kate Bolduan said while prefacing her question to the senator.
"That's exactly right," Coons responded. "The filibuster no longer acts as emergency brake on the nomination."
The Senator explained:
"I do regret that. I frankly think many of us will regret that in this Congress because it would have been a terrific speed bump, potential emergency brake, to have in our system to slow down the confirmation of extreme nominees. We're instead going to have to depend on the American people, on thorough hearings and/or persuading a number of Republicans in those cases where President-elect Trump might nominate someone, who is just too extreme to the American people. I'll remind you that Secretary Clinton won the popular vote and that Democrat — Senate candidates won more votes. So I don't think Trump has an overwhelming mandate. I do think Republicans are conscious of that."