Supreme Court says Harvard, UNC can't use race as factor in student admissions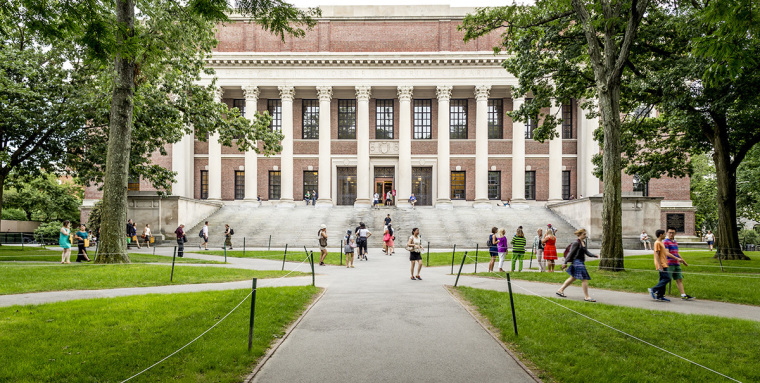 The United States Supreme Court has ruled that the University of North Carolina's and Harvard's admissions policies, which use race as a factor in student acceptance, are unconstitutional.
In a decision released Thursday morning in the case of Students for Fair Admissions, Inc. v. President and Fellows of Harvard College, the high court ruled 6-3 that the admissions programs for both schools violated the Equal Protection Clause of the 14th Amendment.
Chief Justice John Roberts authored the majority opinion, concluding that the courts "have permitted race-based admissions only within the confines of narrow restrictions.
"University programs must comply with strict scrutiny, they may never use race as a stereotype or negative, and—at some point—they must end," wrote Roberts, alluding to the 2003 Supreme Court decision Grutter v. Bollinger, which said that "the use of racial preferences" for student admissions "will no longer be necessary" within the next 25 years.
"Respondents' admissions systems—however well intentioned and implemented in good faith—fail each of these criteria. They must therefore be invalidated under the Equal Protection Clause of the Fourteenth Amendment."
Roberts was joined by Justices Clarence Thomas, Samuel Alito, Neil Gorsuch, Brett Kavanaugh and Amy Coney Barrett.
Justice Sonia Sotomayor authored a dissenting opinion, being joined by Justices Elena Kagan and Ketanji Brown Jackson.
"The Equal Protection Clause of the Fourteenth Amendment enshrines a guarantee of racial equality. The Court long ago concluded that this guarantee can be enforced through race-conscious means in a society that is not, and has never been, colorblind," wrote Sotomayor. "Today, this Court stands in the way and rolls back decades of precedent and momentous progress. It holds that race can no longer be used in a limited way in college admissions to achieve such critical benefits. In so holding, the Court cements a superficial rule of colorblindness as a constitutional principle in an endemically segregated society where race has always mattered and continues to matter."
In recent years, the group Students for Fair Admission filed lawsuits against Harvard and the University of North Carolina over their admissions policies, which include race as one of many factors when considering student applications.
The group's litigation had seen its share of defeats. In 2018, a district court ruled against the Harvard lawsuit, with the U.S. Court of Appeals for the First Circuit upholding the earlier decision. In 2021, another court upheld UNC's admissions policy.
In January of last year, the Supreme Court agreed to hear oral arguments for both cases, with  SFFA President Edward Blum celebrating the news in a statement released at the time.
"We are grateful the Supreme Court accepted these important cases for review. It is our hope that the justices will end the use of race as an admissions factor at Harvard, UNC and all colleges and universities," said Blum.
"In a multi-racial, multi-ethnic nation like ours, the college admissions bar cannot be raised for some races and ethnic groups but lowered for others. Our nation cannot remedy past discrimination and racial preferences with new discrimination and different racial preferences."
The high court heard oral arguments last October, with the cases argued separately so that Justice Ketanji Brown Jackson could take part in the UNC appeal. Jackson recused herself from the Harvard case since she had spent six years on Harvard's board of overseers, which often debated the school's affirmative action policy.
Solicitor General Elizabeth B. Prelogar, representing the Biden administration in support of UNC and Harvard, argued that the policies helped prepare students for life in a racially diverse nation.
"A blanket ban on race-conscious admissions would cause racial diversity to plummet at many of our nation's leading educational institutions," Prelogar argued last year.
"Race-neutral alternatives right now can't make up the difference, so all students at those schools would be denied the benefits of learning in a diverse educational environment. And because college is the training ground for America's future leaders, the negative consequences would have reverberations throughout just about every important institution in America."