Harvest America 2016 Will Tonight Take Place in 100,000 Capacity Dallas Cowboys Stadium, Livestreamed to 6000 Locations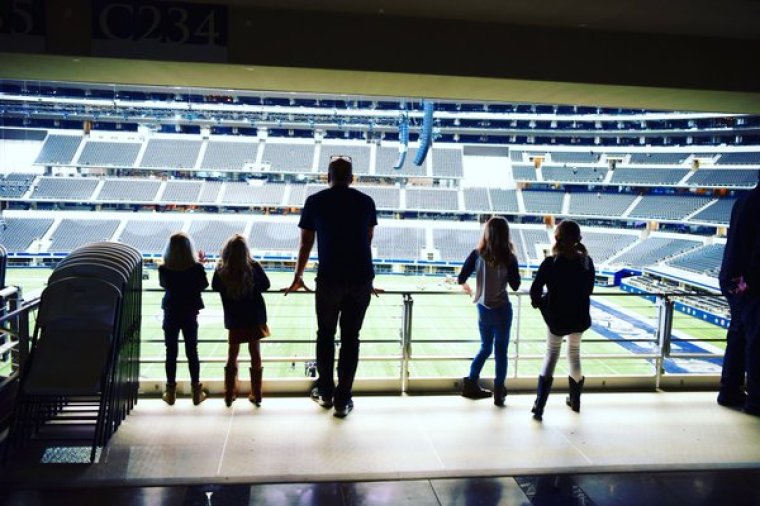 Evangelist Greg Laurie and an army of volunteers are hoping that Harvest America at the 100,000 max-capacity AT&T Stadium in Arlington, Texas, streamed live to more than 6,000 host locations in the U.S. and worldwide, and broadcast live on cable TV on Sunday will usher thousands into a relationship with Jesus and become perhaps the largest Christian outreach in history.
This will be the fourth time in Harvest Ministries' 26-year history that it has hosted this national outreach, "providing the opportunity for churches throughout the country to unite on one day as one church for one message – the Gospel message of God's love and salvation, as presented by Laurie," organizers said.
Laurie is no stranger to large stadium events, but he expressed awe at the size of the venue that hosts the Dallas Cowboys during the NFL season.
On Saturday, Laurie posted on social media a photo of himself and his four grandchildren "surveying the sheer largeness of AT&T stadium."
Laurie, who is also the pastor of Harvest Christian Fellowship Church in Riverside and Harvest Orange County in Irvine, has led 100 crusades attended by 5 million people with webcasts reaching 1.75 million more. The Dallas Morning News reports that AT&T Stadium could be the setting for "the largest one-day gathering of them all."
"AT&T Stadium is one big place — it's massive. But inside, it's surprisingly intimate," he told the Dallas Morning News. "And when I get into the pulpit and start my sermon, that's my sweet spot, the place where I feel most comfortable. When I'm up there, I'm having a conversation with an individual. I'm thinking of the person at the top of the stadium about to walk out the door, and I want to talk with that person.
"I want to see people believe in Jesus Christ."
READ CHRISTIAN POST'S INTERVIEW WITH GREG LAURIE ON HARVEST AMERICA 2016
More than 700 churches from the Dallas-Fort Worth area are participating in Harvest America and for the first time, a choir of "2,400 voices strong" will also participate.
Churches and volunteers hope to make a significant impact in their congregations and communities. "As the nation has faced many fears and struggles, and especially in a divisive election year, local and national organizers are grateful for the opportunity Harvest America provides in bringing millions of individuals together on One Day as One Church with One Message – a consistent theme of Harvest America events."
When asked by the Star-Telegram whether America has forgotten about God, Laurie answered,
"No question about that. Surprisingly, the No. 1 religious group in America is not Catholics or Protestants. They are a group that's identified as the 'Nones.' It's people who are into spirituality, which means a little bit of everything, perhaps. I want to speak to people like that. Before I was a Christian, I once was a Nones. I didn't know what I believed and had no world view to speak of. I was just kind of waiting to be formed. I didn't know there was an instruction manual, which is the Bible, on God's love for us on how to live life."
Music featured at the event will be from Chris Tomlin, Lecrae, Switchfoot, and MercyMe.
Harvest America is scheduled for Sunday at 5:30 pm CT. For complete information, including viewing options, visit online at HarvestAmerica.com.