Harvest America 2016's Greg Laurie: I Will Talk to the Cynical Individual Even if 60,000 Attend (Sneak Peek)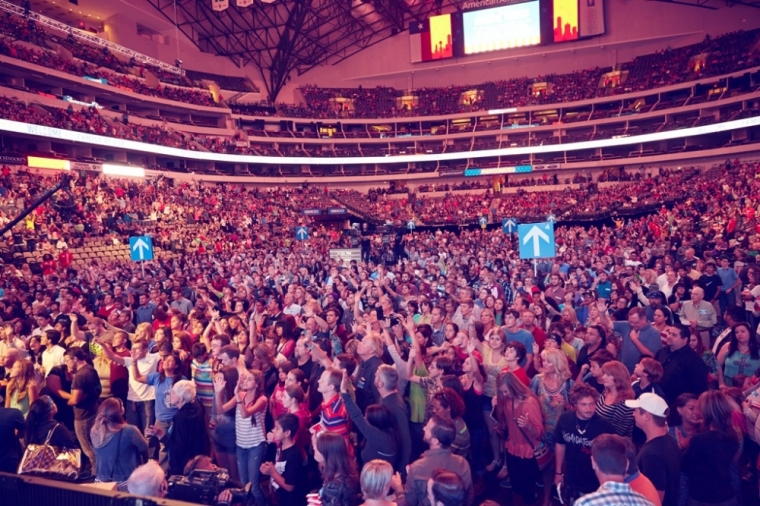 Harvest America 2016 may draw up to 60,000 people between the main stage at AT&T Stadium in Arlington, Texas, and the thousands of simulcast locations Sunday evening, but the massive evangelism event's founder Greg Laurie says that he will focus on an individual come time to step into the pulpit and preach.
"When I speak, I'm not so much addressing a crowd, I think of an individual," Laurie told The Christian Post earlier this week. "It's hard to wrap your mind around a crowd of 30-, 40-, 50-, 60 thousand people — in fact you can't. So what I do is I think about that person that is cynical that didn't even want to come in the first place ... Though I'm speaking to a crowd in reality, I direct my remarks as though we were having a conversation — me and that person that's in attendance."
Laurie, Harvest America's host and main speaker as well as California-based Harvest Christian Fellowship senior pastor, intends to deliver a message that he hopes will rekindle the faith of those who already believe, as well as bring non-believers into a relationship with Christ. He shared in an interview with CP that he feels a great responsiblity when he preaches at the massive event because he knows some people worked very hard to bring their non-believing friends to the event in hopes that they would hear the Word and commit their life to Christ.
"I know one day I'll be held accountable for what I've said to people. The Bible says there's a greater judgment for those that preach the Word. So I take that seriously," he said.
The California preacher said he spends more time working on a Harvest America message than any other sermon he gives because of the extra effort it takes to make it simple and completely understandable to a non-believer.
"I want it to be personal, I want it to be real, I want it to be biblical, I want it to be loving, and I want it to be clear."
Laurie gave CP a sneak peak of the message he will deliver Sunday evening, which will be titled: "The Good, The Bad and The Ugly."
"I'm going to contrast two people in the Bible that couldn't be more different from one another," he said. "One was a man, the other was a woman. One was moral, the other was immoral. One was famous, the other was infamous, and they both were transformed by their encounter with Jesus Christ. Their names were Nicodemus, and the woman — she's just known as The Samaritan Woman."
The message is intended to reach the religious as well as those who are unfamiliar with Bible truths, Laurie explained. The pastor will also speak about current events, and attendees will be extended an invitation to accept Christ.
>Harvest America will be livestreamed to thousands of host locations around the country and is one of Laurie's biggest opportunities to evangelize each year. The California pastor encourages Christians to get over any fears of evangelism that they may have and to take advantage of their own opportunities to spread the Gospel.