Harvest America Youths Canvas Dallas With Thousands of Invitations; 43 People Immediately Commit Life to Jesus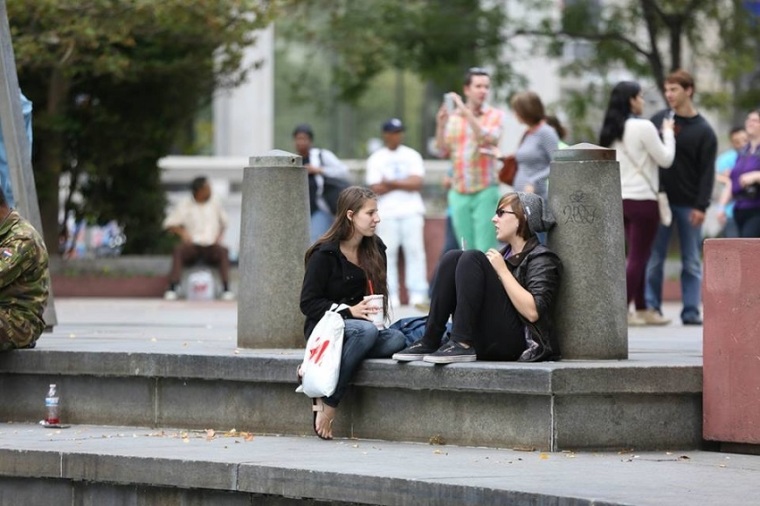 DALLAS – Kevin Monzon, 16, has a passion for telling others about Jesus Christ. So do the 46 other high school-aged young people who arrived from Southern California five days ago to begin inviting people to attend Greg Laurie's Harvest America in Dallas Sunday evening.
Monzon, who is already a three-year veteran of street evangelizing with Harvest youth ministry, told The Christian Post how the team from primarily Riverside and Orange counties, have spent much of their time during the long days in Dallas.
"We approach young students, young adults and we just ask them, 'Do you believe in God?' We [often] start with a joke or a soft question," he explained. "We clear up the whole awkward opener thing, but we usually begin, at least I do, with 'Where would you go if you die tonight?'"
"We usually make sure we get the Gospel out no matter what," he added.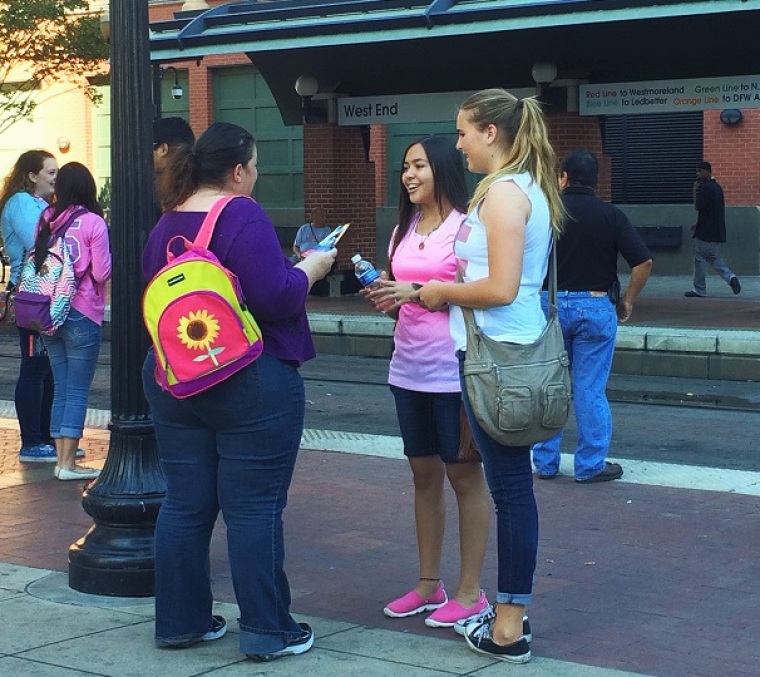 In Dallas, the SWAT (Students With a Testimony) team, which has visited malls, plazas, and popular attractions has passed out thousands of invitations to Harvest America and helped 43 people make commitments to follow Jesus Christ as of Saturday night. Pastor Jason Powell and ministry leader KC McCauley lead the team.
McCauley said that seeing young people have a compassion for other people is one of the things most satisfying about his ministry.
"It's always unique to see young people reach out to other young people and [them] hearing how the Gospel has impacted them personally right where they're at, therefore, it can impact other young people right where they are at," he said. "It's very applicable, rather than hearing from someone [much] older or someone like their parents."
McCauley said that he also takes joy in witnessing the spiritual growth of individual members of SWAT "because they are telling people about the Gospel and why they believe what they believe and knowing how to communicate that to others."
Monzon said that for someone just starting the ministry of "street witnessing" or just joining SWAT it can be difficult.
"At first, for everyone, and honestly, it's kind of terrifying, nerve-wracking that you approaching people that you don't know and don't know what to expect," he said. "No matter how experienced you are you still don't know what to expect, but it's a passion, I love it."
Monzon, who has graduated from high school and attending medical school in hopes to become a missionary nurse or doctor, said that he fully appreciates being a part of Harvest's SWAT team during event outreaches.
"Your walk with the Lord definitely grows, you learn a lot about different people, different religious views. Even Christianity, you study it more. It's a way to have the right answer for those that don't know the answer," said Monzon.
He said he studies all different religious views in order to be able to have knowledgeable discussions with people. He began this aspect of his faith at 13 years old.
"Usually, it's as long as we get the Gospel out, the fact that Christ died for our sins and He resurrected, most importantly. As long as that happens I think that's a good conversation," Monzon said. "That's the main thing that I would want them to know at the end of the conversation. Not leave the conversation until the seed is planted."