'Healing Evangelist' Todd Bentley Tells Man With Cerebral Palsy: 'I'm Not Giving You My Anointing,' After He Calls Him a Fraud at Crusade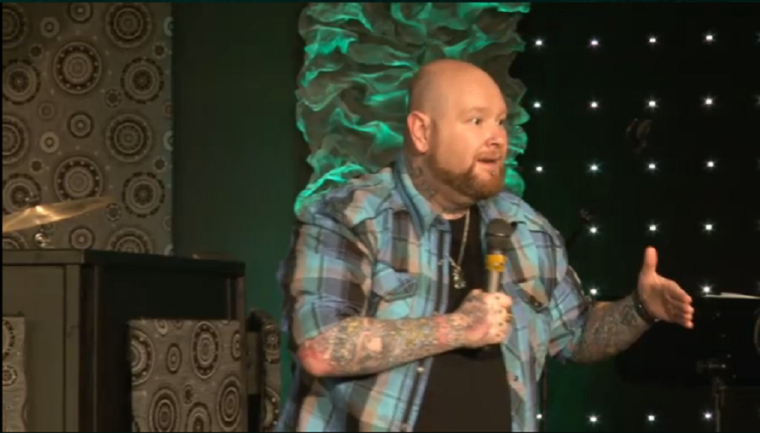 Todd Bentley, the controversial founder and "healing evangelist" of Fresh Fire USA, withheld his healing "anointing" from a vocal critic of his ministry at a revival crusade in Tulsa, Oklahoma, after the man called him a "worker of iniquity" before his faith-filled audience.
The critic, Justin Peters who operates Justin Peters Ministries in Oklahoma and suffers from cerebral palsy, is captured in a YouTube video, challenging Bentley with a quote from Matthew 7:22, calling him a fraudulent preacher after he was invited to testify during the revival service.
"And Jesus will look at them and will say, 'I never knew you. Depart from me, you workers of iniquity.' This man is a worker of iniquity," charged Peters before the congregants in the video.
"Which man?" asked Bentley in the video.
"You. He preaches ..." replied Peters in the video as the microphone was quickly taken away from him.
"God bless you," Bentley then responded to Peters charge as he tried to move on from the unexpected outburst from Peters, who kept on making inaudible charges as Bentley's assistants tried to hustle him away.
"This is a true promise though," Bentley tried telling Peters who was moving around with the help of crutches at the time. It appears he attempted to hit the evangelist with his crutch when Bentley tried to dole out some of his healing anointing on the physically challenged man, forcing the "healer" to warn: "Don't hit me with your crutch. I'm just trying to bless you."
Peters argued with Bentley some more until the minister told him: "Oh, Thank you sir. I'm not giving you my anointing because I have nothing to give."
Bentley then turned to his audience and told them: "Just bless him and just pray. Hallelujah."
Bentley, who is no stranger to critics of his sometimes-controversial ministry, explained in a video on his website that he has no power over who gets healed and who doesn't when they come to his services, but defended healing as a legitimate ministry in the church.
"When you do what I do and you pray for tens of thousands of people a year. Many of them I lay hands on. … Not everybody is instantly healed. There's people that aren't healed. There's people that never get healed. I don't have all the answers how the healing anointing works. Why, what, when, where or how," said Bentley.
"But I remember praying about it one time. And I said, 'God, I am convinced that just because there are people that don't know Jesus, and even die without even knowing Jesus as their personal Lord and savior, I am convinced that that does not change what happened at the cross.' It does not change my message and theology and I believe the same when it comes to healing," he explained.
"Even when someone doesn't get healed, when I don't understand why somebody doesn't get healed, and somebody dies without getting healing, I said, well God, somebody dies without salvation so that means I don't preach the Gospel?" he asked.
Bentley said he is simply an earthly vessel trying to be a conduit to give the power of God to people who need it, and warned that people should not discount something because they have never experienced it.
"You know, we're vessels that get to carry this treasure," he said of the healing anointing of the Holy Spirit.
"We don't change the message because of disappointment; we don't change the message because of failure. Many times we make doctrines and theologies in the church today because they don't line up with our experience ,and we've gotta believe the word of God. … Not one theologian has been able to convince me that healing does not happen today," he said.