HeartCry Missionary Paul Washer Expected to Be Released From Hospital by Weekend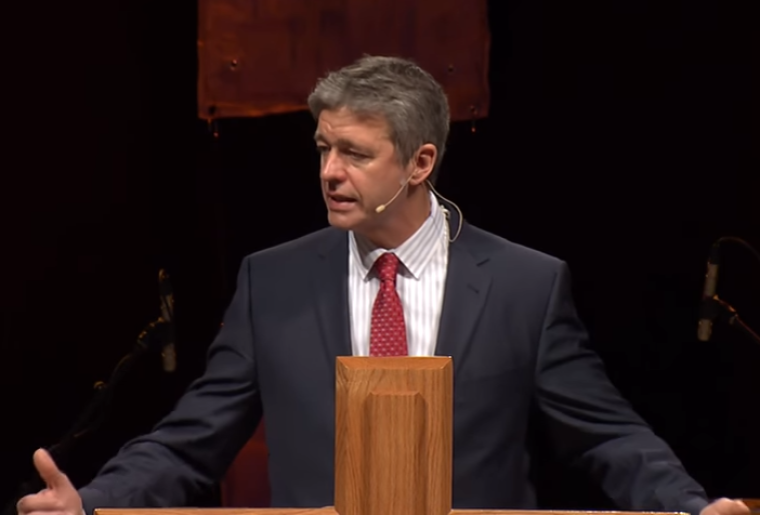 After suffering a massive heart attack and forced to undergo emergency surgery on Monday night, founder, director and missions coordinator of HeartCry Missionary Society, Paul Washer, is expected to be released from the hospital by the weekend.
"I suspect he'll be out in the next couple of days," Kevin Hite, operations director at HeartCry told The Christian Post in a telephone interview Wednesday. "I was just with him a few minutes ago."
On Monday, news broke that he suffered a massive heart attack and was forced to undergo emergency surgery.
In a series of posts on social media Tuesday night, Washer's team said they hadn't received much news about his condition but explained that he was "resting" and recovering slowly.
"A typical first day at the hospital: lots of waiting — not much news. However, Paul is resting well this afternoon. Thank you for praying!" said a post on the 55-year-old missionary's Facebook page.
An earlier post intimated he had also been making slow progress after the surgery.
"Paul is continuing to improve. We're encouraged to see the progress, though slow. Continue praying!" it said.
An update on Wednesday morning was even more upbeat: "We are very happy to report that Paul is much improved today! He's still hurting and weary from the ordeal, but much improved. Prayers are availing!"
Washer's life-threatening emergency was first highlighted by Jhonattan Madueño about 11 p.m. EST on Monday night who explained that the beloved missionary suffered the heart attack around 10:30 EST. Hite said Wednesday that the heart attack happened earlier at Washer's Virginia home but would not confirm what the beloved missionary was doing at the time of the attack.
"No doctor expected, based on his health, for him to have a heart attack," Hite said.
About two months ago, while preaching at the 2017 G3 Conference, held Jan. 19–21 in Atlanta, Georgia, Washer explained during a message in the sixth session that he was debilitated by an unspecified illness.
"First of all, I'd like to say what a tremendous privilege it is to be here and I praise God that I am here. I preached out on the West Coast last week and when I was flying home I started getting very sick," he said in a recording of the session posted to YouTube.
"Today was the first day I actually left the house after four days. I was supposed to be here yesterday, but I had to cancel my flight and I woke up this morning and at about 2 (a.m.). I was so sick, I thought to myself, 'Well, as soon as it's daybreak, I'll call Pastor White and tell him that there's just no way,'" he said.
After going back to sleep and waking up again nearly two hours later, Washer said God appeared to intervene and gave him the strength he needed to preach.
"Then I got back to sleep finally and 3:45 in the morning I woke up and God seemed to give an unusual grace to tarry with Him and to watch with Him in the night. And He greatly encouraged my soul in prayer and it was so unusual that I thought, 'Well, the Lord must want me to go ahead and come here,'" he added.
Washer then went on to preach on the "The Sufficiency of Scripture: God's Church God's Way."
When asked if the January illness was related to Washer's heart attack, Hite said he couldn't speculate.
"I don't know that it necessarily was. He had a heart attack. There was some blockage in an artery. It may or may not [have] but there is no way to say that was indicative or somehow a precursor [to a heart attack].
"He has a number of particularly chronic pain issues and that is no secret, but he's had some totally unrelated issues of late. The heart attack was a complete surprise," Hite said.
News of Washer's heart attack has triggered ongoing prayer for the beloved missionary and itinerant preacher, especially in Latin America where he founded The HeartCry Missionary Society in Peru in 1988. The society helps indigenous or native missionaries so that they might reach their own people and establish biblical churches among them. It currently supports approximately 238 missionary families in 41 countries worldwide.
Beyond praying for Washer, some of his supporters have also tried to establish funding campaigns to help with his recovery, but his team explained on social media that they were not seeking to raise any money.
"Please note: We are not raising funds for Paul through any medium," noted one statement on Facebook.
Hite explained that he posted the message because, "There have been many cases where unscrupulous people use Paul's name to try to make money for themselves. And Paul very clearly has never ever solicited funds from anyone for himself or for HeartCry."
He said Washer's ministry is supported by people moved to give through his "public preaching ministry."
Washer was converted while in law school at the University of Texas. He earned a master's of divinity from Southwestern Baptist Theological Seminary and served as missionary in Peru for 10 years.
He is perhaps best known for his infamous "Shocking Youth Message," to about 5,000 youth at a 2002 conference. In the sermon that has attracted nearly 2 million views on YouTube, he told them that American Christianity is mostly wrong and most of them, even the ones who profess Jesus, could end up in Hell.
"I want you to know that, when you take a look at American Christianity, it is based more upon a godless culture than it is upon the Word of God. And so many people are deceived, and so many youth are deceived, and so many adults are deceived into believing that, because they prayed a prayer one time in their life, they're going to Heaven," he said in the message.
"I want you to know that the greatest heresy in the American evangelical and Protestant Church is that, if you pray and ask Jesus Christ to come into your heart, He will definitely come in. You will not find that in any place in Scripture. You will not find that anywhere in Baptist history until about 50 years ago," he continued.
"Everyone in my town is a Christian. Eighty-five percent of them do not go to church, and those who do go to church are not concerned about holiness. They're not concerned about serving. They're not concerned about being separate from the world. They're not concerned about the Gospel being preached among the nations. But, bless God, they're saved.
"Why are they saved? Because some evangelist who should have spent less time preaching and more time studying his Bible told them they were saved, and he did it so he could brag about how many came forward in his next revival," Washer explained.