Heckler Tells Obama: 'Christ Is God, You Are the Antichrist' (VIDEO)
A man suddenly interrupted President Barack Obama's speech during a fundraiser event in Los Angeles Monday night, shouting "Jesus Christ is Lord" and that the president was "antichrist" before being dragged from the premises by Secret Service agents.
As Obama began to address the crowd, a voice rang out, reportedly belonging to David Serrano, shouting: "The Christian God is the one and only true living God."
Immediately, the room full of people, laughing and joking with the president seconds before, suddenly fell quiet. Obama's smile also fell as he stared into the crowd and watched Serrano, standing in the front row, continue to shout.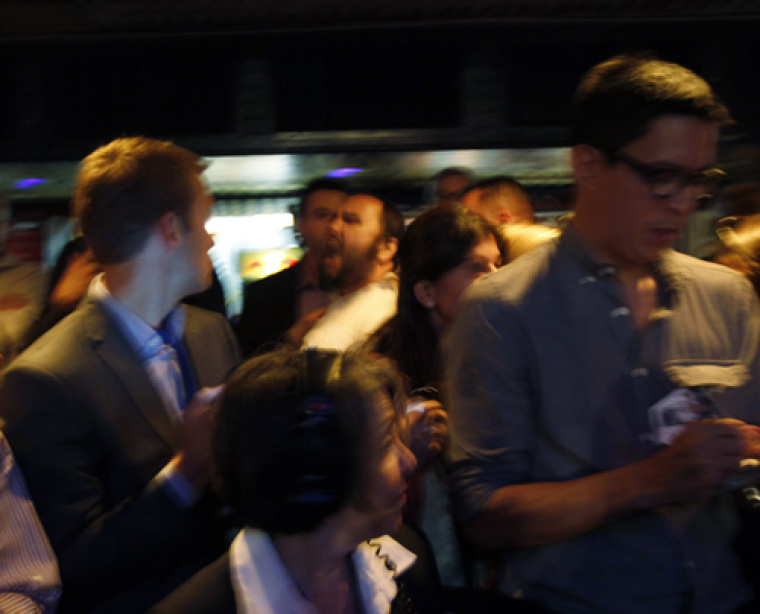 Serrano added, "[God is] the Creator of heaven and the universe," before the crowd started booing in an attempt to drown out his cries with a chant of their own -- "Four more years."
But Serrano managed to yell out, and still be heard over the chanting, "Jesus Christ is God!"
Before being dragged out of the room by Secret Service, Serrano yelled to President Obama either, "You are the Antichrist," or, "You are an Antichrist."
President Obama, despite the crowd's attempt to drown out Serrano claims, gave the man his full attention, nodding as he watched him shout and point at the podium.
As Serrano was dragged from the room, President Obama attempted to pick up where he had left off.
"First of all," Obama began, "I agree, Jesus Christ is the Lord. I believe in that."
Watch: Raw Video of Heckler Interrupting President Obama's Fundraiser
According to the New York Daily News, which refers to Serrano as a "wacko heckler," the man was questioned and released by the Secret Service without any charges.
Tony Bell, spokesman for Los Angeles County Supervisor Michael Antonovich, told the Daily News that Serrano has been a regular at county meetings for years, and is notorious for giving "long, rambling religious statements predicting earthquakes and the apocalypse."
"He yells out his statements, which are very mistaken, odd interpretations of scriptures," Bell said. "He's been pretty close to being thrown out of our meetings. When he calls Supervisor Antonovich 'Mikey,' it's very vitriolic. He's not a pleasant guy. He talks about Jews in his diatribes and seems very anti-Semitic. I don't have the impression he's dangerous, but he has issues that could use some help."
President Obama, who wrapped up a string of fundraising events on the West Coast yesterday, is no stranger to heckling or accusations of being the Antichrist.
The term, when not used generally, refers to the eschatological figure portrayed in the Bible as opposing Jesus Christ and persecuting Christians before being defeated at Christ's Second Coming.
According to a Harris Interactive poll published last year, about 24 percent of Republicans believed that President Obama "may be the Anti-Christ."