Hillary Clinton Heckled About Benghazi While Speaking at University in New York: 'You Let Them Die' (VIDEO)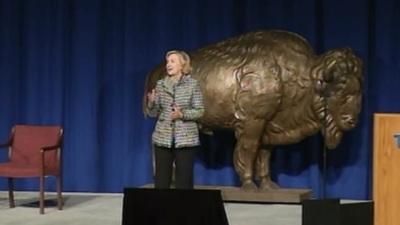 Former Secretary of State Hillary Clinton has been heckled for her handling of the Benghazi attack while speaking at the University of Buffalo in upstate New York this week. Clinton deflected the heckler and continued speaking as he was escorted out of the building.
The heckler blamed Clinton for the deaths of four Americans at the U.S. Embassy in Benghazi, Libya when it was attacked by a heavily armed group of terrorists in 2012. "Benghazi, Benghazi, you let them die," the heckler chanted for 40 seconds as Clinton continued her planned speech on the importance of political cooperation to achieve progress in the U.S.
The heckler was eventually removed from the bleacher section of the auditorium at the University of Buffalo. As he was led out by security, Clinton addressed him by saying: "Because we can't move from crisis to crisis, we have to be willing to come together as citizens to focus on the kind of future we want," she said, adding "which doesn't include yelling. It includes sitting down and talking."
Clinton was speaking at the university as part of its Distinguished Speaker Series Wednesday night to a sold-out crowd of over 6,000 in the Alumni Arena, and Clinton's response to the heckler garnered a standing ovation from her supporters attending her speech. Clinton went on to say that she believes compromise and cooperation are the most fundamental aspects of democracy, referencing the recent rift between Democrats and Republicans in Congress regarding Obamacare that caused the federal government to partially shut down for over two weeks.
"In a democracy, compromise is part of the deal. It detracts from what we are trying to accomplish when we lurch from crisis to crisis," Clinton said.
Clinton has previously been blamed for her handling of the Benghazi embassy attack in September 2012. Clinton, who was Secretary of State at the time, was criticized for not providing adequate security to the U.S. Embassy in Libya, and some argued the attack could have been avoided had Clinton yielded previous security threat warnings. Also, Clinton was criticized for asking at the Senate and House hearings regarding the attack "what difference does it make" if the attack was a planned terrorist attack or random protest.
Many continue to blame Clinton for not having a stronger hold on Libya's security issue at the time of the attack. In an interview with CNN's Jake Tapper earlier this year, Pat Smith, the mother of State Department Information Officer Sean Smith, one of the four Americans killed in the attack, said that she blames Clinton for her son's death.
"Why couldn't she do something about it? I blame her. That's her department. She is supposed to be on top of it. Yet she claims she knows nothing," Smith said.