Hillary Clinton Says Republicans Support 'Big Government' for Trying to Defund Planned Parenthood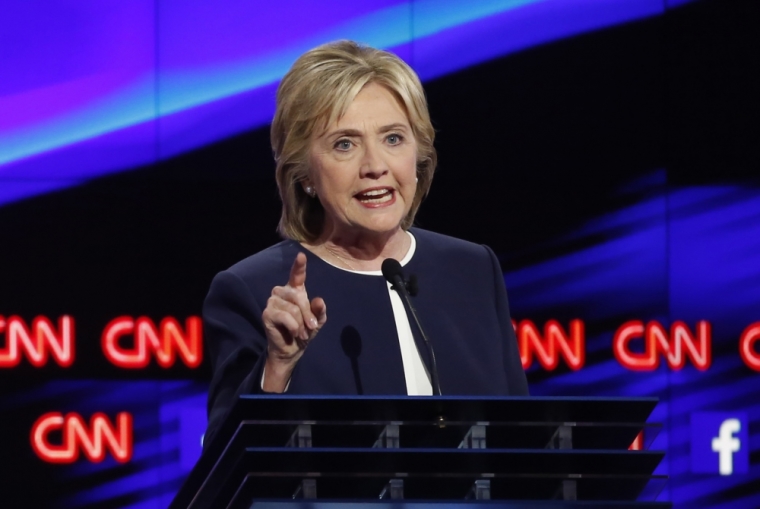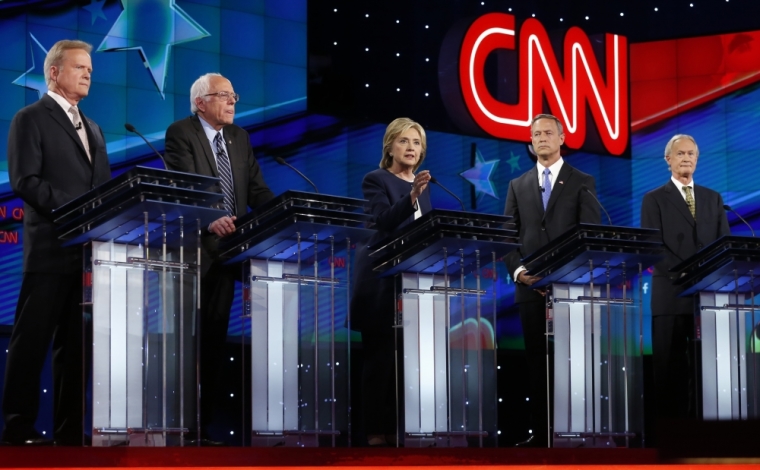 View Photos
In the first Democrat debate for the 2016 presidential race, Hillary Clinton claimed that Republicans favor big government for their opposition to abortions and efforts to cut taxpayer funding for Planned Parenthood.
In an impassioned moment Clinton bellowed, "They don't mind having big government to interfere with a woman's right to choose and to try and take down Planned Parenthood. They're fine with big government when it comes to that. I'm sick of it."
Clinton, who received thunderous applause for her defense of Planned Parenthood, made multiple mentions about how being a female candidate makes her an "outsider" in the Democrat field.
All the Democrat candidates on the stage in Las Vegas Tuesday can boast strong support from abortion supporters and Planned Parenthood but Clinton was the only candidate to insert the popular abortion provider into the debate. CNN moderator Anderson Cooper asked no specific questions about Planned Parenthood or abortion.
Clinton also said she will fight hard for more paid leave for families and women in the workplace and made multiple assertions that the wealthy will pay for her programs.
Southern Baptist Ethics & Religious Liberty Commission President Russell Moore took issue with Clinton's comment, Tweeting out: "Secretary Clinton, it isn't big government to stop the Govt. from funding Planned Parenthood."
Clinton's Twitter account was actively defending Planned Parenthood during the debate.
"Attacks on Planned Parenthood are attacks on women's health and rights. We can't let them take us backwards," her campaign wrote.
The conservative blog RedState took issue with Clinton's claim that big government means defunding Planned Parenthood.
"How are the Republicans going after Planned Parenthood? By going after federal funding for Planned Parenthood, which provides the abortions that kill children and results in the body parts being sold," wrote Joe Cunningham of Red State.
"This is not Big Government. Big Government is the growth of government and government spending to increase the form and function of what government does."
Moore sarcastically asked a question when the candidates were offering up negative critiques of capitalism in America that leads to moral chaos: "Greed, recklessness, lawless behavior. Are we finally talking about Planned Parenthood?"
Former Arkansas Governor and Republican presidential candidate Mike Huckabee took a swipe at Clinton and the Benghazi scandal on social media, declaring, "If only Hillary Clinton was as passionate about protecting American diplomats as she is about blasting the GOP."
The former secretary of State under Obama and former New York senator was the only candidate to reference God over the course of the entire CNN debate. Clinton twice referenced her policies would lead to Americans living up to their "God-given potential."
Clinton classified herself as a "progressive" during the debate but added the caveat that she is a "progressive that likes to get things done."
Former Maryland Governor Martin O'Malley accused Republicans of "denigrating women" and American citizens for their beliefs about religion.
"On this stage, you didn't hear anyone denigrate women, you didn't hear anyone make racist comments about new American immigrants, you didn't hear anyone speak ill of another American because of their religious belief," said O'Malley.
The former governor accused GOP front-runner Donald Trump of being a "carnival barker" and an "immigrant hater."
Along with O'Malley and Clinton, the first Democrat debate included former Virginia Senator Jim Webb, Vermont Senator Bernie Sanders, and Lincoln Chafee, former senator and governor of Rhode Island.