Hillary Clinton Reveals She Turned to Prayer, Yoga and Chardonnay After 'Devastating' Loss to Trump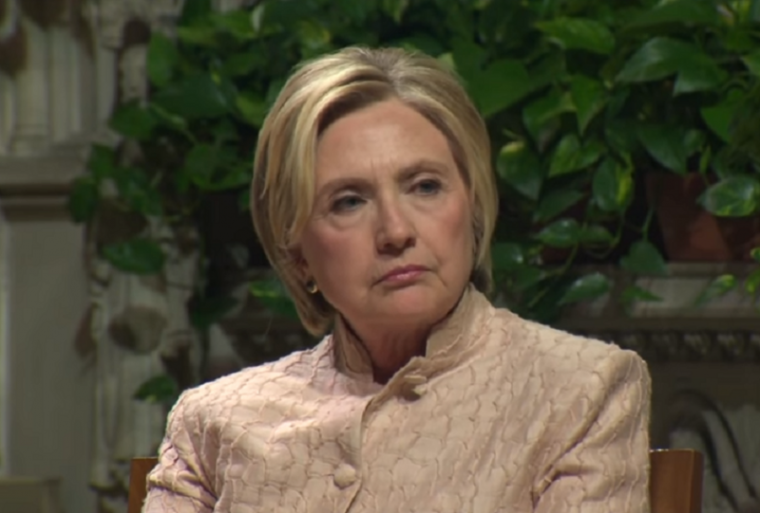 Days before the official release of her new book, What Happened, Hillary Clinton revealed Thursday that the "devastating" defeat she suffered in the 2016 presidential election forced her to seek solace in prayer, yoga and Chardonnay.
Responding to a question about the role her faith played in helping her through the loss, Clinton explained during an appearance at Riverside Church in New York City that the loss was particularly biting because she was confident that she would have been elected the next president of the United States.
"I didn't think I would lose. The two best politicians I know, my husband and Barack Obama, did not think I would lose. And so when it happened, it just threw me back and threw me on to my own internal resources and I knew that I had to get up the morning after the election ... I had to demonstrate the kind of personal composure and strength in order to deliver a concession speech but to do it in a way that wasn't bitter or angry," she said.
"I tried very hard to do that and I also tried to make it clear that we all hoped that the new president would succeed. We wanted to give him a chance. But as soon as Bill and I left that stage I just really felt the whole weight of it on me. And we were in the back seat of the car on our way back to our home. I couldn't speak, I couldn't really have any internal resources left," she explained.
In What Happened, reviewed by The New York Times, Clinton talks about some of her regrets and failures during her 2016 presidential campaign including not hitting back at James B. Comey in July 2016 for accusing her of acting recklessly in using a private email account while she was secretary of state.
"My first instinct was that my campaign should hit back and explain that Mr. Comey had badly overstepped his bounds," she wrote in the book, according to The New York Times.
Her campaign, she said, convinced her "to just let it go and try to move on."
In hindsight, however, she concluded "that was a mistake."
In recovering from the crushing loss, prayer, yoga and Chardonnay proved very powerful.
"When I write in the book about getting through that period, I relied on several tools one of which was prayer and I was lifted up and blessed by a lot of people who sent me prayers, sent me spiritual readings," she said.
"I also had the support of my family, I got to see the world anew from the eyes of my grandchildren. My friends rallied around and were so supportive. I did some yoga, tried alternate nostril breathing, I highly recommend it. It kinda calms you down. And yes, I had my fair share of Chardonnay."