Hillary Clinton vs. Donald Trump: Christian Persecution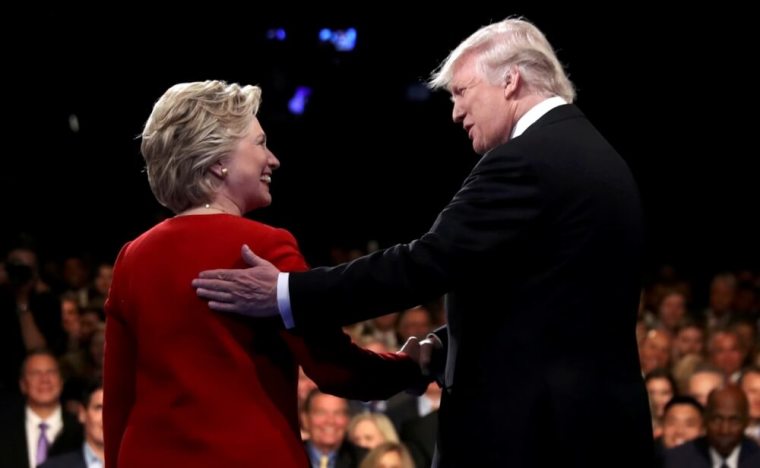 Although Christian persecution continues to be one of the biggest human rights issues facing the world, Democratic presidential candidate Hillary Clinton and Republican Donald Trump have shared very few specifics about how they plan to help suffering believers.
The persecution of Christians for their faith reached unprecedented levels in 2015, according to watchdog groups such as Open Doors, with over 7,000 Christians losing their lives last year specifically because of their religion.
Persecution continues to manifest itself in a variety of different ways across different regions, most notably in the face of the brutalities of North Korea's totalitarian regime, and the ongoing genocide by Islamic extremists in the Middle East against religious minorities.
The U.S. presidential candidates have mostly focused on other issues during the campaign cycle, and touched upon persecution only in the broader context of foreign policy and the ongoing conflict against the Islamic State terror group.
Trump, however, has listed out some specific cases of violence that Christians have faced.
In his major speech on terrorism back in August, the billionaire businessman recounted:
"Only days ago, an ISIS killer invaded a Christian church in Normandy France, forced an 85-year-old priest to his knees, and slit his throat before his congregation."
He continued: "Overseas, ISIS has carried out one unthinkable atrocity after another. Children slaughtered, girls sold into slavery, men and women burned alive. Crucifixions, beheadings and drownings. Ethnic minorities targeted for mass execution. Holy sites desecrated. Christians driven from their homes and hunted for extermination. ISIS rounding-up what it calls the 'nation of the cross' in a campaign of genocide. We cannot let this evil continue."
Trump's speech served as a warning against President Barack Obama's plans to allow more Muslim refugees to come to America, claiming that many such migrants are unvetted. The Republican candidate has insisted that the U.S. should not be taking risks when it comes to national security.
"Nor can we let the hateful ideology of Radical Islam — its oppression of women, gays, children, and nonbelievers — be allowed to reside or spread within our own countries," he said.
Trump has also commented on the very small percentage of Christian refugees fleeing war and terrorism that have been allowed to come to America, as opposed to the much larger Muslim percentage, and said in June:
"If you were a Christian from Syria, very likely going to be just horribly treated, including the ultimate treatment, which is having your head chopped off. It was one of the hardest things you could do was to get into the United States. If you were a Muslim from Syria, it was one of the easier places to come into the United States from. And I'm not saying one or the other, I'm saying how unfair is that, how bad is that?"
Clinton has also acknowledged Christian persecution in Iraq and Syria at the hands of IS, though she admitted it took her a while to recognize the extent of the killings.
At a campaign event in New Hampshire in December 2015, Clinton was directly asked whether she will add her name to political, faith and secular leaders who have recognized the genocide, to which she responded:
"I will because we now have enough evidence."
Clinton added that the actions of terrorists are "deliberately aimed at destroying not only the lives, but wiping out the existence of Christians and other religious minorities in the Middle East in territory controlled by ISIS."
In a previous speech in November at the Council on Foreign Relations, Clinton was asked whether the U.S. should prioritize Christian refugees when it comes to offering people asylum. She answered that America should not be holding any kind of religious tests for refugees.
"I just don't believe that's in keeping with our values or our history, and frankly it doesn't send the kind of message that we want to send to the rest of the world," the Democratic candidate said, and argued that U.S. officials should thoroughly vet refugees through a variety of methods, such as looking into any connections asylum seekers may have with residents in America.
Both Trump and Clinton have vowed that the U.S. will continue assisting a broad coalition of international allies that will seek to eradicate IS, which is one of the main sources of persecution against Christians today, but have so far outlined little in the way of a plan of action on the topic of helping persecuted Christians specifically.
Earlier this month, representatives from both campaigns met with Open Doors to discuss how the candidates would address Christian persecution if elected. Both campaigns were in agreement on the need to strengthen religous freedom advocacy abroad, Open Doors USA president and CEO David Curry told The Christian Post after the meeting.
"We found both campaigns to be taking this issue — and our recommendations — seriously, particularly our emphasis that the new administration ensure highly qualified people are appointed as the U.S. Department of State Ambassador-at-Large for International Religious Freedom and the Special Envoy for Religion and Global Affairs within the first 100 days in office," an Open Doors press release stated.