Hillsong Releases Trailer for New Worship Album 'Open Heaven/River Wild' Ahead of NYC Conference (Video)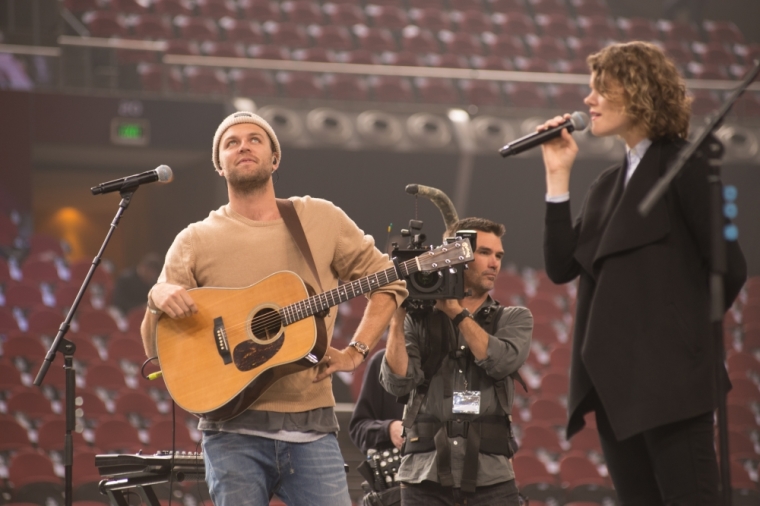 Hillsong Worship, the internationally renowned worship group from Australian megachurch Hillsong in Sydney, is set to release a new live album in October called Open Heaven/River Wild.
Described as Hillsong's "congregational expression" of worship, the project was recorded live at the church's annual conference in Sydney back in June, which was the first time that has ever been done. More than 25,000 congregants, including pop star Justin Bieber, attended the five-day conference and the new album features songs written by several Hillsong worship leaders, including Hillsong United's Joel Houston and Taya Smith.
"In Jesus … Heaven opens, and in us He stirs a 'River Wild' ... a passionate explosive love for God and for the humanity He created," said Hillsong's Global Creative Director Cassandra Langton, as she described the inspiration behind the album name on Tuesday. "This is the premise of the album and our prayer is that these songs would ignite and stir within you a passion for God and a love for people."
An album trailer was released via Youtube earlier this month, giving fans a taste of what's to come.
Open Heaven/River Wild will be out on Oct. 16, ahead of Hillsong's NYC conference, which will be held at New Jersey's Prudential Center Arena Oct. 22-24.
Formerly known as Hillsong Live, Hillsong Worship was formed in Sydney back in 1983 and members also include some artists from Billboard award-winning band Hillsong United. The group is currently in the U.S. on the Hillsong Nights tour.
Houston, who leads both Hillsong United and Hillsong Worship, previously told The Christian Post that while he's grateful for the accolades and the international recognition, his goal is never to write "cool" music, but rather to share the incredible story of Jesus.
"I'm not trying to write songs that are cool or hip or that keep up-to-date with whatever is out there on the radio," he said. "We're genuinely just trying to write songs that are honest reflections of a creative God and music that helps people connect with God."
Hillsong, which is headquartered in Sydney, has churches around the world with more than 100,000 weekly attendees, including thriving congregations in New York and Los Angeles. An estimated 50 million people sing their songs every Sunday.