Hispanic Evangelical Group Declares Solidarity With Israel; Urges Pilgrimage to Jerusalem for Feast of Tabernacles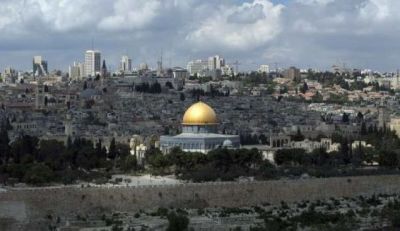 The National Hispanic Christian Leadership Conference/Conela and the International Christian Embassy Jerusalem have formed a partnership to advance and deepen Hispanic Christian engagement with the state and people of Israel, the organizations announced Monday.
This cooperative effort will focus on the ICEJ's annual Feast of Tabernacles celebration in Jerusalem, which serves as the official and exclusive gathering for Hispanic Evangelicals to make pilgrimage to Israel each year and to express in person their support for the Jewish nation and people.
"Our objective is to exponentially increase Hispanic participation and attendance at the annual Feast of Tabernacles, held each fall in Jerusalem under the sponsorship of the Christian Embassy," said Samuel Rodriguez, president of the NHCLC/Conela. "We will encourage all followers of Christ in the Latino world to come to Jerusalem at this divinely appointed time, to see the biblical sites, stand in solidarity with Israel, and take part in this dynamic worship experience with believers from all over the world."
Since 1980, the ICEJ's Christian celebration of the Feast of Tabernacles in Jerusalem has been Israel's largest annual tourist event, with more than 5,000 Christians from 80 nations attending Feast 2014 last October. The week-long gathering features powerful preaching by leading Christian ministers, dynamic music and worship, and close interactions with Israelis.
"We are excited about partnering with Dr. Samuel Rodriguez in this new initiative to bring more Hispanic pilgrims to the Feast each year," noted Dr. Jürgen Bühler, ICEJ executive director. "Their presence in Jerusalem will have a great impact on the Israeli people, and it will only enhance the incredible fellowship we enjoy with Christians from across the globe at this unique biblical festival."
Feast 2015 will run from Sept. 27 to Oct. 2, beginning with an outdoor desert celebration at the Ein Gedi oasis along the Dead Sea; communion services in the beautiful Garden Tomb; worship celebrations and teaching seminars in the new Jerusalem Pais Arena; and the popular Jerusalem March through the streets of the capital city.
The International Christian Embassy Jerusalem is considered the world's largest Christian organization formed to support the State of Israel and the Jewish people. It has established branches in over 80 nations and a reach into more than 140 nations worldwide. For more information, visit http://int.icej.org/.
NHCLC/CONELA is the largest Hispanic Christian organization. It represents more than 100 million Hispanic Evangelicals assembled in over 40,000 U.S. churches and another 500,000 congregations spread throughout the Spanish-speaking community. For more information, visit http://www.nhclc.org.