Historic Graves Smashed as Christian Cemetery in Israel Vandalized, Jewish 'Extremists' Questioned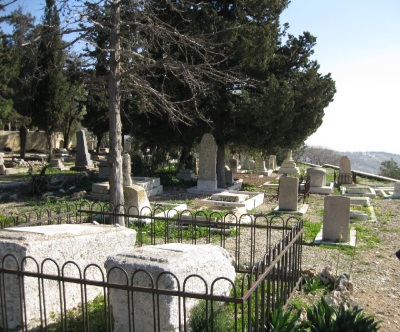 Christian leaders in Israel are outraged after vandals entered a historic Protestant cemetery, knocking over stone crosses and breaking them into pieces this month. Home to graves from prominent Christians who lived in the 19th and 20th centuries, the attack is just the latest in a series if as many as 17 vandalism incidents targeting Christian sites in Israel over the past three years.
"We are striving so hard to promote dignity and respect among the living. And here we have our dead people ... vandalized," said the Rev. Hosam Naoum, caretaker of the Protestant cemetery told the Associated Press. "No human would agree with this."
Among those buried in the cemetery are Horatio G. Spafford, writer of the hymn, "It Is Well with My Soul," several noteworthy archeologists, and the founder of a local orphanage who helped modernize Jerusalem.
Almost 75 percent of Israel's Christians citizens are Arabic, while others, many of whom are Roman Catholic and Orthodox, are from the former USSR and African migrants. Together, though, Christians still only make up less than two percent of the country's eight million people.
Still, their minority status has not made them invisible - a door was burned and "Jesus is a monkey" was spray painted onto a Trappist monastery in Latrun and a Baptist church in Jerusalem, and other monasteries were also targeted. Church clergymen have also said that they have been spat on when they have entered Jerusalem's "Old City" wearing frocks and crosses.
After the most recent attacks at the Protestant cemetery, police arrested four young people living in Jewish civilian communities in the West Bank, but they were subsequently released and charges were not filed, said police spokesman Micky Rosenfeld.
According to a media report, the suspects had claimed they had entered the cemetery to take a ritual bath, though Naoum found their alibi shaky, asserting that the bath had no water, while an old well with a narrow opening would be dangerous to enter.
Two of the young people, however, had been banned from entering the West Bank because they were linked to the "hilltop youth," "a movement of young Jewish extremists blamed for a spate of attacks in recent years on mosques, Christian sites and Israeli army property to protest government policy."
Rosenfield said although overall attacks on Christian sites are low, compared to Arab ones, Israeli police are currently working to fight against the number of "nationalistic" motivated crimes and that are also making more patrols around holy sites and installing security cameras to protect them.
Researcher Kevin Merkelz told AP that a police detective in charge of Christian affairs told him that the number of actual attacks on Christian institutions may be higher than reported because they are apprehensive about being perceived as taking sides in cases that where there are conflicting claims about property ownership.