Hobby Lobby Supporters and Opponents Hold Demonstrations Outside Supreme Court
WASHINGTON – Undeterred by heavy snowfall, supporters and opponents of Hobby Lobby's lawsuit against the Department of Health and Human Services made their presence known Tuesday morning while the U.S. Supreme Court heard oral arguments in the case, Kathleen Sebelius v. Hobby Lobby and Conestoga Wood Specialty Store v. Sebelius.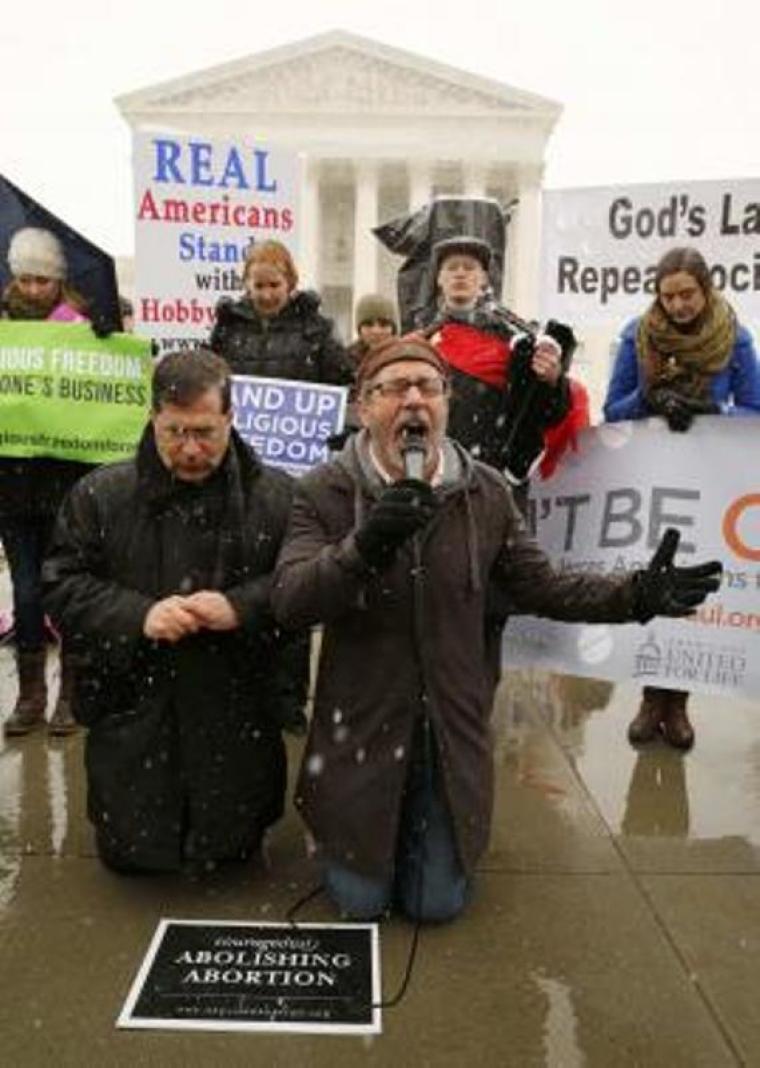 Hobby Lobby and Conestoga Woods are suing the federal government over the HHS' "preventive services" mandate in the Affordable Care Act, better known as Obamacare, that requires employers to provide healthcare coverage that pays for prescription birth control and abortion-inducing drugs.
The four contraceptives that Hobby Lobby is seeking exemption from covering include two types of IUDs, and Plan B and EllaOne, the morning after and week after pills, respectively, which they believe would make them complicit in abortion, a violation of their religious beliefs.
The Supreme Court is expected to release its decision in June.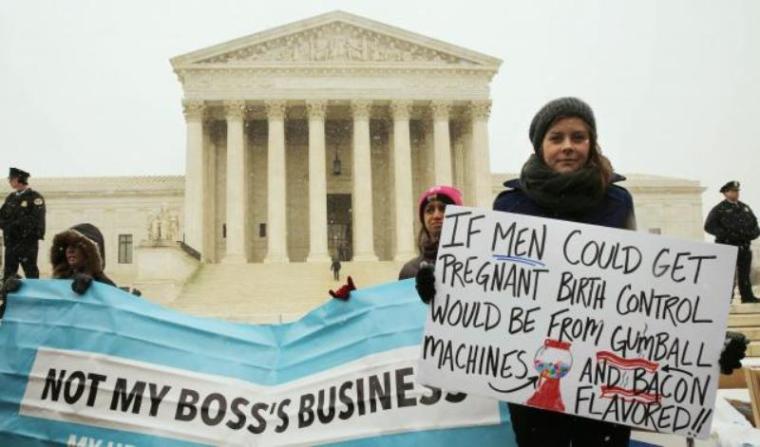 Justine Sessions, a spokeswoman for Planned Parenthood Action Fund, and former press secretary for retired Sen. Chris Dodd (D-Conn.), was among those demonstrating in favor of the HHS mandate, arguing that employers should be required to cover reproductive products and procedures as a component of women's healthcare.
Sessions told The Christian Post that she and her peers braved the winter weather "to support women's access to birth control."
"We are thrilled with the turnout, but frankly not surprised. We know how important this issue is to millions of people across the country," said Sessions. "It is not a surprise that these folks have turned out to show how important this issue is to them."
With police watching from the Supreme Court building, both rallies had megaphones and featured a diverse lineup of speakers.
Jenny Beth Martin with Tea Party Patriots was one of the speakers for those gathered in support of Hobby Lobby.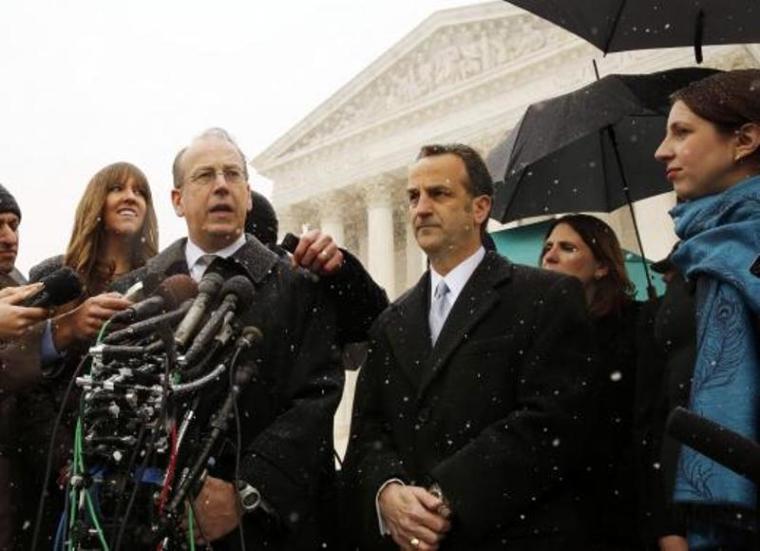 Martin told CP that she and her organization were present outside the Supreme Court because of their experiences with the controversial audits from the Internal Revenue Service.
"We've seen firsthand the rippling effect that happens when the First Amendment is infringed upon with the IRS targeting us," said Martin.
"So today, we decided to be out here standing for the First Amendment while the owners of Hobby Lobby are inside the Court. You can really feel the excitement and energy in the air," said Martin, who added that, like others, she is unsure about how the Court will decide the case.
"What I do know is that we need to be in a country where the Court respects the First Amendment and where the government is not dictating when and where we're allowed to freely exercise our religion."
While precipitation damaged many of the posters and signs distributed among the two groups, people from both demonstrations clearly expressed their opinions through their displays.
Pro-life activists featured poster-sized photos of aborted babies with statements denouncing the idea that abortion should be part of healthcare.
Pro-choice activists, many donning pink-hued Planned Parenthood attire, carried fake uteri and had signs demanding companies not to deny coverage for preventive services.
An older pro-life activist named Ronald, who stood beside one of the large poster displays, told CP that he came out in the snowy weather because of his Christian beliefs.
"I am a Christian and we're supposed to witness God's moral truth. This is our culture," said Ronald, who mentioned that he was "pleasantly surprised" by the turnout for the pro-Hobby Lobby crowd.
"I am pleasantly surprised for the sheer fact is that there's times I've been out here and I've been ashamed. There's been such a poor turnout of those who claim to know Christ. … So I am thankful they came out."
Gary, a pro-choice activist whose clear poncho was covered with stickers in support of the National Organization for Women and other like-minded organizations, told CP that he attended the demonstration out of concern for people's rights in general.
"I feel that a lot of times lately people will use religion, freedom of religion, to impose their faith on other people who don't necessarily follow their faith," he said.
Gary also told CP that he thought the turnout "was great," adding that, "a lot of people care deeply on both sides of the issue and it's important to express yourself."