Holly Tucker's Performance of 'How Great Thou Art' Strangely Appropriate, Says Blake Shelton on 'The Voice'
Holly Tucker's Performance of 'How Great Thou Art' Strangely Appropriate, Says Blake Shelton on 'The Voice'
Holly Tucker, a college student from Waco, Texas, sang the Gospel hymn "How Great Thou Art" during the live top-10 performance on NBC's megahit vocal competition "The Voice" Monday night, and received resounding applause from the audience, but wasn't able to impress Usher, one of the show's four coaches.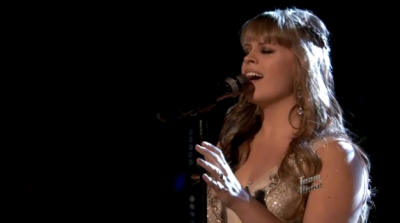 The full-time student at Baylor University told her coach, Blake Shelton, that she wants to bring 100 percent of who she is to the show, and not be afraid to represent her Christian Gospel roots.
"I know not everybody is going to agree with what I believe and that's OK. I just think it would be a shame to not share all of who I am," Tucker told Shelton and adviser Sheryl Crow.
Shelton advised Tucker not to apologize for who she is and said, "I think this is your most important moment on the show." He later noted how significant the song is, following the tragedies that struck Moore, Okla., on Monday in the aftermath of the tornado.
Following her performance, Tucker tweeted a message to her fans, and said: "Such a sweet moment for me. God was in this place and it was a night I will remember forever."
The audience and three of the four coaches were duly impressed with Tucker's performance, but Usher's comments were tepid at best. "What an incredible statement to make on a show that everybody is obviously watching. There's no bad way to perform religious or a Gospel record in some way. However, I felt like it was a bit of a departure from what I expect from you, vocally," he said.
Fortunately, Shakira wasn't afraid to proclaim her admiration for Tucker's talents and vocal abilities. "That was heavenly. You look like an angel, you moved me," she said. "You are an incredible talent and have some serious control over your instrument."
Shelton, who said he believes Tucker's performance was strangely appropriate following the struggles thousands of Americans are facing as they sort through the rubble and debris that remains of their homes, reiterated that "How Great Thou Art" is a song about faith, hope and strength.
"I've never heard you sing so strong before, ever," Shelton said. "You turned it up one more notch tonight at a crucial time in this competition just to show people, 'hey, you think you know everything about me? You don't, watch this.' I think that was the most important performance you've had on 'The Voice' so far."
NBC's "The Voice" is in the midst of its fourth season and is hosted by Carson Daly, and features Usher, Shakira, Blake Shelton and Adam Levine as the competitors vocal coaches. This season's advisers to the competitors during their battle rounds include Sheryl Crow, Pharrell Williams, Joel Madden and Hillary Scott.
Exclusive Op-eds from the Presidential Campaigns