Homeless Veteran Claims 'Well-Known' Christian Seattle Seahawks Player 'Belittled' Him Then Offered Him $20 Which He Refused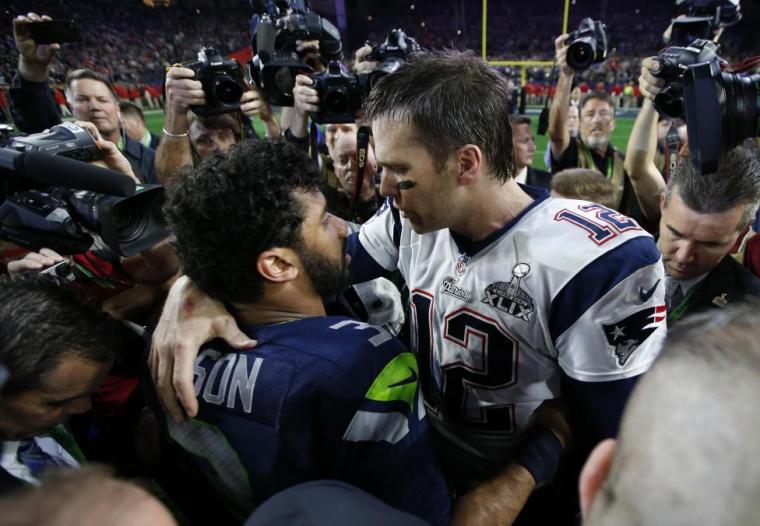 A 58-year-old homeless veteran traveling through Washington state with his dog called "Legacy" has reportedly alleged that a well-known Christian player from the NFL's Seattle Seahawks "belittled" him for being homeless in front of four other players and then tried to offer him $20, which he rejected.
"He (homeless veteran) told me while in Bellevue, WA, 5 well known Seattle Seahawks players walked past him. One of the Seahawks made a rude comment about him being homeless and tried to offer him a $20 bill.The money was declined and that player who claimed to be a Christian was offended. The homeless man told the wealthy Seahawks player that he would not accept money from someone who would belittle him in front of others claiming to be a Christian. Needless to say that player was embarrassed because his friends had witnessed his rude prideful behavior," explained Christian minister Eric Jason Pena in Facebook post last Sunday, which has now gone viral with more than 100,000 shares.
Pena explained in the post that the homeless veteran, who did not reveal his name, made the revelation after complaining to him in a local Starbucks about the way some Christians live.
"He was simply doing what we were all doing, drinking coffee and taking advantage of free WIFI. He brought his dog, Legacy, who was well behaved. He proceeded to tell me he walked 60 miles from Seattle to Tumwater over a few day period. He spoke highly of Legacy who in stride, journeyed along with his master every step of the way without complaint," said Pena.
"As soon as Legacy was told to lay down, he fell asleep. It was sad to see people distance themselves from this homeless veteran. Kids who inquired about the dog were quickly shielded by their parents and hurried away. This veteran explained most people have no concept of being Christ like because they simply place Christ on the shelf as soon as they leave church," he added.
The accusation is quite out of character for the Seattle Seahawks franchise since the Christian faith of a number of staff and players, such as quarterback Russell Wilson, has been a hallmark of the team's public image.
"We're not just Seahawk players. We're not just football players, we're here for much more than that, Pro Bowl Offensive Tackle Russell Okung once noted in a CBN feature on the team's Christian faith. "We're followers of Christ and it's important for people to know this about us."
The Christian Post reached out to both the Seattle Seahawks's headquarters as well as Karl Payne, who has been the Seattle Seahawks' chaplain for more than 20 years, for comment Monday but no one was available to discuss the allegation.
In an interview with CP on Sunday, Pena said when the homeless veteran told him what happened he was just surprised but could not identify any of the alleged Seahawks players involved.
"I have no idea [who players were] all he told me was that he was standing in Bellevue. It's kind of a ritzy area of Washington state where a lot of rich people live. ... He was basically telling me that he was minding his own business when these guys came by," Pena told CP.
"He knew who they were. I'm like, 'you know who they were?' He said, 'they are well known. Come on, they are Seahawks; you live in Washington, you know who these players are.' And he told me that and I was like, 'wow.' I'm a Seahawks fan too. I didn't say anything," said Pena.
Despite not knowing who the alleged players involved in the incident were, Pena said he couldn't imagine the Seahawks' star quarterback Russell Wilson being involved.
"I don't think Russell Wilson would ever do that. ... I can never imagine him doing that. I can tell you now, I don't think it was Russell Wilson. I think it was someone else. There's other Christians on the team but just not many who are as open about it," said Pena, who said he's a church planter who hopes to start building churches in Malawi.
Pena explained further in the post that he later offered to help the veteran and he accepted.
"As I was leaving, I offered him a meal which he gladly accepted. I also knew I had a new pair of boots in my storage unit and I asked him if they fit, would he accept them. He said 'yes.' After a short drive, I brought him a new pair of boots," noted Pena.
He explained that since posting the story on Facebook the response has been "overwhelming."
"First word I could think of is overwhelming. I have lost count of the number of people who have messaged me saying God used that post to affect something in their life to either do something great or come back to God. I've lost count of the number of people who have asked me to help them come back to God. People have asked for prayer. ... God has opened this up as a platform so He can be glorified," added Pena.
When asked if he thought the veteran's story was credible or if he was mentally stable, Pena said the veteran didn't appear to have a mental illness.
"He did say that he was in the Coast Guard. I don't know what he did. I didn't ask, it's none of my business. He did say he had access to VA benefits but he chose not to use them because he relies on God. The other thing we talked about was [that] his dog was more faithful to him than some of the people he encountered," said Pena.
In 2013, the Seahawks made a video called "Making of a Champion: Seattle Seahawks" in which a number of players and coaching staff discussed their Christian faith. You can watch it below.