Should Tom Brady Be Worried About the Hand of God? Millions of Americans Believe God Will Determine Who Wins Super Bowl XLIX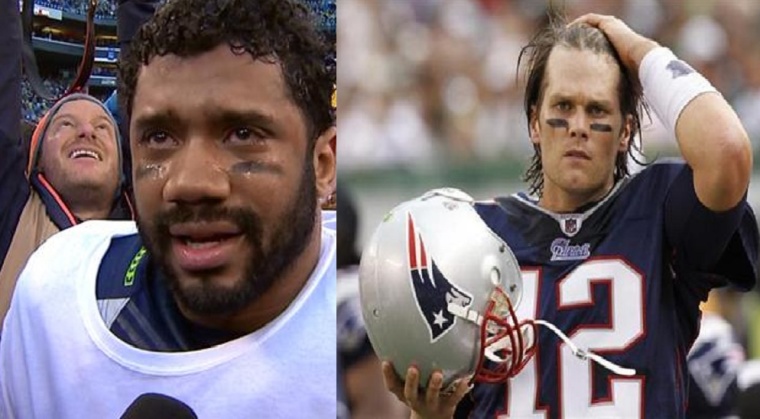 Will God determine who wins the NFL Super Bowl XLIX between the Seattle Seahawks and the New England Patriots? According to a new survey by the Public Religion Research Institute and Religion News Service, millions of Americans think He will.
Responding to listener questions this week on his weekly radio show, Christian Green Bay Packers quarterback Aaron Rodgers sparked a debate on God's unseen scepter in sports when he declared: "I don't think God cares a whole lot about the outcome (of football games). He cares about the people involved, but I don't think He's a big football fan."
His reaction came shortly after his team was beaten by an incredible performance from outspoken Christian Seattle Seahawks quarterback Russell Wilson in the NFC championship game on Sunday. Wilson credited God with the win.
"God is too good all the time, man. Everytime," Wilson told sideline reporter Erin Andrews as he wept shortly after the scintillating 28-22 come-from-behind overtime victory.
According to the PRRI survey millions of Americans, like Wilson, see God's hand working in sports and believe God rewards athletes of faith.
"Majorities of Americans (53 percent) and sports fans (56 percent) say that God rewards athletes who have faith with good health and success," said the report.
Americans who identified a religious affiliation in the survey are also more likely than those who aren't to see the hand of God in sports.
"Roughly two-thirds of Catholics (65 percent) and majority of Protestants (68 percent) say that God rewards faithful athletes with good health and success. Six-in-ten (60 percent) white evangelical Protestants and nearly half (49 percent) of white mainline Protestants also believe faithful athletes are rewarded. By contrast, only 27 percent of the religiously unaffiliated believe athletes with faith are rewarded, while 71 percent disagree," it noted.
"About 1-in-4 (26 percent) Americans and 27 percent of self-described sports fans say that God plays a role in determining which team wins a sporting event. About 7-in-10 Americans (71 percent) and sports fans (69 percent) disagree," it continued.
It further noted that a minority of Protestants, about 45 percent, are more likely than any other religious group to believe that God determines which team wins a sporting event. Some 32 percent of evangelical Protestants and 31 percent pf Catholics share this belief. About 19 percent of white mainline Protestants see the hand of God in sporting events while only 9 percent of the religiously unaffiliated support the hand of God belief.
Wilson's Seattle Seahawks will meet AFC champions the New England Patriots in Super Bowl XLIX, which will be played at the University of Phoenix Stadium in Glendale, Arizona, on Feb. 1.
So should the not so devout Patriots quarterback Tom Brady whose team is embroiled in an embarrassing cheating scandal now popularly known as deflate-gate be worried?
The NFL is investigating why 11 of 12 footballs used by the Patriots in their 45-7 win over the Indianapolis Colts were significantly underinflated below the league requirements in the AFC championship game Sunday.
In a tweet early Friday morning, Wilson noted some wise words from the book of Proverbs in the Bible, which could perhaps be a warning shot to Brady that he will be fighting for more than just football come Feb. 1.
"He who loves purity of heart, and whose speech is gracious, will have the king as his friend. (Proverbs 22:11 ESV)," noted Wilson.
According to Seattle Seahawks cornerback Richard Sherman in comments about Brady: "I think people sometimes get a skewed view of Tom Brady. ... That he's just a clean-cut [guy], does everything right, never says a bad word to anyone — and we know him to be otherwise."