House Democrats change rule banning religious headwear to welcome first two female Muslim members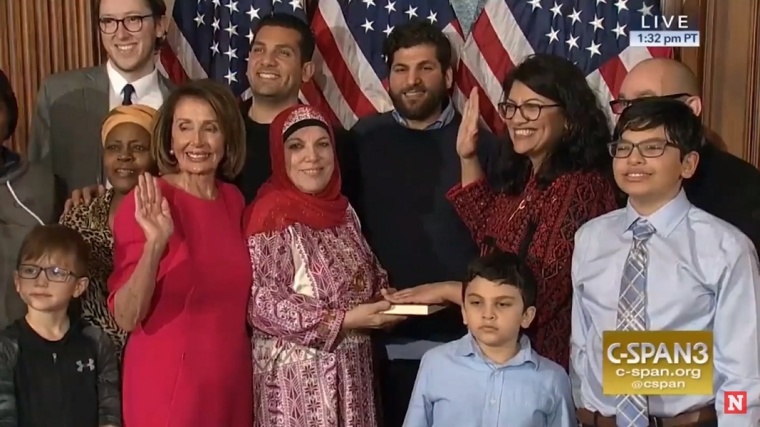 The U.S. House of Representatives, now controlled by a Democratic majority, has voted to end a 181-year-old rule banning religious headwear.
The House voted 234-197 on Thursday, The Hill reported, which comes in the wake of the election of its first two female Muslim members.
The newly revised rule still bans headwear of the nonreligious kind, and reads:
"During the session of the House, a Member, Delegate, or Resident Commissioner may not wear nonreligious headdress or a hat or remain by the Clerk's desk during the call of the roll or the counting of ballots."
Minnesota Congresswoman Ilhan Omar, along with Rep. Nancy Pelosi of California and Rep. Jim McGovern of Massachusetts, proposed the rule change in November. Omar became the first member of Congress to wear a religious headscarf on the floor last week, according to TIME.
Omar celebrated the rule change on Twitter by declaring that Congress is now "more inclusive for all."
"I thank my colleagues for welcoming me, and I look forward to the day we lift the Muslim ban separating families all over the U.S. from their loved ones," she added, referencing President Donald Trump's immigration policies.
Michigan Rep. Rashida Tlaib, who is of Palestinian descent, was, meanwhile, sworn into Congress on a family-owned Quran.
"My swearing in on the Quran is about me showing that the American people are made up of diverse backgrounds and we all have love of justice and freedom," Tlaib said last week.
"It's important to me because a lot of Americans have this kind of feeling that Islam is somehow foreign to American history," she added.
"Muslims were there at the beginning ... Some of our founding fathers knew more about Islam than some members of Congress now."
The Pew Research Center released a report on the religious composition of the 116th U.S. Congress last week, noting that the total share of Christians has been slightly dropping.
Christians still make up 88 percent of the total number of Congressional members, though that is a three percentage point drop from the 115th Congress.
Baptists were found to be the largest Protestant denomination, making up 13.5 percent of all members.
Roman Catholics retained close to a third (30.5 percent) of the total share, at 163 Congress members.
All but two of 252 Republican members said that they identify as Christians, a stark difference from the Democrats, among which 61 out of 282 said that they are not Christians.
Democratic Senator Kyrsten Sinema of Arizona remained the only Congress member to say she is religiously unaffiliated, and 18 — all Democrats — refused to reveal their religious affiliation.