Religious composition of the 116th Congress: Christians dropping, first two Muslim women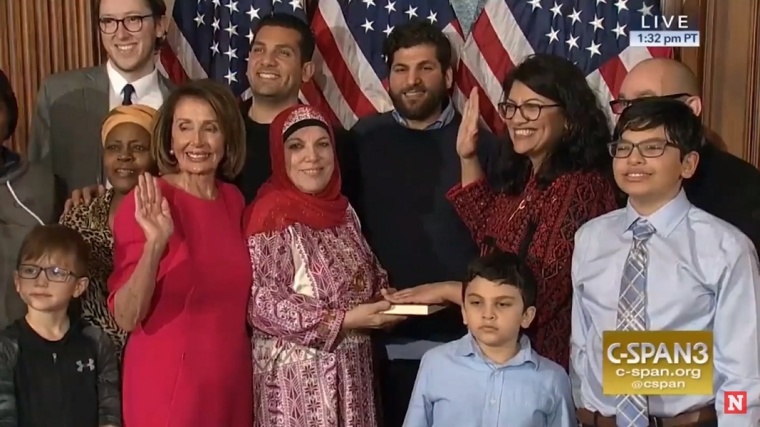 Update Appended
The total share of Christians in the new 116th U.S. Congress is down slightly, though still high, according to a report by Pew Research Center.
Christians still make up the vast majority of Congressional members, at 88 percent of the total, though that represents a three percentage point drop from the 115th Congress, which in turn had a lower percentage of Christians than the 114th Congress.
Various Protestant denominations made up 54.9 percent of the entire Congress, with Baptists, at 13.5 percent of the total, being the largest group in that classification.
With 163 Congress members, Roman Catholics retained close to a third of the entire Congress, at 30.5 percent.
There was a significant difference in the share of Christians when it comes to political identification, however. Only two of the 252 Republican members said that they do not identify as Christians, while 61 of the 282 Democrats said the same.
The first two Muslim women to join Congress, Michigan Democrat Rashida Tlaib and Minnesota Democrat Ilhan Omar, are the ones making headline news, however.
Tlaib was sworn in on Thursday while wearing a traditional Palestinian dress. It was initially reported that she would take her oath by swearing on a Quran owned by Thomas Jefferson, but she changed her mind.
She told the Detroit Free Press that she would swear on a family Quran instead.
"My swearing in on the Quran is about me showing that the American people are made up of diverse backgrounds and we all have love of justice and freedom," Tlaib declared.
"It's important to me because a lot of Americans have this kind of feeling that Islam is somehow foreign to American history," she added.
"Muslims were there at the beginning... Some of our founding fathers knew more about Islam than some members of Congress now."
When looking at other minority faiths in Congress, Pew noted that the number of Hindus remains at three.
The number of Buddhists dropped to two, while Democratic Senator Kyrsten Sinema of Arizona remains the only Congress member to say she is religiously unaffiliated.
There was an increase in the number of Congress members who refused to reveal their religious affiliation, however.
"This group — all Democrats — numbers 18, or 3 percent of Congress, up from 10 members (2 percent) in the 115th Congress. Their reasons for this decision may vary. But one member in this category, Rep. Jared Huffman, D-Calif., announced in 2017 that he identifies as a humanist and says he is not sure God exists," Pew revealed. (See update below.)
"Huffman remains categorized as 'don't know/refused' because he declined to state his religious identity in the CQ Roll Call questionnaire used to collect data for this report."
Update, January 8, 2019: 
The Christian Post was contacted by Rep. Huffman's office to point out that after publication of the CQ report he began identifying as a "nonreligious Humanist."