How a Massive Prayer Rally Jumpstarted One Woman's Anti-Abortion Outreach in New York City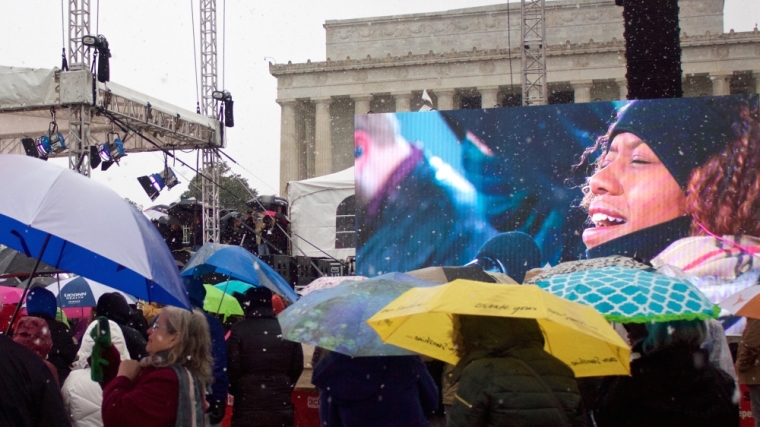 In the wake of two large-scale prayer gatherings this past weekend where tens of thousands joined together with faith — AzusaNow in Los Angeles and UnitedCry DC16 in Washington, DC — questions arise about long-term impact. What changed? How is the world different?
Life stories and experiences reveal some outcomes, in time; others may never be known. One woman's journey illuminates how a massive prayer meeting propelled her into pro-life ministry, where she is now educating and helping women in one of America's most difficult areas: The Bronx in New York City.
Monique Ortega recently shared how she is studying to become a counselor — to help women and save innocent lives in the womb. "Abortion keeps women in darkness — in a lot of shame, guilt and depression with no place to go for hope," she stated, speaking from own experience suffering from multiple abortions.
Continuing the interview, Ortega reveals how her faith led to action … and how persistent prayer is making the way for her to start conversations that bring healing.
Bound4LIFE: Where did your journey begin of knowing God deeper?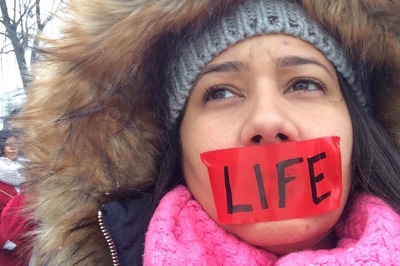 Monique Ortega: At a little church in the Bronx, a sister spoke over my life what I believe was a prophetic word. I came into the service praying, "Lord, let me receive what you have."
I was at a season in my life where I knew God forgave me, but I couldn't forgive myself for the abortions that had occurred. I asked the Holy Spirit to teach me, lead me and guide me.
This woman prayed for me and said, "The Lord is going to use you for the international movement. He's going to use you — and it's not going to be just local, it's going to be international so He is preparing you for that."
Not long after, I was introduced to Bound4LIFE International.
Bound4LIFE: How did that happen?
Monique Ortega: In 2011 God led me to a revival event in Chicago, and it was where I was baptized in the Holy Spirit — when Reinhard Bonnke was teaching one of the sessions.
Lou Engle was there and he mentioned an event coming up called The Esther Call; there were some wonderful video clips about receiving complete healing from abortion. That caught my attention. I was like, "Lord, you really hear prayer, huh?"
When the event date was announced by The Call, I knew the Lord was stirring my heart: The Esther Call would be 16 years to the day, from the actual date of my first abortion. I was just broken all over again.
Somehow I knew going to The Esther Call in Dallas would be a big step in the process of full forgiveness. We did the Silent Siege at the court, we did the walk, and we did the prayer and worship rumble in the evening.
I had never fasted completely, an "Esther fast" as they say, but I joined in that day with others who fasted. Worshiping, dancing around, praying, doing everything — the Lord started to truly touch my heart. It was revelation after revelation. We were there to intercede for others, and God actually brought to mind other women I'd known who had abortions. I prayed for their healing, especially emotionally.
The Lord stopped me at one point and said, This is the time for you. I prayed for a whole week. I had received so much at The Call event, I was journaling so many things. I was so stirred up but I didn't understand why. Finally I said out loud: "Lord, what are you telling me?"
Bound4LIFE: And you had heard about Bound4LIFE at The Esther Call event?
Monique Ortega: Yes. After the conference, I began to research whether there was a Bound4LIFE chapter in The Bronx; others were located in New York, but none close by.
At first, I was like "No, that's not for me." It was a little struggle there with the Lord. Then when I prayed on it, the Lord was like: Go! This is a time for you to share your testimony and connect with other sisters.
I believe He lead me to think about my children in Heaven — how I want them to know that I think about them, I love them and I will reunite with them when it's my time. So I called Paige and asked her, "How do I go about becoming a chapter leader?"
After praying with her and receiving all the details, I just got off the phone and sat at the Lord's feet. He led me to Isaiah 6, which is a very powerful passage for me. I saw echoes of the journey I was on, where the prophet Isaiah says, "Here I am, send me." But it also warns that he will encounter opposition.
It's been four years now that I've been praying with Bound4LIFE team members outside a Planned Parenthood abortion center in The Bronx; and as the Word says, it has been hard at times. In it all, the Lord's still small voice told me: Just go for Me. I'm with you.
Bound4LIFE: Why is prayer and advocacy to end abortion so important for you?
Monique Ortega: If you understand the root of abortion, you see how important standing for life is. Margaret Sanger came from New York City, which is now the epicenter of abortion in America as we discussed.
Her purpose behind Planned Parenthood was population control, believing black and minority children to be inferior to others. This is a root evil, affecting the current generation and eliminating those to come. It's a horror that disregards humanity.
For Christians, we know there's a commandment that says, You shall not murder. Abortion is a "solution" that God would never even consider. Innocent bloodshed grieves His heart. His Word speaks of the spirit of adoption, where He calls us to support families.
But if you don't understand the foundations and the implications, so many people just don't care — even in the church. I believe prayer is a way to activate believers, opening the door for Holy Spirit to bring revelation on these issues.
Bound4LIFE: From your experience, how is supporting adoption tied to your pro-life convictions?
Monique Ortega: My mom and dad went through many difficulties as young parents, turning to drug addiction that ultimately left my siblings and I without them in our lives.
It took so long for me to come to know the Lord because my siblings and I never came across anyone who shared the Gospel with us. In a time of crisis as kids, we didn't have anyone come in to rescue us — we went to group homes.
Of the four of us, one was adopted; another lived with his father's side of the family. Having four kids divided into different homes wasn't healthy for any of us. The only one who had a more stable life was the one who was adopted.
Even though he didn't get to grow up with his own family, he didn't endure the rough lifestyle the rest of us lived — in group homes and on the streets. Now the family is open to having us communicate, and he is part of our lives.
Adoptive families bring hope into our society. They prevent a lot of circumstances that could have taken place. I see the opportunities my adopted brother had, the new direction his life took — it was for the better.
Bound4LIFE: What role do you believe churches have in standing up for lives in the womb?
Monique Ortega: To some degree, believers have this mentality, Just go to service on Sunday, then that's it. That is not really taking scripture to heart, in how to labor in God's Kingdom. And if you can't labor directly in some work, maybe you're called to finance it. There's a lack there.
Churches need to educate on life issues, not to take away from the incredible Bible teaching and leadership of pastors. There need to be more open doors for other ministries to come in and educate the Body of Christ — because God wants to rescue the brokenhearted.
I have had some opportunities to share my story in small settings. In the church I attend now, they have a pro-life service in January every year. My pastor has been very open, allowing me to share my testimony — the pain and guilt I faced from abortion, along with the healing found in Jesus. The past two years I shared.
Bound4LIFE: What's ahead for you in life and ministry?
Monique Ortega: My heart is to be light in the darkness, as Jesus speaks of in Matthew 25.
Part of that is a lifestyle of purity. I'm a witness that, even if you made wrong decisions in the past, there is a way to live differently. Being filled with the Holy Spirit, we can avoid making choices in relationships that lead to such heartache.
God has revealed to me that there is so much inner healing that needs to take place in New York. The next steps will probably be a Bible study; there is one called Surrendering the Secret I am currently in online training to lead.
We will continue to prayer siege at the abortion clinics and courthouse for justice, mercy and revival. I know the Lord is going to continue to open doors from there; wherever He wants me to speak and help educate, I will go in faith anywhere God leads.
Josh M. Shepherd serves in communications at Bound4LIFE International, a grassroots movement to pray for the ending of abortion, carry the spirit of adoption and believe for revival and reformation. He previously served on staff at The Heritage Foundation, Focus on the Family and in the U.S. Congress. Reprinted with permission from Bound4LIFE.