How Then Should We Tackle Income Inequality?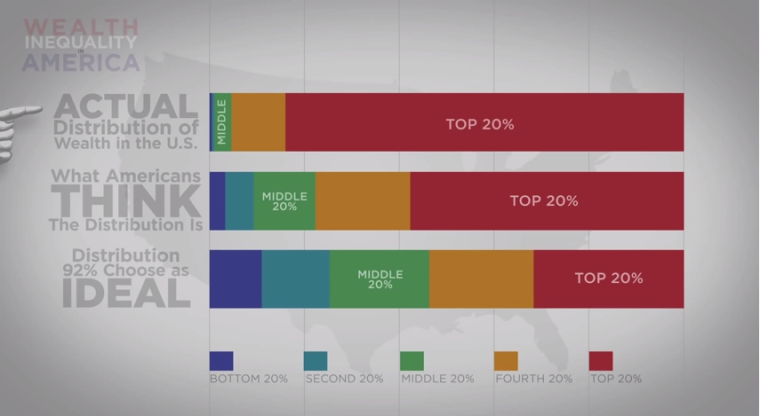 While Bible scholars agreed that income inequality is not in itself wrong, they attacked the distribution of wealth in modern America as unfair and proposed solutions to it.
"The level of inequality is unjust and economically counter-productive," Ron Sider, distinguished professor of Theology, Holistic Ministry & Public Policy at Palmer Theological Seminary, told The Christian Post on Wednesday. Sider argued that economic and political power are "enormously centralized" in modern America, so that "both parties are essentially controlled by the richest one percent."
In light of this, Sider supported higher taxes on the rich and a combination of tax breaks and education reforms to help the poor. He supported an upper income tax rate of 50 percent for those making over $5 million per year. He also called for the federal government to "tax dividends and capital gains at the same rate as other income," which would target the rich and raise more money to reduce the deficit.
For the poor, "biblical justice demands access to the productive resources so they can earn their own way," Sider argued. In the information age, the productive resource is knowledge, so he supported education reforms to help the poorest Americans. He suggested a major trial period for both school vouchers and public school reform. Whichever most helps the minority poor should be universally implemented.
Sider argued that, rather than segregating themselves into "white suburban enclaves," Christians should advocate for spending more money on public schools, especially in minority areas. They should also support food stamps, Pell Grants, and increasing tax refunds for the poor. He would reform government along this principle — "If you work full time responsibly, you ought to get to 125% of the poverty level and have health insurance."
Anne Bradley, vice president of Economic Initiatives at the Institute for Faith, Work, and Economics (IFWE), agreed with Sider that economic interests are abusing government, but argued that redistributing wealth is not the answer. "My concern about this 'we should tax the rich more' is that it is trying to put a Band-Aid on the wound instead of solving the problem," Bradley told CP on Wednesday.
Bradley traced America's income inequality to a different source — the coalition between big business and government. "A cronyist society means firms can go to the government for protection, for special favors that other people don't get," she told CP. This hurts the poor's ability to find new jobs because "licensing helps the people who are already in business, but it hurts my ability to start a business and make money to support my family."
The U.S. government "can't pay for the government spending we have now, and if we don't reconcile ourselves with that economic reality, we'll hurt everybody — but the poor will get hurt the first and the most," the IFWE scholar said. Bradley suggested eliminating ineffective programs to save money and making effective programs more local. "Local aid always outperforms national because we can know and build relationships with those we are trying to help."
Bradley also emphasized helping the poor through new educational opportunities. "We've really thrown money at the Department of Education since the sixties, and we see test scores going down, more people transferring to private schools and homeschooling." Due to these trends, Christians should embrace competition and market reform, rather than an expansion of public schools.
Jordan Ballor, research fellow at the Acton Institute and executive editor of the Journal of Markets & Morality, agreed with Bradley in addressing the connection between business and government. "It should be scandalous, the relationship between K street and the Capitol," Ballor argued. He pointed to county by county effects of the economic downturn, and pointed out that the one area largely untouched by the crisis is Washington, DC.
"We need to depoliticize a great deal of things — Seeking political solutions to these problems is only going to intensify the effects," Ballor argued. He called for a moral awakening. "If you are going to argue for less government oversight, you need to have an increase in moral actors in the marketplace, people who don't need to be governed."
Most voters "want our politicians to bring jobs to our districts, we want them to pick winners, without realizing the damage it does," the Acton scholar explained. Politicians need to take the hard and noble stance of governing rightly. "We need to focus on what the core tasks of government actually are, and that does not involve deciding what industries or what businesses ought to succeed or not," Ballor declared.
The win-or-lose philosophy comes from the sin of envy and the idea that the economy is a fixed pie, where if one person gets rich, it is necessarily at the expense of another, Ballor explained. But "the reality of it is, in a free market system, you do well by serving other people — profit is, so to speak, a sign that you've served somebody."
Following off of Jesus' commandment to love one another, Ballor advised a paradigm shift. "We need to get out of that envying, fixed pie mindset and get into a serving, other-directed mindset that improves the quality of life for everyone."
For more information on income inequality, check out this video: