How World Leaders Reacted to President Donald Trump's Inauguration
How World Leaders Reacted to President Donald Trump's Inauguration
The official appointment of Donald Trump as the 45th President of the United States on Friday drew contrasting responses from some of the world's most powerful leaders and diplomats.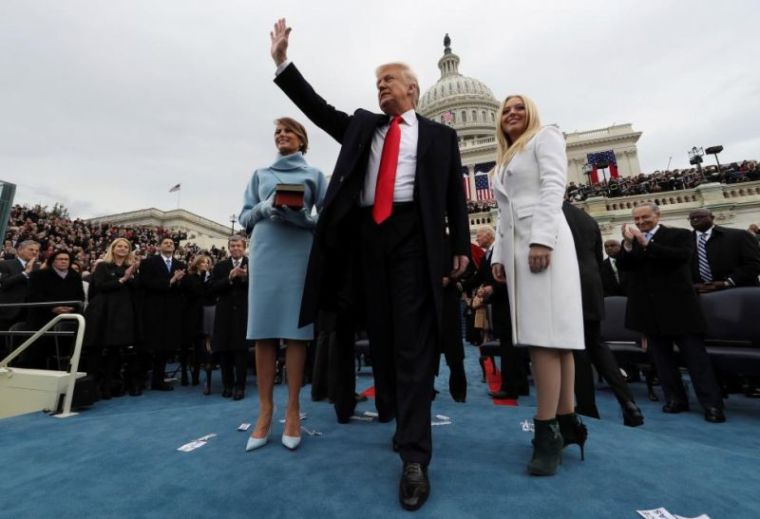 The Presidential inauguration ceremony that appointed Donald Trump to the most powerful administrative position in the United States took place on Friday January 20. 
The day began with widespread protests in Washington and culminated with Trump's administration wasting no time in removing key influences of the Obama government -- Trump signed an executive order to ease the "economic burden" of Obamacare, and the White House website removed pages pertaining to civil liberties, climate change, and LGBT rights.
But as Donald Trump took to the Oval Office, most of the world's leaders and diplomats sent their congratulations to the new President of the U.S. while others voiced their concerns about the policies Trump and his administration have vowed to enact.
Mexico's president, the one leader who has most to fear from Trump given his anti-Mexico rhetoric, was quick to congratulate the American President saying that he intends to work with Trump and strengthen the relationship between the neighboring countries.
"We will establish a respectful dialogue with the government of @realDonaldTrump to benefit Mexico," President Enrique Pena Nieto said in a tweet. "Sovereignty, the national interest and the protection of Mexican citizens will guide our relations with the new U.S. administration," he tweeted.
Russian Prime Minister Dmitry Medvedev posted a lengthy message on Facebook in which he derided the Obama administration and reaffirmed his country's intentions of improving relationships with the U.S. under a new government. He did not however mention Trump by name. Russian President Vladimir Putin is yet to issue a statement of Trump, a person he has supported unequivocally over the last year or so.
"The Obama administration has destroyed relations between the United States and Russia, which are at their lowest point in decades. This is its key foreign policy mistake which will be remembered by history," Medvedev's message concluded. "We do not know yet how the new US administration will approach relations with our country. But we are hoping that reason will prevail. And we are ready to do our share of the work in order to improve the relationship."
Isreal and the U.K., who have found support only in Donald Trump in the face of global derision, wasted no time in congratulating him. Israeli Prime Minister Benjamin Netanyahu tweeted "Congrats to my friend President Trump. Look fwd to working closely with you to make the alliance between Israel & USA stronger than ever."
U.K. Foreign Secretary Boris Johnson tweeted "Congratulations to @realDonaldTrump @POTUS on his presidential inauguration day. Look forward to continuing strong UK - US bond." Nigel Farage, head of the U.K. Independence Party and Brexit leader simply said of the Trump's inaugural address: "A very strong speech by @POTUS. He means it."
Indian Prime Minister Narendra Modi, who drastically improved India-U.S. relationships in working with Obama, tweeted "Congratulations @realDonaldTrump on assuming office as US President. Best wishes in leading USA to greater achievements in the coming years."
Canadian Prime Minister Justin Trudeau offered his congratulations to Trump and issued a statement urging a continued cooperation to protect "one of the closest relationships between any two countries in the world."
Pope Francis offered a cordial congratulatory message to Trump in which he said "I pray that your decisions will be guided by the rich spiritual and ethical values that have shaped the history of the American people and your nation's commitment to the advancement of human dignity and freedom worldwide."
Negative Reactions
While the majority of statements from world leaders on Friday were positive ones, there were a few from those who were not in a congratulatory mood.
German Vice Chancellor Sigmar Gabriel, whose country has been at loggerheads with Trump regarding conflicts in international policies, issued a warning saying of Trump's inaugural address: "What we heard today were high nationalistic tones. I think we have to prepare for a rough ride."
China has been unabashedly vocal about Trump's anti-globalization and foreign trade policies and his refusal to accept the one-china state. To show their disdain with Trump, China's ruling Communist party censored a nationwide-blackout of the inauguration ceremony in a statement that read "It is forbidden for websites to carry out live streaming or picture reports of the inauguration." No Chinese officials have commented on Trump's inauguration as yet.
Former Mexican President Vicente Fox minced no words as he criticized Trump on Twitter "Speaking of allegiance, Trump? Speaking of greatness? Speaking of success? America was already great and successful, then you happened!" his post read.