Huckabee Says ISIS Beheadings Greater Threat Than Climate Change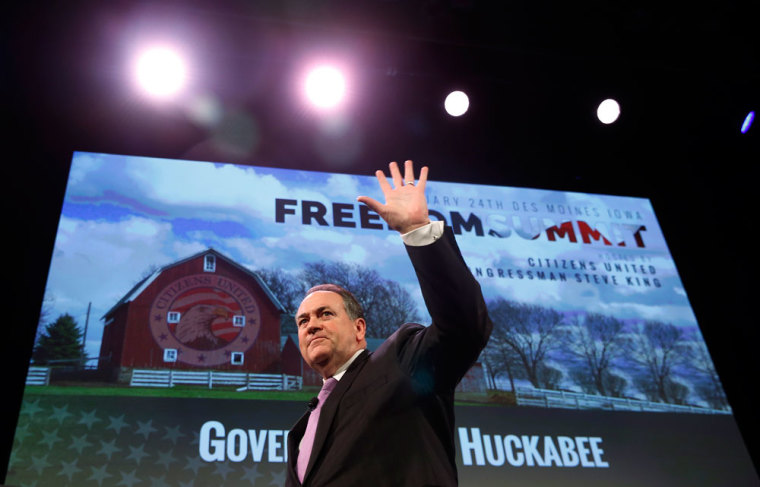 Former Arkansas Governor Mike Huckabee took on President Obama's plans to fight climate change, saying that beheadings by the terror group ISIS is a "greater threat to an American than a sunburn."
"When he [President Obama] said the greatest threat this nation faces ... I waited … and then he said … 'It's climate change,'" Huckabee, the potential 2016 presidential candidate, said at the Iowa Freedom Summit in Des Moines Saturday.
"Not to diminish anything about the climate at all," Huckabee said, "but Mr. President, I believe that most of us would think that a beheading is a far greater threat to an American than a sunburn. I wish he understood that we have a real enemy with just long – Islamic jihadism."
Huckabee said this the day a video purported to show the killing of one of the two Japanese hostages by ISIS in Syria after Tokyo failed to pay a ransom demanded by the terror group that is also known as Islamic State and has gained control over large territories in Iraq and Syria.
President Obama in his State of the Union Address last week suggested that his first six years as president have been a success.
Obama declared that he is stopping the advance of ISIS, he stood up to Russian President Vladimir Putin's aggression, and he prevented Iran from advancing its nuclear program.
However, MSNBC's Andrea Mitchell declared that Obama's "projection of success" against terrorism and Putin "doesn't match reality."
Putin took control of the Crimean peninsula and Russian troops are now in Ukraine. The sanctions supported by Obama have not had their desired effect as of now. Russian troops have not left the Ukraine.
Similarly, U.S. aid has not been able to stop ISIS. In a recent interview with The Associated Press, Iraqi Prime Minister Haider al-Abadi said his country's troops are "almost on [their] own" because they are not getting the training or weapons they need to fight ISIS.
ISIS, an al-Qaeda offshoot, seeks to form an Islamic emirate in the Levant region through "jihad."
A three-minute video, reported during the weekend by the SITE Intel Group that tracks the online activity of terrorists, showed a picture of the 47-year-old Japanese hostage Kenji Goto holding an image of the alleged beheaded body of his cellmate, 42-year-old Haruna Yukawa, and an audio message by Goto demanded a prisoner exchange to save his own life.
ISIS is now demanding that Sajida al Rashawi, an Iraqi held in Jordan and sentenced to death for her role in a 2005 attack on a hotel in Amman, be freed in exchange for Goto.
The terror group earlier released videos showing the beheading of five Western hostages – of British hostages David Haines and Alan Henning, and U.S. citizens James Foley, Steven Sotloff and Abdul-Rahman Kassig.