Hurricane Michael Tracker: Florida Beach Towns Destroyed, at Least 2 Dead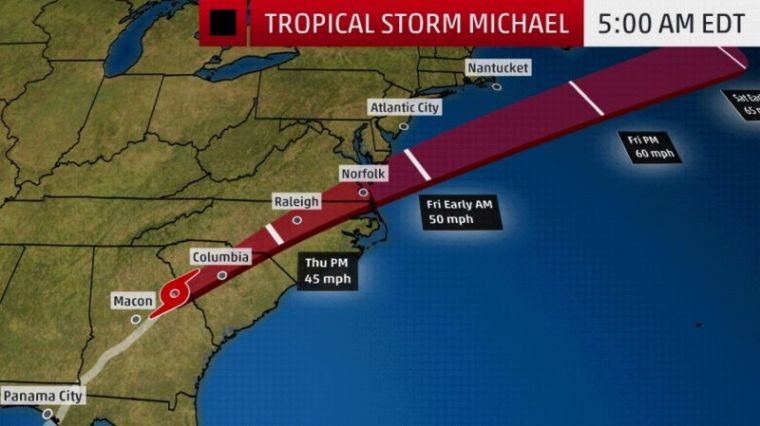 Hurricane Michael slammed into the Florida Panhandle on Wednesday as one of the strongest storms to hit the U.S., killing at least two people and destroying beach towns.
The Weather Channel reported that winds of up to 155 mph hit the small coastal town of Mexico Beach, Florida, on Wednesday around noon, and began tearing buildings apart, uprooting trees and downing power lines.
More than 331,000 homes and businesses lost power in Florida, while more than 375,000 people have been ordered to evacuate. Many of those were given "last chance" warnings on Tuesday evening, with officials urging people not to ignore the orders.
On Thursday morning, Michael — the third strongest hurricane to ever hit the U.S. — was located in central Georgia, where it had downgraded from a Category 4 hurricane to a tropical storm, and was moving northeastward.
"Rain from Michael has spread across much of Georgia and will spread into the Carolinas overnight from west to east. Rain and winds are calming across Florida and southern Georgia," the report said.
"A storm surge over 7.7 feet was reported at Apalachicola, Florida, Wednesday afternoon, and it was still reporting about 2 feet of inundation above ground level Wednesday evening. Cedar Key, Florida, saw a storm surge over 5 feet Wednesday afternoon," it added.
"Destructive winds continue to spread northeastward into central Georgia. Tropical storm conditions are expected in eastern Georgia and the Carolinas overnight into Thursday."
A tornado watch has also been issued for much of South Carolina and portions of eastern Georgia. The tornado threat is expected to spread into the coastal Carolinas on Thursday and Thursday night.
The two people killed so far include a man who was struck by a falling tree in Gadsden County in Florida, and a child who died by another falling tree that fell on a home in Seminole County, Georgia, CBS News reported. 

Christian relief groups, including Convoy of Hope, dispatched trucks loaded with relief supplies in the days leading up to Michael's landfall.
"Additional disaster response team members will move in on the heels of the storm and will set up a central distribution site as soon as the storm clears the area," the organization said, as it also set up a donations page allowing people to help those affected.
The Salvation Army revealed that its disaster response teams have been activated throughout the southeastern U.S. The group said on Wednesday that it has established a command center in Tampa, with mobile kitchen crews across south Florida ready for deployment.
Immediately after the storm passes, its staff and volunteers will be providing food, water, cleanup kits, emotional support, and other critical services to both survivors and relief workers.
"We are prepared with supplies and our teams are ready to begin serving as soon as possible," said Lt. Ryan Meo, administrator for The Salvation Army in Tallahassee. "We have been in constant communication with local emergency management and are trusting God to care for those in the path of the storm."
Steven Hartsook, Emergency Disaster Services Director for The Salvation Army, noted that a number of the people affected by Michael are its own staff and volunteers who provided aid in other recent disasters.
"Many of our teams from across Florida have spent the past few weeks serving people impacted by Hurricane Florence, and they are now faced with preparing their families and homes for Hurricane Michael," Hartsook said.