Hurricane Sandy 2012: NYC In Projected Path, City Prepares to Evacuate 375,000 (Track Map)
Hurricane Sandy has NYC, Washington DC and the entire U.S. east coast on high alert as it continues to menace its way northwards on Saturday. Sandy was briefly downgraded to a Tropical Storm strength early on Saturday, only to be declared hurricane strength again just hours later.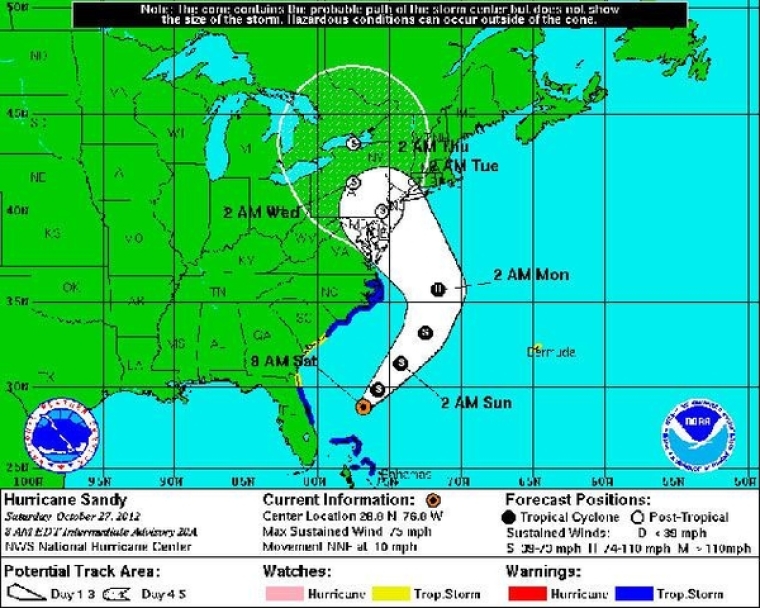 Weather experts have warned that Hurricane Sandy could turn into an "unprecedented" storm with the potential to devastate the east coast. Millions are expected to be left without power as Sandy slams the coast over the coming days.
AccuWeather forecaster Marshall Moss has told the NY Daily News: "This storm will affect millions and cost billions. This is really going to be a huge storm and something unprecedented in meteorological terms."
New York City has already shot into emergency mode, with Mayor Bloomberg declaring a state of emergency and activating his emergency team, and the MTA already touting a complete shut down of the subway and buses throughout the city from late Sunday - when Sandy's affects are expected to arrive.
NYC officials have also began preparations to evacuate about 375,000 inhabitants in low-lying areas, and they are keeping an eye on Sandy's path and will implement the evacuation should it continue on its current path.
On Saturday morning, weather experts confirmed that Hurricane Sandy had shown no signs of changing its course headed northwards up the Eastern Seaboard, and at the moment it is even more likely that the worst case scenario of the hurricane sweeping up the east coast will become a reality.
Dennis Feltgen, an expert with the National Hurricane Center, told the Daily News, "The storm is so large the impact is going to be felt over hundreds of miles and many states at the same time."
Weather analysts are predicting that Hurricane Sandy will smash into a separate winter storm soon, which could merge the two to become what has been dubbed "Frankenstorm."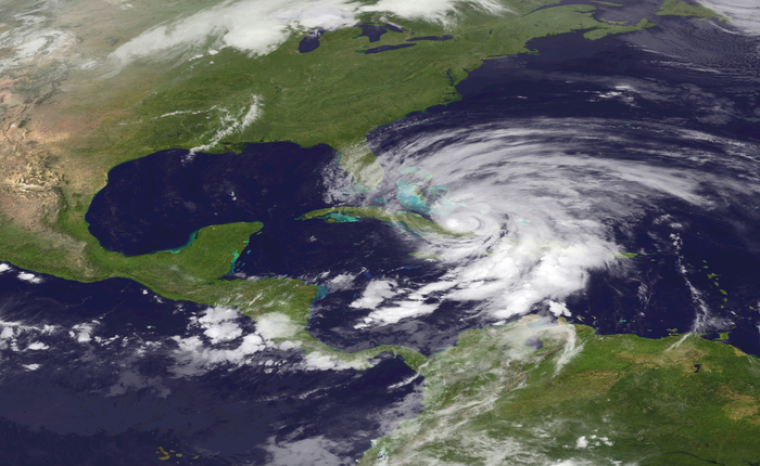 State of emergency have been declared across the east coast including Maryland, NYC, Pennsylvania, Virginia, and Washington.
Powerful winds, heavy rains, and extreme tides are expected, as well as snow in some areas. Forecasters are suggesting about 10 inches of rain, as well as 2 ft of snow could hit some areas. However, extreme storm surges have been predicted to be among the most devastating affects to take place from the hurricane.
"It's going to be a long-lasting event, two to three days of impact for a lot of people," said James Franklin, head forecaster at the National Hurricane Center.
 New Yorkers Evacuate City ahead of Hurricane Sandy