I-80 Sinkhole: 8 Ft Deep Sinkhole Opens Up in Middle of California Interstate (VIDEO, PHOTO)
An I-80 sinkhole has opened up in California on Friday, causing huge disruption to traffic in the region. The 3 foot wide sinkhole had opened up in the middle of the interstate in Truckee, California, meaning the disruption was maximized for commuters.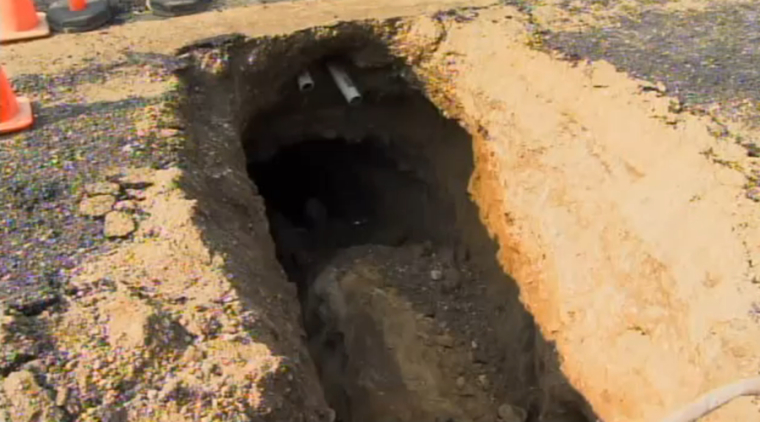 The sinkhole opened up early on Friday morning in a construction zone, and measures are about 3 feet wide and about 8 feet deep.
Officials have reported that a stream runs under the section of the road where the incident has happened, and that seems to be what has caused the sinkhole in this case.
Workers have rushed to try and fix the problem, but the area has been reduced to just one lane of moving traffic in both directions. However, officials had stated their hopes that more lanes would be opened by early evening on Friday.
The number of sinkholes being reported across the country seem to occur on an almost daily basis at the moment. Just on Thursday, news reports from Florida explained how a massive sinkhole had swallowed up a large row of trees and forced the evacuation of an entire town.
The sinkhole in question in fact first emerged last August and has continued to expand through the last year. At the time it was first found it covered an area of swampland in Assumption Parish.
However, the sinkhole has since expanded to more than 24 acres, swallowing up everything in its path and has since seen 350 neighboring residents evacuated from their homes as fears grow that their homes are in danger.
OEP Director John Boudreaux said: "The sinkhole continues to be active and grow."
In another recent incident a large sinkhole opened up underneath a Disney World resort. An entire hotel with 24 units was completely destroyed by the sinkhole, and reports claimed that residents staying there only had about 10 to 15 minutes to evacuate before the building collapsed.
Two neighboring buildings were also evacuated as the sinkhole continued to expand in the hours after the initial collapse, and there were serious concerns about the structural integrity of the buildings in the close vicinity of the sinkhole.
Here is a video news report on the California sinkhole at I-80: