'I Am Not Charlie;' Al Jazeera Staff Reflect Divided Reaction to Charlie Hedbo Attack in Leaked Emails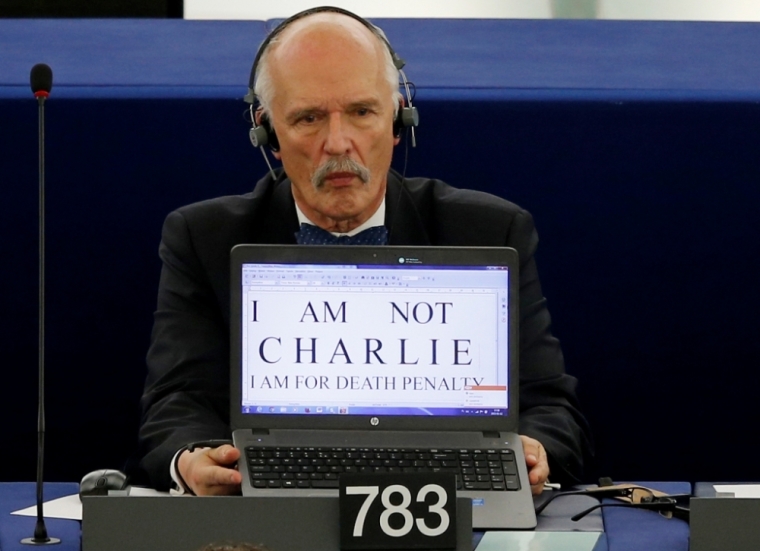 Despite widespread support from western journalists defending the French satirical weekly Charlie Hebdo's right to offend after a terrorist attack on its Paris office left 12 people dead last Wednesday, a series of leaked emails between journalists at the Qatari-government run news outlet Al Jazeera has revealed a cultural rift between western staff and their Middle East counterparts about that support.
Reminding staff of their audience in the series of emails leaked to National Review Online, Salah-Aldeen Khadr, executive producer of Al Jazeera English, questioned whether the attack against the magazine was about free speech.
"You don't actually stick it to the terrorists by insulting the majority of Muslims by reproducing more cartoons — you actually entrench the very animosity and divisions these guys seek to sow," Khadr wrote.
"Defending freedom of expression in the face of oppression is one thing; insisting on the right to be obnoxious and offensive just because you can is infantile. Baiting extremists isn't bravely defiant when your manner of doing so is more significant in offending millions of moderate people as well. And within a climate where violent response — however illegitimate — is a real risk, taking a goading stand on a principle virtually no one contests is worse than pointless: it's pointlessly all about you," he added.
Highlighting a response from Ross Douthat of The New York Times, U.S.-based journalist Tom Ackerman replied:
"If a large enough group of someone is willing to kill you for saying something, then it's something that almost certainly needs to be said, because otherwise the violent have veto power over liberal civilization, and when that scenario obtains it isn't really a liberal civilization any more …. liberalism doesn't depend on everyone offending everyone else all the time, and it's okay to prefer a society where offense for its own sake is limited rather than pervasive. But when offenses are policed by murder, that's when we need more of them, not less, because the murderers cannot be allowed for a single moment to think that their strategy can succeed."
Doha-based correspondent Mohamed Vall Salem, however, didn't buy into that argument.
"I guess if you insult 1.5 billion people chances are one or two of them will kill you … they don't represent the 1.5 [billion] who swallowed the insult in silence and patience in the name of free speech," wrote Salem. "Isn't it simply wiser to respect peoples' sacred values and sacred icons? Respect breeds respect, insult can degenerate into something worse than just insult, depending who's at the receiving end."
Jacky Rowland, a senior correspondent in Paris, quietly noted: "We are Aljazeera. So, a polite reminder: #journalismisnotacrime."
Roving reporter Omar Al Saleh replied: "First I condemn the brutal killing. But I AM NOT CHARLIE. JOURNALISM IS NOT A CRIME, INSULTISM IS NOT JOURNALISM AND NOT DOING JOURNALISM PROPERLY IS CRIME."