'If You Were a Christian, You Were Shot on the Spot;' Christians Suffered Brunt of Terror Attack at Kenya's Garissa University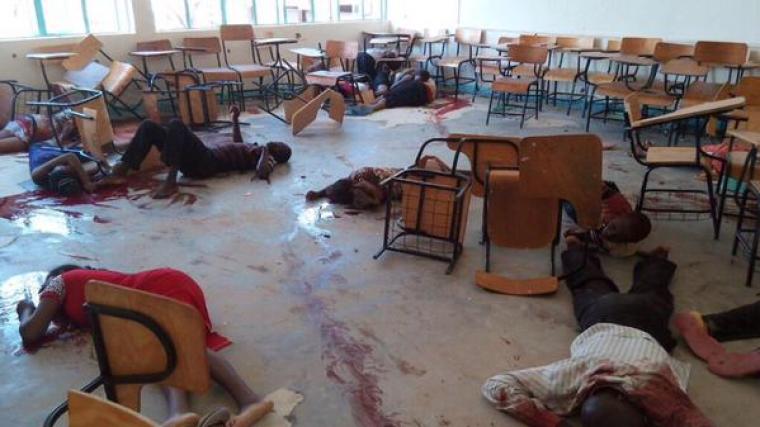 Nearly 150 people are now dead after four members of the terror group Al-Shabaab launched a brutal attack at Garissa University College in Kenya Thursday and Christians suffered the brunt of their fury.
"If you were a Christian you were shot on the spot," Collins Wetangula, the vice chairman of the student union, noted in a FOX report.
He said when the gunmen arrived at his dormitory he heard them opening doors and asking people cowering for their lives if they were Christian or Muslim.
"With each blast of the gun I thought I was going to die," he said.
Joel Ayora, who witnessed the attack on the campus, noted in a CNN report that the gunmen crashed a Christian service at the college and took hostages. They then "proceeded to the hostels, shooting anybody they came across except their fellows, the Muslims."
"We were sleeping when we heard a loud explosion that was followed by gunshots and everyone started running for safety," student Japhet Mwala told AFP. "There are those who were not able to leave the hostels where the gunmen headed and started firing. I am lucky to be alive because I jumped through the fence with other students."
Kenya's National Disaster Operation Centre confirmed via the agency's Twitter account that the four terrorists were eventually killed in a face-off with government security forces, but they left a total of 147 dead bodies and 79 injured people in the wake of their attack. Some 587 students were also evacuated.
As families and friends grieved over their loved ones, Mervyn Thomas, chief executive of Christian Solidarity Worldwide, expressed his condolences.
"We extend our deepest condolences to the families of those killed and injured in this attack. … CSW deplores this cowardly attack on civilians. The separation of hostages according to their faith echoes previous Al-Shabaab attacks and highlights the group's deadly and divisive sectarian motivations. This is particularly poignant coming on the eve of the Christian celebration of Easter. We welcome the statement by President Kenyatta assuring the nation of the deployment of the necessary security apparatus, and call upon the international community to support the Kenyan government as it responds to the ongoing situation and formulates policies to address this heinous threat," he said in a statement.
This is the deadliest terror attack on Kenyan soil since 1998 when 200 people died after the U.S. Embassy was bombed in Nairobi.