In Tearful Interview With Brian Houston, Mark Driscoll and Wife Reveal How God Told Them to Resign From Mars Hill Church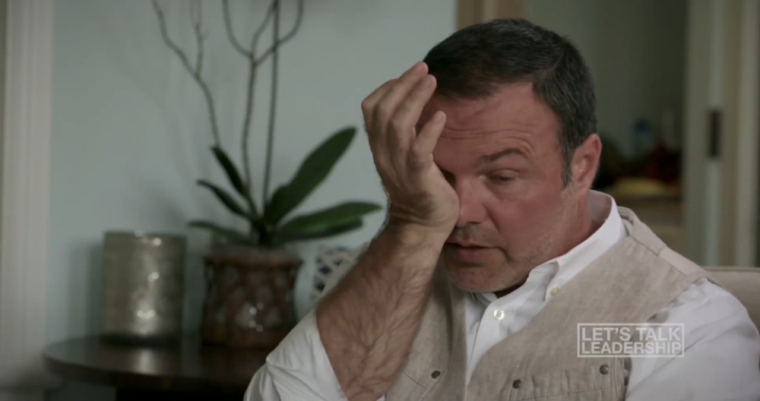 In perhaps the most humbling reaction to his controversial exit from Mars Hill Church less than a year ago, co-founder of the now defunct Seattle-based megachurch, Mark Driscoll, revealed in a tearful video interview with Hillsong Church's Brian Houston that it was God who told him and his wife, Grace, to resign from the church because a trap had been set.
In the nearly hour-long interview where he addressed issues such as his domineering leadership style, his views on the role of women in the church and longtime online comments Driscoll and his wife revealed that the initial plan wasn't to resign from the church.
Driscoll explained that after an evaluation was conducted at the church he was asked to work on the issues of pride, anger and his domineering leadership style with an expectation to return to the pulpit in January 2015.
The Lord, he said, had other plans.
"Our plan was to come back as volunteers. On that Monday night, I was in the bedroom, Grace was in the living room. He (God) spoke to me and He spoke to her in a supernatural way that neither of us anticipated or expected," Driscoll began in explaining how God change his course.
"So Grace walked in and said, 'I feel like the Lord just said what we are supposed to do.' And I said 'I feel like the Lord just spoke to me and said we'… it's not what we wanted," Driscoll noted prefacing his comments with a hint of pain.
"It's not what we agreed to and it's not what we planned for, and so I asked her 'What did the Lord say to you?' Because I didn't want to influence her and she said …"
"We're released from Mars Hill," interjected Grace fighting back tears.
"She said 'Well, what did He say to you?' I said 'the Lord revealed to me a trap has been set, there's no way for us to return to leadership.' And I didn't know what that meant or what was going on at the time. He said we're released and we need to resign.
"This is not what we anticipated and a lot of people thought 'maybe he's got another plan.' We didn't, we didn't know what we were doing and Grace fell to the floor and she was just sobbing uncontrollably. I'd never seen my wife like that, she was devastated," explained Driscoll who tried unsuccessfully to hold back his tears.
He said that even after what they felt was strong direction from God and what they were to do, they went down in prayer and consulted with trusted leaders before resigning.
Before that revelation Driscoll, who revealed that he started his ministry at the age of 25, admitted to making a lot of mistakes in his leadership of the church. He also said he was "devastated" over the people he hurt during his time at Mars Hill.
"I've made a lot of mistakes and one of them was going too fast. There's the Lord's calling and then there's the Lord's timing. And I should have waited longer; I should have been under godly spiritual authority — for Grace and I to be under a godly couple that was senior pastor, so that we can learn and grow. My character was not caught up with my gifting and I did start too young," he said.
"I believe God called us to start the church and He was very gracious to us, but had I to do that over again I would not look at a 25-year-old and say 'Do what I did.'"
In her reaction, Grace said having to leave Mars Hill was difficult, especially for their children.
"It has been a hard year and we've seen God's faithfulness amidst the trial and we are thankful for that. There's been a lot of loss. We love our church and we loved being a part of it. And felt honored that God would call us to help lead such an amazing group of people. So that has been hard, and watching the kids and the pain they've had to experience in the grieving process," she said.
Driscoll explained that since their exit from Mars Hill and the public eye they have been spending a lot of time with older, more experience spiritual leaders and in retrospect, he has seen many ways in which he can improve in ministry.
"I hope whatever the Lord has for me in the future is that I will draw people and not drive people. My empathy level will increase," said Driscoll, who developed a reputation for being a bully in his ministry.
He said that reputation was a by-product of his driven personality and admitted to being that way at times, but he is now learning to manage it differently with help.
"I think for sure on occasion, yeah. I think on occasion, strong leaders there's a line, you're wanting to advance a mission and everybody to be aligned with that and there are other times where there's a lack of grace or empathy. One of the things that has been really helpful in this season for me is godly older families have opened their lives to us … there's a more parental leadership style," he said.
Driscoll added if he had to do it all over again he would have focused more on the emotional health of the people in his ministry and said that his lack of empathy at the time was also due to unresolved issues in his own life.
"I would have paid more attention to emotional health and well-being and any bitterness in my own soul so that there wasn't anger or hurt or defensiveness that was driving some of my motivation," said Driscoll.
"I would have been more keen to draw Grace out so that we could work through some issues in our past so that we would have been more aligned and better friends early in the ministry. In more recent years we've really worked on the friendship. And we're very close but the early years we didn't have that kind of connection that we do in more recent years. And that contributed to my tone and my anger, and it affected my disposition negatively and that's my fault," he continued.
Houston, who listened intently as Driscoll spoke, said he could see some hints of his own evolution as a leader in the former Mars Hill pastor.
"I think over the years my perception of strong leadership has changed dramatically. What I thought was strong then was probably hot-head … so I can identify to a point," he told Driscoll.
In a recent post on his website, Driscoll also revealed that he and his family had moved to Phoenix, Arizona, after reconciling with a number of former leaders at Mars Hill.
"After meeting with many former church leaders for reconciliation and closure in Seattle, our family is in the midst of a new adventure as we have moved to the Phoenix area," he said.
"There are no concrete plans for ongoing local church ministry as of yet. This remains a calling and desire, but my plan is not to rush into anything. Instead, caring for each member of our family, seeking the wise counsel of pastors we are walking with, and building local relationships with Christian leaders to help build churches locally and globally is our focus. Beyond that, we will see how the Lord leads. If anything more develops we will let you know," he said.
And at least one local church is happy that Driscoll has come to town as seen in the tweet below.
Mark Driscoll moving to the valley means more people won to Jesus. @PastorMark#welcomemark

— Prodigal Church (@prodigalaz) July 28, 2015
You can watch Driscoll's complete interview with Brian Houston via the link below.
Brian Charles Houston