Ind. Megachurch That's Donated $5.5M to Missions Selects Wycliffe as Recipient for Special Christmas Offering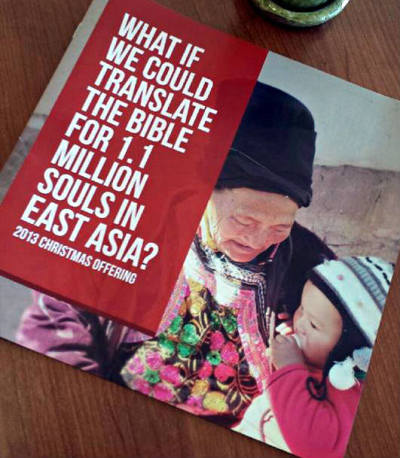 College Park Church in Indianapolis, Ind., has selected this year Wycliffe Bible Translators USA, the world's largest Scripture translation organization, as the recipient of its annual Christmas Offering, a special collection meant to assist Christian missions.
The Indiana megachurch, which has averaged $600,000 in recent years for the special holiday offering, will donate the money collected during its three services on Sunday, Dec. 22 to the Christian nonprofit.
"At College Park Church, we have a particular passion that those who have never had an opportunity to hear about Jesus may do so, and thereby may find life in Him," said Nate Irwin, pastor of global outreach at the church.
"Almost by definition, people who don't have the Scriptures in their own language fall into that category of unreached people. This is why we're particularly excited about this year's Christmas Offering, as it will provide the opportunity of finding life through Jesus via the Scriptures for seven unreached people groups in Asia, with a total population in excess of one million. We are delighted to be able to partner with the experience and wisdom of Wycliffe Bible Translators in this endeavor."
Wycliffe USA President and CEO Bob Creson expressed gratitude to the members of College Park Church for sharing the Bible translation organization's "sense of urgency and privilege to work with communities across the world to provide access to the Gospel in the language they understand best."
"In the next 12 years or so, we're going to see the start of the last Bible translation program in the world, and College Park Church is taking seriously its calling to be a part of completing that mission," said Creson.
As Wycliffe explains in a press release, College Park's Christmas Offering will go toward funding several translation projects in Asia, a region said to be in "tremendous need for Scripture translation."
The Christmas Offering will help bring about the complete translation of the New Testament, speed up the translation process for three language communities, and help fund medical workers and provide medical supplies and equipment, among other needs and programs.
Wycliffe, based in Orlando, Fla., and founded in 1942, is the world's largest Scripture translation organization and has over 7,000 translators, linguists, educators, and others working in 97 countries.
College Park Church, led by Pastor Mark Vroegop, started its annual Christmas Offering tradition in 1996 in an effort to provide a "tangible expression of the church's heart for missions and its core value of 'Extravagant Grace.'" The Indiana megachurch has donated an excess of $5.5 million to several organizations in the U.S. and abroad since starting the Christmas Offering.