Indian Pastor and Son Beaten Mercilessly With Sticks and Clubs After Leaving Prayer Meeting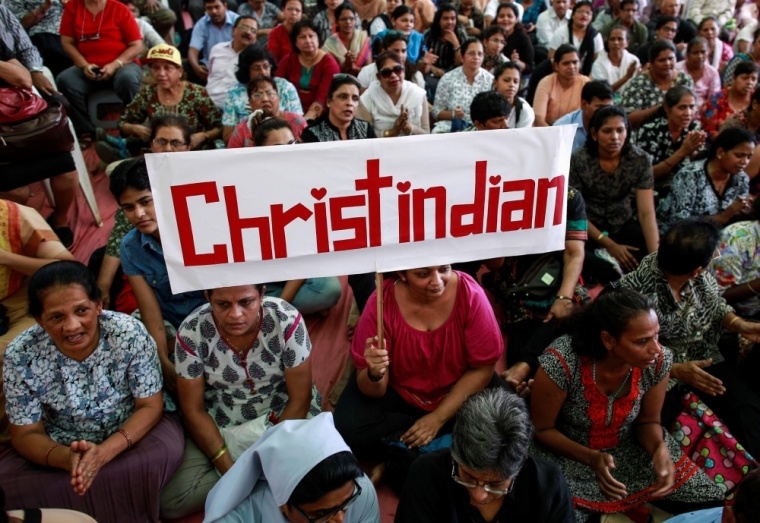 An Indian pastor and his son were beaten with sticks and clubs by a group of about 30 Hindu radicals while walking home from a prayer meeting, a rights group has reported.
Pastor Ramesh Vasunia and his son, Rahul, were attacked by the group of radicals on July 10 in India's Madhya Pradesh state, the pastor told the the U.S.-based persecution watchdog International Christian Concern.
"The attack took place at around 5 p.m." the pastor said. "My son and I traveled about two kilometers by motorcycle from Pipplipara village after meeting at Chattar Singh's house for prayer."
Vasunia said that what he didn't know at the time was that there was an enraged mob of over two dozen people waiting for he and his son with sticks and wooden clubs.
"We were stopped by a mob of 30 Hindu radicals," Vasunia was quoted as saying. "They started beating us without giving us the chance to ask the reasons for the attack. In spite of us begging them to stop, they continued to attack and damaged our motorcycle."
According to the pastor, the attack lasted for over 30 minutes and he and his son feared for their lives.
"My eyesight started to get blurry and I could hear the screams of my son and a voice from the crowd saying, 'Kill them!'" Vasunia continued. "Then I saw one person lifting a big rock to crash [on] my head and I thought to myself that they will kill us."
Vasunia and son were saved by a church member that rushed them to a nearby hospital. Vasunia said that his son was completely unconscious and that he was "partially conscious."
As activists have warned about the troubling trend of impunity given to Hindu extremists who persecute Christians and other religious minorities in parts of India since President Narendra Modi came to power in 2014, Vasunia stated that he was threatened with arrest when he tried to file a police complaint about the attack.
"[The officer] told me that he will send me to jail for preaching about Jesus and said, 'Don't you know that the BJP is in power?'" the pastor claimed. "I couldn't argue further with the police officer as he spoke same language as the attackers. We had nobody to defend us."
Vasunia and members of his church had spent about six months in jail last year after they were accused of a false conversion crime. In jail, Vasunia said he was beaten.
The attack against the father and son comes as India ranks as the 11th worst country in the world when it comes to Christian persecution, according to Open Doors USA's 2018 World Watch List.
U.S. Ambassador at-Large for International Religious Freedom Sam Brownback, a former U.S. senator and governor of Kansas, spoke out on Tuesday about the human rights abuses going on in India.
"You got a small church in India somewhere and a mob will gather outside it and destroy the building and kill people," Brownback told conservative radio host Tony Perkins. "This is just happening with way too much frequency. We raise [the issue]; we ask the authorities to protect these religious minorities. Sometimes there are good statements coming out at a national level. But at a local level, they are often not. We have just got to keep pressing them about this issue. It is just growing and growing and escalating so much."
Although the U.S. government continues to try to raise the issue of religious freedom with Indian authorities, it does not list India as a "country of particular concern" for religious freedom abuses and violations. However, the United States Commission on International Religious Freedom has recommended that India be classified as a Tier 2 country of concern for religious freedom.
Some Indian activists voiced concern that the issue of persecution in India was not directly raised by State Department officials at the first-ever State Department's Ministerial to Advance Religious Freedom last month.
"The U.S. has branded India as a country that violates the religious freedom of its citizens. To that extent, I am happy. But why not even mention India in all three days of the conference?" asked John Prabhudoss, president of the Federation of Indian American Christian Organizations, in a recent interview with The Christian Post.
"Why is that we haven't heard about India even once? We heard about the Chinese Uighurs, we heard about the Pakistanis, we heard about people from North Korea. But why did we not even hear the name India?"
Last week, it was reported that U.S. Congress members sent a letter to President Modi, asking him to hold his BJP Party accountable for the crimes being committed against religious minorities and the ensuing impunity Hindus are receiving for such crimes.
"Our concern centers on the lack of justice and protections for religious minorities, and the impunity many perpetrators currently enjoy," the letter explains. "Those afflicted by violent assaults and other forms of harassment should be provided with equal treatment by law enforcement officers, and perpetrators of these crimes need to be held accountable for their actions. Only then can meaningful progress be made in guaranteeing freedom of religion and belief."