Indiana school district bars coaches from participating in team prayers after atheist complaint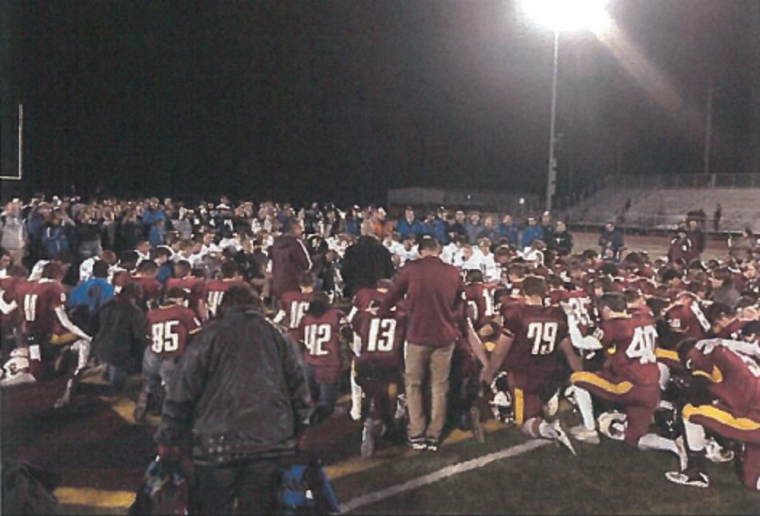 An Indiana public school district says that starting in January 2019, coaches and staff will be barred from participating in team prayers led by students.
Football coaches at Gibson Southern High School are to be told that they can no longer participate in prayers with their team after a complaint was filed with the South Gibson School Corporation by one of the nation's leading atheist groups.
Superintendent Stacey Humbaugh received a letter on Nov. 30 from the Wisconsin-based Freedom From Religion Foundation informing her that a community member had voiced concern about coaches praying with the student-athletes following Gibson Southern's game against Reitz Memorial High School on Nov. 2.
The letter, sent by FFRF attorney Ryan Jayne, included a photo of the prayer that was posted to social media and shows coaches and players from both teams praying on the field after the game. The coaches are seen bowing their heads and placing their hands on students' shoulders.
Jayne argues that the coaches' participation in the prayer was a "constitutional violation."
"It is unconstitutional for public school athletic coaches to lead their teams in prayer, participate in student prayers, or to otherwise promote religion to students," Jayne wrote. "We are writing to request assurances that this constitutional violation will not reoccur."
Jayne relied on the 2008 Third Circuit ruling of Borden v. School District of Township of East Brunswick, where the U.S. Court of Appeals ruled that coach-organized prayer was unconstitutional.
"In that case, the court stated that the coach's involvement in the prayer by 'taking a knee' and 'bowing his head' during the prayers, even when student-led, 'would lead a reasonable observer to conclude he was endorsing religion,'" Jayne wrote.
The Third Circuit ruled that if a coach "manifests approval and solidarity with the student religious exercises, they cross the line between respect for religion and the endorsement of religion.'"
It should be noted, though, that the Third Circuit's jurisdiction is over district courts in Pennsylvania, New Jersey and the U.S. Virgin Islands, not Indiana.
In attempting to further defend his argument, Jayne cited the U.S. Supreme Court's 2000 decision in Santa Fe Independent School District v. Doe, which struck down a school district's policy permitting student-initiated prayer over the loudspeaker before football games. Among other rulings, he also cited the 1992 case of Lee v. Weisman, which ruled that having a clergy-led prayer at school graduations was unconstitutional.
Jayne received a response back from the school district's attorney, J. Robert Kinkle, on Dec. 13.
"I cannot with any certainty, agree or disagree with the factual statements made in your letter. The photograph as it relates to possible coaches participation in student-led prayer is certainly ambiguous," he wrote. "However, for purposes of our response to this situation, we plan to instruct our head coaching staff at a meeting to be scheduled after the first of the year on this issue."
Kinkle explained that the school district plans to "specifically advise the coaches that students do have a constitutional right to pray on school property on the condition that the prayer is truly student initiated and that the prayer doesn't otherwise interfere with the normal operation of school activities."
Kinkle added that the school district further plans to instruct personnel and all coaches "that they may not encourage, lead, initiate, mandate, either directly or indirectly, any such student prayer."
"In addition, we want to emphasize to our personnel that they may not participate in any such student led prayer," Kinkle assured. "In addition, we will advise our personnel that students certainly have a right not to participate in any such prayer."
Kinkle assured that while coaches may not participate in any student-led prayer, they still have an obligation to "supervise and monitor this activity."
The school district's response pleased FFRF.
"We applaud the district for taking steps to honor its students' First Amendment rights," FFRF Co-President Dan Barker said in a statement. "Coaches may pray on their own time in any way they would like. They are not, however, permitted to coerce students and players to pray in any way whatsoever."
Community members responded to the news in interviews with local media. 
" ... [As] staff faculty or students you have the right to pray so go pray and if you're not comfortable with that then stand back and just wait a little bit while the others are praying," resident Angela Coats told TristateHomepage.com. 
Pastor Steve Atkins told the outlet that it feels as though "people just want to butt into everything that takes place [and] everything that they don't agree with."
"[I]f you don't agree with 100 percent of their ideas then you're in the wrong," Atkins asserted. 
FFRF, which advocates for the strict separation of church and state, regularly pressures school districts and government entities to halt what the group considers to be unconstitutional entanglements with religion, such as barring coaches from participating in team prayers.
Last year, a similar situation happened at East Coweta High School in Georgia where coaches were told they could no longer participate in team prayers.
After initial community backlash to the news, it was clarified that the coaches were allowed to be present as supervisors for the team prayers but were not allowed to bow their heads or do anything that "manifest approval" of the prayer.
Earlier this year, a pastor was barred from leading another Georgia high school football team in prayer following an FFRF complaint.
In Alabama, the Blount County School District halted a tradition of holding a public prayer over the loudspeaker before the start of high school football games following an FFRF complaint earlier this year. The community responded at the next football game by reciting the Lord's Prayer and handing out hundreds of "We Believe" T-shirts.